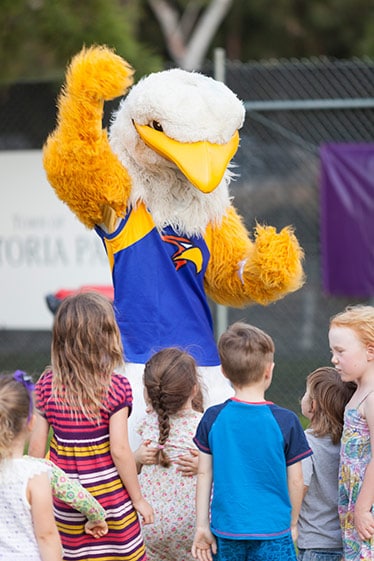 Rock-blogger buddies!
Wow! Is it hot out there or what? I went to go for a lunchtime fly around Domain Stadium today and as soon as I got out into the sun I realised that my 50+ sunscreen wasn't going to be nearly enough. I hope all my friends out there are making sure they've got plenty of sunscreen on and are wearing an awesome hat!
I went to the airport the other day as some of the boys have headed out to Kalgoorlie for our Community Camp. It's always great when they can spread their wings across this huge state of ours. I would have gone with them, but I've got some important pre-season training back here this week that I can't miss out on. Some of the boys have even gone up to Port Hedland to say hi to the kids in the north of WA.
Before I head back to training, have you filled out you Rick's Rookies profile for 2016 yet? Just by answering some super-cool questions about how much you love the West Coast Eagles, you could be featured in one of our Rick's Kids Club newsletters this year. Check out the questions below and send your answers through!
Until next week, stay cool!
Rick