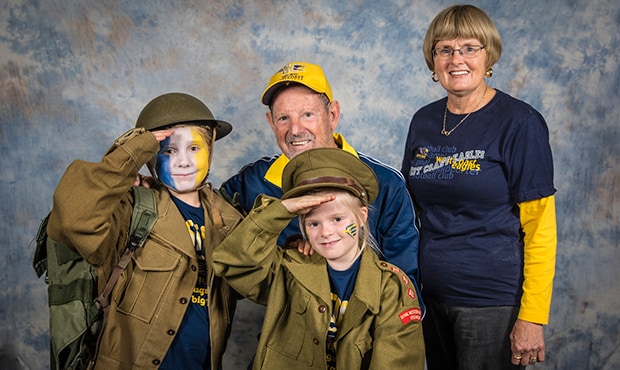 More than 50 West Coast Eagles members and their grandchildren attended the club's inaugural Eagles in their Prime Grandparents' Day to commemorate Anzac Day last Thursday.
Proudly supported by the Rosewood Care Group, the joint initiative between the Seniors Recreation Council of WA and the West Coast Eagles is part of the club's Eagles in their Prime program, which aims to encourage members aged 65 and over to remain healthy and active.
The event, hosted by inaugural club captain Ross Glendinning, was designed to give members the opportunity to engage in fun, healthy activities with their grandchildren with an Anzac-themed educational twist thanks to the RSL.
In addition to numerous activity stations provided by the SRCWA, including Xbox Kinect, mini golf and seated hockey, members and their grandchildren also had the opportunity to make paper slouch hats and wreaths for upcoming Anzac Day services.
The club was also lucky enough to have authentic military clothing, hats and packs provided by the WA Army Museum for the event's photo booth, which proved to be a hit with attendees young and old.
Given West Coast's warm-up room was full of one-eyed Eagles supporters, face painters were on hand to deck everyone out in the team's colours and those waiting to get painted observed some very special club memorabilia on display.
Attendees later broke into groups for morning tea and a behind-the-scenes tour of the club's inner sanctum by two members of the Eagles' school and community team, Kim Hannah and Joseph Wear.
If you missed out on Grandparents' Day don't worry, there is plenty more on the Eagles in their Prime calendar for 2016, including an activity day and Tech Savvy Seniors course.
For more information visit www.westcoasteagles.com.au/the-club/community/eagles-in-their-prime