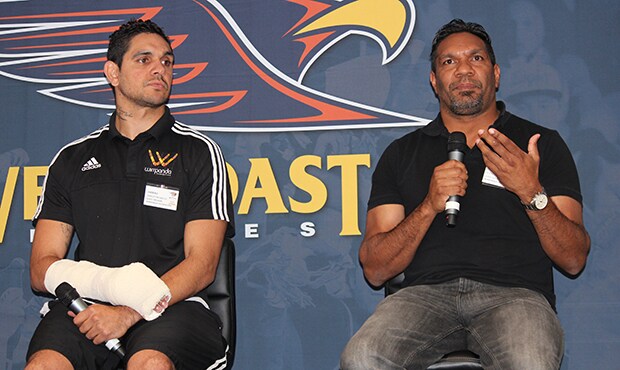 One of West Coast's greatest players of all time and three up-and-coming Eagles headlined the final Geoff Christian Society function of 2016 last Wednesday.
More than 165 long-time members packed into Domain Stadium's Polly Farmer Room to enjoy a passionate address by 2006 premiership-winning defender and Aboriginal and Torres Strait Islander champion David Wirrpanda.
The 227-game champion spoke briefly about his AFL career before regaling fans in tales of his youth, family and desire to establish the Wirrpanda Foundation, which he founded in conjunction with the West Coast Eagles in 1998.
Wirrpanda was joined by former West Coast-listed player and foundation employment programs manager Jarrad Oakley-Nicholls, who also shared a variety of football and professional stories.
Season 2016's Rookie of the Year Tom Barrass, budding midfield talent Dom Sheed and burgeoning utility Tom Lamb headed up a player panel prior to Wirrpanda and Oakley-Nicholls' spot.
Former Brownlow medallist and inaugural West Coast Eagles captain Ross Glendinning quizzed the trio on the particular of pre-season training, their personal goals and what it was like working with new offseason recruits Sam Mitchell and Nathan Vardy.
Lamb revealed the club's first to fourth-year charges were aiming the set training standards before the Christmas break, Barrass discussed his mindset evolution throughout season 2016 and Sheed talked about his excitement at learning Mitchell – a four-time premiership champion and retrospective 2012 Brownlow medallist – had joined the club during the trade period.
West Coast Eagles director Chris Wharton welcomed five new Geoff Christian Society members with a gift from the club and three other lucky fans received Christmas presents from the society.
The Geoff Christian Society is a group of supporters who have notified their intention to leave a bequest to the club.
A bequest is a gift promised in a person's will to a named benefactor.
The Society is named in honour of the late Geoff Christian, who played a significant role in the establishment of the club, as well as its direction in the formative years.
Members of the GCS are long-time supporters who receive a membership gift and receive invitiations to regular social gatherings and luncheons sponsored by the club.
They also have their names placed on an Honour Board displayed in the club's reception area.
Donations from bequests will assist in future development of our facilities, high performance and community programs.
To attend one of our complimentary information lunches or learn more, please contact Deborah Patino on 9388 4506 or email bequest@westcoasteagles.com.au.