West Coast Eagles Drew Petrie and Mark Hutchings put 17 of the club's most promising Next Generation Academy prospects through their paces at an exclusive training session on Tuesday.
The training session, conducted at Perth Modern School, was designed to test the ability and resolve of the Naitanui Academy's top talents, many of whom currently hold down a spot on a WAFL colts list.
After a brief line kicking exercise, the group launched into a block of fundamental skill drills handpicked from West Coast's coaching archives.
Petrie and Hutchings demanded intensity from the outset and reminded the collective that communication was key on the football field.
The group also worked on its ball movement, forward 50 entries and defensive transition during the two-hour session.
Following the training block, Hutchings offered an elite preparation presentation, which addressed the importance of hydration, diet, carbohydrate loading, sleep, goal setting and visualisation.
He also gave the cohort an exclusive insight to his pre-match routines and post-game recovery strategies.
Next Generation Academy head coach Adam Selwood said Petrie and Hutchings' involvement in the program was invaluable.
"To have current AFL players offering their time and expertise is just huge for the program," Selwood said.
"They are really invested in the academy and the way they spoke to the kids, engaged them and the messages they passed on were so beneficial. We will look to get other plyers involved in training sessions to come."
Another notable attendee at Tuesday's training session was West Coast list manager Brady Rawlings.
Selwood said Rawlings' presence sent a clear message to the players that they were on the club's recruitment radar.
"Having people like Brady Rawlings attending and getting to know the kids was fantastic," he said.
"The whole club is invested in this. For Brady to be down there to identify what they look for in terms of potential recruits and to remind them what the standards need to be is huge. It's great to know that the recruiting department wants to see some outcomes from the academy."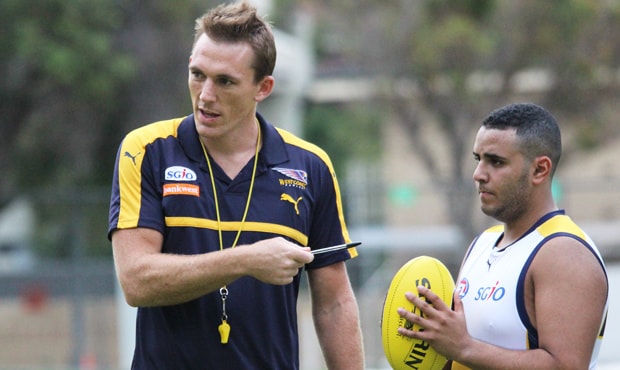 Naitanui Academy high performance coach Drew Petrie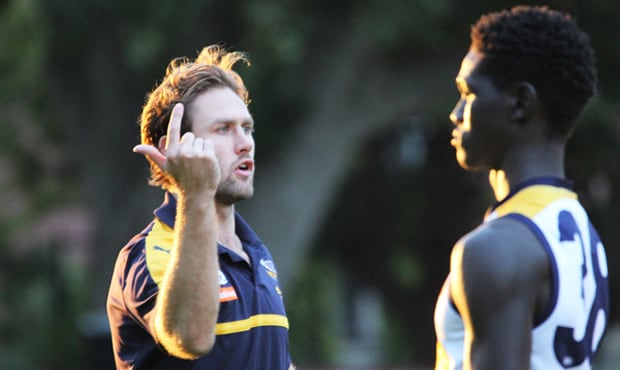 Mark Hutchings offered a presentation on elite preparation following the session

Fundamental skills and ball movement were the main focuses of Tuesday's training block