More than 70 West Coast waitlist members flocked to Domain Stadium last Tuesday for an opportunity to hear from Eagles insiders at the club's annual In the Wings Sundowner.
West Coast thanked the members for their support by allowing them to watch an evening training session from the comfort of the John Worsfold Room while enjoying canapés and premium beverages.
MC and West Coast Eagles great Glen Jakovich welcomed everyone before introducing Eagles chief executive Trevor Nisbett, who updated members on seating at the new stadium as well as the development of the new club and community facilities at Lathlain.
With training beginning to wind down, new gun recruit Francis Watson and supporter favourite Andrew Gaff headed up to the room to have a chat with Jakovich about the team's form ahead of their Friday night blockbuster against the Bulldogs, some exciting new prospects coming through the ranks and the playing groups' MCG mentality.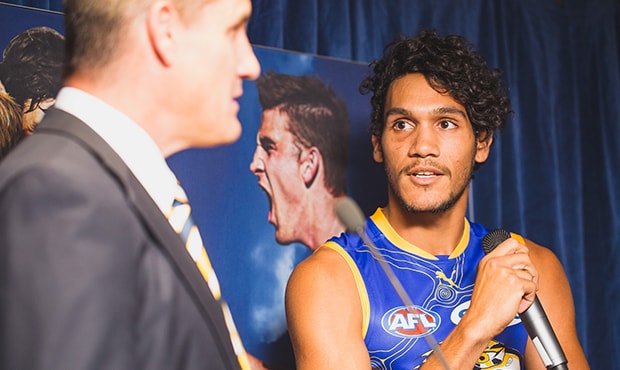 Exciting Category B Rookie Francis Watson made an appearance at the In the Wings Sundowner
After a few questions from the crowd, the players headed back to finish training and made way for the evening's final special guest, Auzzie the eagle.
West Coast fans often admire Auzzie flying around Domain Stadium just before bouncedown, but many don't know a lot about how she came to be associated with the club.
WA Birds of Prey Centre handler Yvonne explained this and more, giving some insight into Auzzie's quirks, including her love of eating any sports tape she may find during her weekly practice flights.
The evening concluded with the drawing of door prizes, with the lucky winner taking home a 2017 team-signed guernsey and runners up collecting a team-signed Sherrin and leadership group-signed hat respectively.
For more information on the In the Wings membership please visit https://membership.westcoasteagles.com.au/wings