West Coast Eagles utility Simon Tunbridge has ticked off a major milestone in his recovery from a hybrid-LARS knee reconstruction, taking part in his first training session on Domain Stadium yesterday.
Tunbridge, who was the first Eagles player to undergo the hybrid-LARS operation, had been confined to rehabilitation sessions since undergoing surgery in December, but returned to the track on Tuesday in a major milestone for the luckless Eagle.
The 24 year-old says he was thrilled to run around on Domain Stadium with his teammates.
"It was pretty exciting despite being pretty nervous," Tunbridge said.
"I found out Saturday, we had a training session then and after I got through the lads said I can join in training on Tuesday. Ever since then I couldn't wait for today to come.
"It was great, I had a kick for goal in front of the group, Simmo said we couldn't start training until I kicked one. Luckily, it went through.
"I've always been a bit nervous changing direction but I felt comfortable out there, the boys got around me and made me feel pretty good about things.
"I got a bit lost in a few drills and didn't really know what was going on, but it was just great to be out there.
"The aim is for around round 15, everything going well that's the aim. It's gone pretty quick, I'm just glad to be out of rehab and have footy on the horizon."
West Coast Eagles senior physiotherapist Paul Tucker said Tunbridge would be managed carefully in his return to playing football.
"We've got him on a gradual build up with us anticipating he's into being available to play in around about four to six weeks' time."
Fellow rookie listed player Francis Watson has also received good news and is on track to return to play in the near future.
Watson suffered a similar injury as Jamie Cripps and was in a moon boot over the past few weeks but is now fully focused on returning to the field of play.
"Frankie Watson's ankle injury has come along and will follow a similar program to Crippa in that we expect him to join in some training next week," tucker said.
"Hopefully be available to play in around about three weeks' time."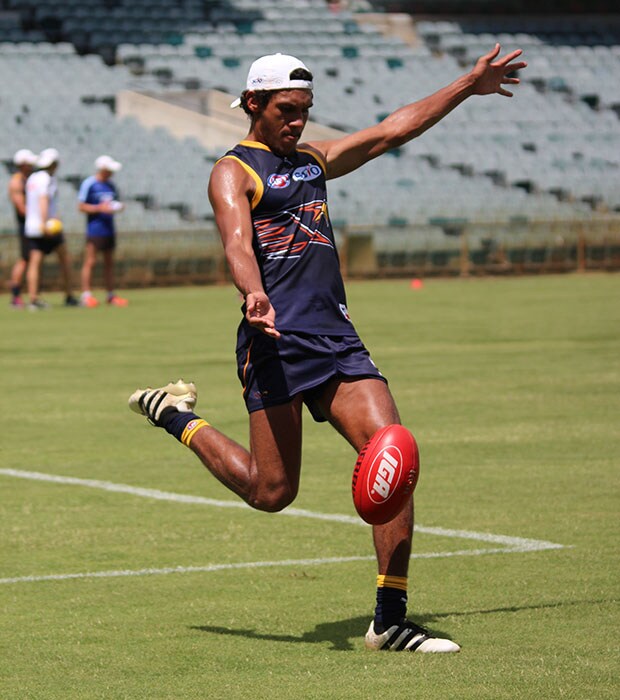 Francis Watson is out of his moon boot