West Coast Eagles Jake Waterman and Tom Lamb made their way to the Pilbara yesterday to coordinate the club's third Kicking Goals trip of 2017.
Lamb voyaged to Newman alongside Irish sports science intern Brion Moriarty while Waterman ventured 450km further north to Port Hedland.
Lamb coordinated three football clinics at Newman Senior High School before utilising Moriarty's expertise to test the children's athleticism.
Armed with 30 GPS units, Moriarty put the students through their paces and recorded their speed, agility and endurance.
Waterman ran four Kicking Goals clinics and visited a special needs classroom at Hedland Senior High School before taking some of the program's most talented footballers under his wing during an exclusive 'Strength to Succeed' skills session.
The first-year Eagle ran the group through a range of AFL-standard drills, deciphered complex football terminology and discussed his journey to West Coast.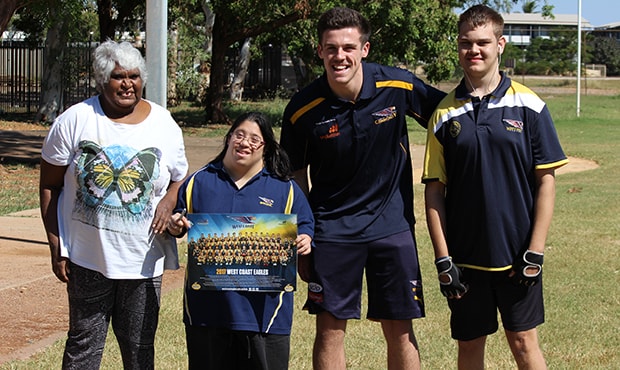 Some of the club's biggest Port Hedland-based fans made their way down to the coaching clinics
Waterman, who was participating in his first Kicking Goals visit, said he thoroughly enjoyed the experience, which is made possible thanks to the continued support of West Coast Eagles principal community partner BHP Billiton and Swan Districts Football Club.
"This is the first time I've had a chance to take part in the club's community programs and I had a blast," he said.
"It seems like this program is really engaging kids at school and there are definitely a few talented kids up here.
"It's great to see that our visits are inspiring kids to stay in school and pursue their sporting dreams."
As part of its commitment to the Kicking Goals program, West Coast Eagles players and staff make five annual trips to the Pilbara.
Kicking Goals, which is run in conjunction with Swan Districts Football Club with the support of BHP Billiton, is one of Australia's largest regional AFL mentoring programs.
The program is a curriculum-based initiative that implements a reward and incentive system, whereby students are required to maintain certain key performance indicators to stay in the program and be eligible for various incentives, including visits by West Coast Eagles players and staff.