It stands to reason that the most competitive season in League history, one in which a record 28 matches were decided by less than a goal, that we should get an extra-time final.
We needed a close final because in terms of excitement, the opening three games of the finals were stinkers. But thanks to West Coast and Port Adelaide, we now have a game for the ages, one we will enjoy re-living for years and years.
There was so much to digest. Was it a free kick at the end? Well, no. According to the changed interpretations this year, it wasn't a free kick to Luke Shuey, who brought the high contact upon himself. But that's a judgement made with the wisdom of hindsight and watching in slow motion. In real time, the tackle could justifiably have been ruled as too high - and was on Sunday morning by the AFL's umpiring department.
Watch the last two minutes: Power v Eagles
Given the AFL flagged at the start of the year that such incidents would be not be paid as free kicks, should we expect by now that the umpires should be alert to that and act accordingly? Probably.
But let's celebrate all that was great about Saturday night at the Adelaide Oval. Firstly, Shuey's kick was magnificent, considering the pressure and the stakes. He had a nervous giggle to himself as he went back to take his shot, and he nailed it.
Then there was the defensive work of Jeremy McGovern, with 15 marks and 11 intercept disposals and Eric Mackenzie, who saved the game late in the fourth quarter when he cannoned into the behind post with the ball, preventing what would have been the match-winning point for Port Adelaide.
How about the leadership of Sam Mitchell? With scores level at the end of regulation, Mitchell called in the Eagles and calmly explained what will happen next. In 25 finals, Mitchell has seen and done just about everything – save for extra-time – but his importance to West Coast was underlined there and then. Call it a hunch, but he will be a super coach when he gets around to making it his full-time vocation starting next year. You could see his instant command of the players.
For now, he has another week to play, as do Drew Petrie and Matt Priddis, who together with Mitchell, played really well on Saturday night. They want the show to go on for as long as it can.
The Eagles face a huge task to get up for the Greater Western Sydney game next week. They return to Perth on Sunday and are back on the plane to Sydney five days later. And stand by for a week of Nic Naitanui madness as the they wrestle with the temptation of bringing him back for his first game in more than a year.
But whatever pressure they face out at Spotless Stadium won't come close to matching what they endured and conquered at Adelaide Oval. They will play with nothing to lose against the Giants, who will carry all the expectation.
It was a dirty night for Port, who, Charlie Dixon aside, couldn't get much going forward of centre. A finish of 10.16 on a night they led the inside 50s 63-46 will haunt coach Ken Hinkley all summer. Whenever it is that the Power return for pre-season training, it is a fair bet that extra goalkicking practice will be in order because as Hinkley noted, it has been an issue all year. Dixon couldn't have done much more, but even he finished with 3.6.
Charlie Dixon was on fire, but his inaccuracy hurt the Power. Picture: AFL Photos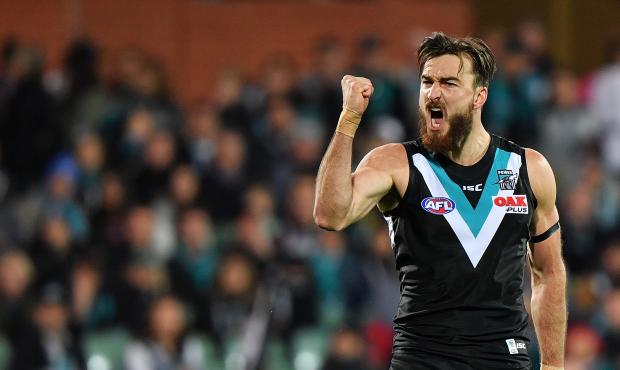 The Power couldn't hold the lead for long enough. They led by more than a goal in the final quarter and then fell behind again. With the home crowd at fever pitch in the first overtime period, they jumped to a 13-point lead and again failed to keep it. Port Adelaide is good, and sometimes irresistible when things go its way. But not for long enough, and that is the painful lesson to be taken away from a final they dominated for long periods but somehow found a way to lose.