More than 50 budding football talents made their way to Karratha last week to participate in the inaugural West Coast Eagles Naitanui Academy Pilbara Region football camp.
Children aged between 11-16 ventured from Port Hedland, Newman, Onslow and Yandeyarra to attend the three-day camp, which was supported by AFL legend and new West Coast Eagles game development head coach Drew Petrie.
The 332-game veteran was ably assisted by West Coast community game development general manager Richard O'Connell, Eagles game development coordinator Kim Hannah and several enthusiastic staff from V Swans.
Petrie, who only retired from the AFL in September, said it was great to hit the ground running in his new role.
"I think it was my third day of work with the club and it was a great induction," he said.
"With my new role, there's a lot of time spent planning and punching out emails to communicate with people who help organise these events. But a lot of it is about getting out there, travelling to the regions and seeing it first-hand."
The camp itinerary included several fun and educational activities, including an AFL Draft-like testing combine, a high performance seminar and competitive game on the Sunday.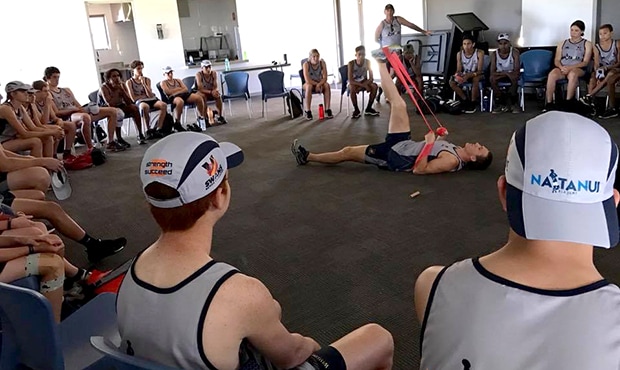 Drew Petrie coordinating the camp's high performance seminar
While much of the camp was designed to improve the children's athletic output, Petrie said the team communicated some more important, albeit subtle messages along the way.
"It was based primarily around training and performance education, but the underlying message – without putting it up in block letters – was that kids learn things that they can apply in everyday life, like being punctual and prepared," Petrie said.
"There were a few talented boys and girls. We had a game on Sunday at Dampier Sports Oval and the boys played against the girls. The girls certainly held their own and there were a couple of standouts that we will certainly be keeping out eye on for our 2020 AFLW side.
"That was the pinnacle of the camp, but for everyone to play and show some unity given they didn't know each other before meeting up on day one was outstanding. They were cooperating, communicating and getting on really well. For a group to do that in a three-day period just shows the quality of people up that way."
West Coast Eagles game development manager Adam Selwood said the camp was the perfect way to cap off the club's final visit to the Pilbara for 2017.
"Our commitment is to get to all of our assigned Next Generation Academy zones twice throughout the year, and we've been to Pilbara up to five times with other activities connected to our game development department," he said.
"We have definitely serviced it, but this was a nice way to bring everything together at the end of the year. It was also especially good to include plenty of females in the camp."