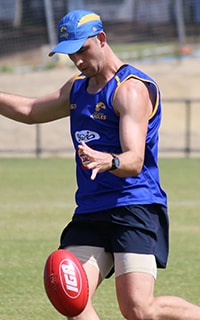 Reigning West Coast Eagles club champion Elliot Yeo is refreshed and ready to push towards a return to full training in the coming weeks.
Yeo developed soreness in his right hip late in the season in 2017 and was conservatively managed through the beginning of his pre-season program but says he's still a few weeks away from full training.
"Hopefully I can progress through my pre-season now that Christmas has gone; I've gone through my loading pre-Christmas," Yeo said.
"It's one of those ones where it's a week by week thing just to see how my hip pulls up after each week and they can progress my load from there.
"I'm not in full training but I'm getting weeded into the main group it's just one of those things where it's a trial and error thing to see how it pulls up and go from there.
"It just sort of 'catches' and 'pinches' at times, certain movements tend to grab it, it just feels a little bit different to how it normally should feel.
"Hopefully it's all good now, post-Christmas the two weeks has definitely helped and hopefully I can progress through."
Yeo had a career-best season in 2017, mainly across half-back, claiming his first John Worsfold Medal as well as All Australian selection, but has his sights set on a midfield move following the retirements of Sam Mitchell and Matt Priddis.
While his versatility will still be utilised by Adam Simpson, he hopes the next generation of Eagles can step up and deliver in the Eagles' engine room.
"I'd like to progress through into the midfield but I still think there might be times there where I will have to play backline or I'll have to go forward, deep forward or high-half forward," Yeo said.
"It's a little bit like last year where I'll have a different role here or there.
"It's just going about your footy, but there is a bit of a void with those older boys going and the quality they brought to the club.
"It's more of an onus on us younger players and middle-tier players to step up and help a lot of the older boys out.
"You always feel like you've got improvement in your game, I feel like hopefully I can go to that next level and cement myself in the midfield.
"Hopefully I can take my game to the next level this year; it's one of those ones where hopefully if everything goes well and my body is right who knows come round one."
Yeo signed a five-year contract extension in December tying him to the club until the end of 2023.