West Coast's inaugural AFLX tournament is just a week away, so we thought it was the right time to see how all of our players might stack up in the shorter form of the game.
Today we look at what numbers 1-15 could deliver at Adelaide's Hindmarsh Stadium on February 15.
#1 – Liam Ryan
The exciting first-year Eagle looks like an ideal fit for AFLX. Ryan has speed to burn and has already improved his tank since being drafted to West Coast in November. He averaged more than three goals per game last year en route to claiming the WAFL's Bernie Naylor Medal, which recognises the competition's leading goal kicker.
#2 – Mark LeCras
West Coast's third most prolific goal kicker of all time would be a handy addition to the Eagles' AFLX team. Regarded as one of the league's most reliable kicks, LeCras could pinpoint teammates and snap plenty of goals within the limited confines of the rectangular-shaped ground.
#3 – Andrew Gaff
The tireless midfielder's big tank would be a big asset in the short form of the game. Has stood out in several practice matches and finds the ball as often as he does in the home-and-away season.
#4 – Dom Sheed
Sheed's ability to win the ball on the inside and outside would hold him in good stead for AFLX. He has worked particularly hard on his fitness over the off-season and, as such, is well equipped to thrive in the fast-paced format.
#5 – Brad Sheppard
Sheppard's game appears tailor made for AFLX. The dynamic defender can play tall and small, plus he has the ability to push forward and kick a goal.
#6 – Elliot Yeo
Yeo's versatility makes him a tantalising AFLX prospect. The reigning John Worsfold medallist can play any position and his inclusion in the 10-man squad would give opposition strategists a headache.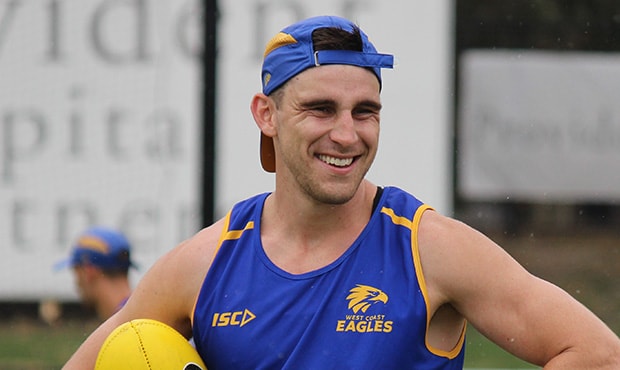 Elliot Yeo could run riot at AFLX if given the opportunity
#7 – Chris Masten
Speed is king in AFLX and Masten has plenty of it to burn. The elite runner has been a standout in recent trial matches and would be a handy addition should be get a berth at Hindmarsh Stadium on February 15.
#8 – Jack Redden
A proven hard-ball winner, Redden would be a great inclusion in any AFLX team. Like many others at the club, Redden has picked up a yard of pace and added to his already big tank over the off-season. Fingers crossed we get to see him run around in his home state next Thursday.
#9 – Nic Naitanui
If only! Unfortunately West Coast senior coach Adam Simpson has ruled the 2012 all-Australian out of the Eagles' maiden AFLX campaign.
#10 – Jarrod Brander
Another versatile player, Brander played as a key forward and key defender during his amateur career. He has already proven that he has the stamina to run with the big boys; the first-year Eagle recently tied for first in a pre-season Yo-Yo test.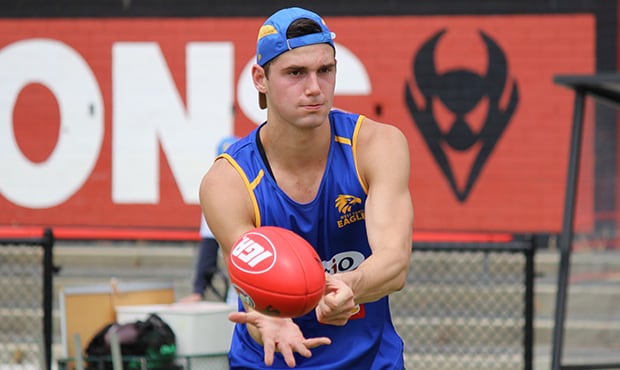 Jarrod Brander could be dangerous up forward or down back in AFLX
#12 – Oscar Allen
The West Perth product is unlikely to feature in the round robin tournament given he is still in the club's rehabilitation group after developing a minor stress fracture in his right leg.
#13 – Luke Shuey
Shuey was made to play AFLX. The hard-nosed midfielder covers the ground as well as anyone, doesn't mind getting his hands dirty and can push forward to kick goals. What more could you want?
#14 – Liam Duggan
Duggan and AFLX seem like a match made in heaven. With his improved tank, Duggan could run for days and cover a variety of positions across the ground.
#15 – Jamie Cripps
Cripps' pace, goal sense and defensive pressure would make him an invaluable AFLX asset.

Jamie Cripps has all the attributes to thrive at AFLX