#31 – Will Schofield
Would bring a hard edge to the contest. A state-level medium distance runner in high school, Schofield has slimmed down during the off-season in a bid to add more speed to his game. He would be a handy inclusion in West Coast's AFLX squad.
#32 – Ryan Burrows
Burrows has shown glimpses of his promise this pre-season. He is cool under pressure and an efficient ball user, which will be critical in AFLX.
#33 – Brayden Ainsworth
Ainsworth has impressed during his first pre-season, matching it in the running stakes with some of his senior teammates. A notoriously hard worker, Ainsworth knows how to find the ball and distribute it with precision.
#34 – Mark Hutchings
Hutchings would bring a bit of grit to West Coast's AFLX team. It would be interesting to see if his tagging prowess transferred to the shorter form of the game. If Hutchings could take the opposition's most dangerous player out of the contest it could open up the game for West Coast.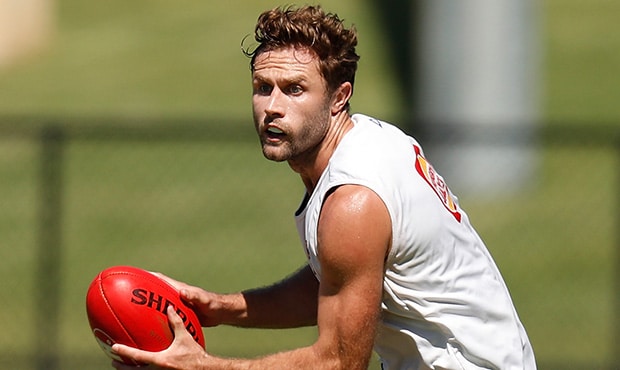 Could Mark Hutchings' tagging prowess transfer to AFLX?
#35 – Josh Rotham
Another dashing defender who could do some damage on the field. Rotham, who has added some size to his frame during the off-season, seems well suited to AFLX.
#36 – Fraser McInnes
The big workhorse could thrive in AFLX. Not only is he tall and athletic, McInnes has a large tank, which would allow him to work up and down the rectangular paddock.
#37 – Tom Barrass
Wouldn't it be fun to see Barrass clunk a few big marks at Hindmarsh Stadium? Should he get a game, Barrass could revisit his amateur days by spending parts of the game up forward in attack. It would be great to see him launch a few 'Zooper goals'.
#38 – Kurt Mutimer
Mutimer is well equipped to play AFLX. He has a solid frame, has improved his running capacity and has a penchant for floating forward and kicking a timely goal.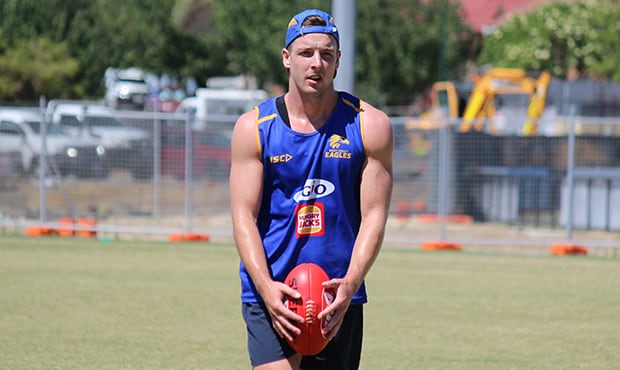 Kurt Mutimer could handle the rough and tumble of AFLX
#39 – Malcolm Karpany
Karpany would be handy in the forward 40m. In addition to being a slippery customer, the 22-year-old has a defence-first mindset and could cause headaches for opposition backman trying to work the ball out of their danger zones.
#40 – Tony Olango
Standing at a towering 199cm, Olango would be an intimidating presence up forward. The NT Thunder product is also deceivingly agile for his size, which would make him a tough match-up in the forward 40.
#41 – Brendon Ah Chee
Versatility appears to be the key to AFLX, and West Coast's latest trade acquisition seems to have it in spades. Ah Chee would be able to win hard balls at the coalface, fall back into defence when required and push forward with the attacking play to apply some scoreboard pressure.
#42 – Tarir Bayok
West Coast's speedy Sudanese rookie could be a handful on the AFLX field. Brimming with confidence after making his senior WAFL debut last year, Bayok would be keen to show off his skills in Adelaide. He is lightning fast and doesn't mind pushing forward to kick a timely goal.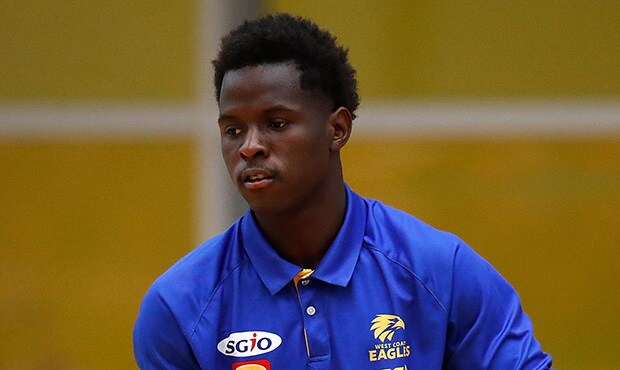 If speed kills in AFLX, Tarir Bayok would be a handy inclusion
#43 – Matthew Allen
Another Eagle looking for redemption in 2018 after his last season was cruelled by injury. Allen is up there with the club's best big-man runners. He hasn't had much of an opportunity to show his skills, but he is a physical player who possesses a long, raking left boot.
#44 – Willie Rioli
Rioli could set AFLX on fire if given the opportunity. He is silky smooth with the ball in hand and has a knack for finding the major opening. His improved fitness base should allow him to stay in the game and put more pressure on the opposition off the ball.
#45 – Jake Waterman
Another hard runner, Waterman could wreak some havoc up forward if he's given the green light to play. The 19-year-old son of a gun has been working his tail off this pre-season after missing an opportunity to make a debut in his rookie year.
#46 – Callan England
The former state junior athletics champion prides himself on his strong work rate and ability to break the lines. If the Eagles implement a 'run-and-gun' approach to AFLX, 'Pommy' might be a good inclusion in the 10-man squad.