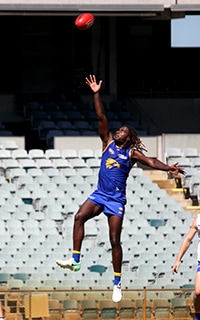 Star West Coast Eagles ruckman Nic Naitanui is still on track to participate in the club's second JLT Community Series fixture against Fremantle on March 11, according general manager of football Craig Vozzo.
The 2012 all-Australian has increased his training output in recent weeks as he builds towards a much-anticipated return to the playing fields.
Vozzo said West Coast's medical staff were pleased with his progression to date.
"Nic's had a really good couple of weeks from a conditioning point of view. The aim is still that we get some game minutes into him by JLT2," he said.
"He'll do more and more main training with the group in the next few weeks and we do match simulation as part of that. Nic will participate in that and we will see what response we get as he does each phase of training and that will govern how many minutes he gets later in the pre-season in terms of the JLT and the build up to the year."
In more positive news for the Eagles' big-man stocks, Josh Kennedy has been making strides in his recovery from pre-season ankle surgery and Oscar Allen made his first appearance in the club's main training group this morning.
Vozzo said Kennedy was running well and participating in some training drills.
"We're still hoping we can hit the early part of the year in terms of playing in the late JLT or round one, but we're not putting any timeframe on it," he said.
"It really depends on each phase of his progress through his conditioning and so far so good."
Allen, much like Kennedy, can now start his pre-season conditioning program.
"He's out of the rehab phase, which he's been really committed to and done a wonderful job, but he's looking forward to it and so are his teammates," Vozzo said.
"It will impact on his start to the year in terms of games, but it's good to have him well and truly turn the corner and training with the main group. We hope to see him in the early part of the year."
While it was fantastic to see the club's young guns on display during last Thursday's AFLX tournament, several players incurred injuries in Adelaide.
Jack Petruccelle dislocated a finger, Matt Allen copped a knock to his right hip flexor and Willie Rioli succumbed to a minor knee ailment.
"Jack Petruccelle was flying in the AFLX and did a great job along with the young team over there, but unfortunately in the second game dislocated a finger," Vozzo said.
"I suspect it's going to be a four- to five-week period before he's able to start ball handling in a full sense and being able to play.
"Unfortunately for Matty Allen, in the AFLX again, he copped a right hip flexor. It's not a big injury, but it's going to set him back a week or two in terms of just settling down and his ability to train.
"Willie Rioli copped a knock to the knee in the AFLX. He was playing beautifully but he pulled up a bit sore after the first game, so on medical advice we didn't take any risk in the second game. The doctors are quite happy, but he'll probably have a light week this week, which will mean he'll miss the first JLT game. We're hoping he'll be well and truly available for our next game."
In some more uplifting news, Eric Mackenzie is on the road to recovery after exiting his moon boot this week.
But Vozzo revealed it would be at least a fortnight until the 2014 John Worsfold medallist stepped foot on the training track.
"He's doing more and more work in the gym, but he's probably not going to be back on the track for at least another two weeks, so this is going to impact on his start to the season," he said.
"I can't give any firm dates, it will be dependent on each stage of response from the conditioning work he does."