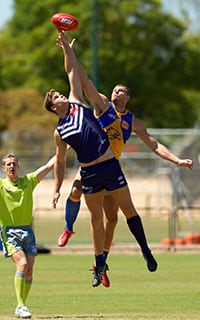 West Coast big man Nathan Vardy will be sidelined for at least the next month after scans revealed his groin injury is worse than expected.
The 26-year-old went to ground following a ruck contest in the final quarter of the Eagles' practice match against Fremantle at Lathlain Oval and required assistance from trainers to leave the field.
General manager of football Craig Vozzo said Vardy had suffered a tear to his abductor muscle.
"The scans and doctor's prognosis is probably a little bit worse than we'd first expected; he's going to take some time to recover," Vozzo said.
"We're thinking it's probably a month to six-week injury, but we're not really going to know until he starts healing and then we start taking him through each phase of the recovery process."
Although the injury was the low-point of Sunday's hit-out, Vozzo found a silver lining.
"The positive thing is it's not a structural injury and he's suffered some pretty significant structural injuries over time," he said.
"He's also well-equipped from a mental point of view to get through periods in rehab, so he's quite upbeat actually.
"He's quite relieved in the sense that it's a setback but not a season-ending setback, which he's experienced in the past."
The only other player to incur an injury during Sunday's match was Jarrod Brander.
The first-year Eagle tweaked his ankle in the opening quarter of the encounter, but Vozzo said he would bounce back from the setback quickly.
"Jarrod turned his ankle on the weekend; it's quite a plain injury," Vozzo said.
"He came back on and performed really well in the second half, but he's ended up with a bit of swelling.
"As he's a first-year player, he's probably unlikely to play on the weekend just as a matter of caution, but he's tracking well and I expect him to be available the following week."