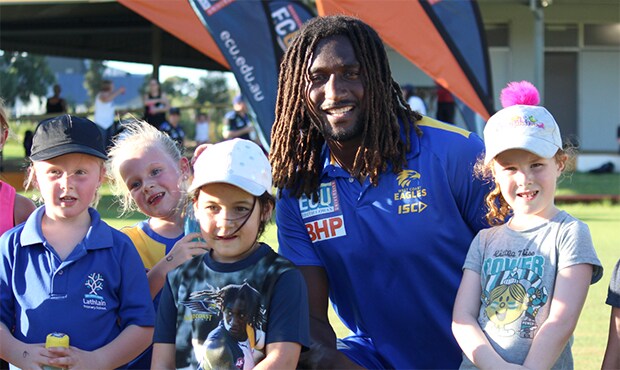 The next generation of female players were in full flight at the West Coast Eagles Come and Try training session held at Wembley Sports Park yesterday.
More than 200 young, aspiring female footballers were put through their paces by West Coast's AFL squad and members of the Eagles Female Academy in a series of drills, games and fun activities.
The energetic setting was the backdrop for BHP and Edith Cowan University announcing their sponsorship of the Eagles Female Academy and Naitanui Academy.
General Manager Community and Game Development Richard O'Connell said it was tremendous for the academies to garner the support of BHP and ECU.
"Having BHP and ECU supporting our Academies is tremendous," he said.
"Their investment will mean we can engage with thousands of females, aboriginal and multicultural boys from across our vast State. Our Academies foster football skills but also help participants learn important life lessons about goal setting, nutrition, team work and leadership.
"Supporting young people to be involved in our programs have physical and mental health benefits, which will help them navigate through life and hopefully grow new supportive friendships along the way."
BHP Head of WA Corporate Affairs Meath Hammond said studies had shown that team sports could be powerful catalyst for young people to expand their social networks, which helped them be supported when dealing with life's challenges.
"We are excited to build upon the great social outcomes we have delivered with the West Coast Eagles for over a decade through the innovative community programs annually delivered to over 350 WA schools," Hammond said.
"The on- and off-field programs run through the Academies will support these young people to be fantastic role models in their own local football clubs and schools across WA."
ECU Vice-Chancellor Professor Steve Chapman said ECU was proud to sponsor the West Coast Eagles Female Football Academy and the Naitanui Academy.
"It aligns with the University's own commitments to achieving gender equality and supporting equity groups to reach their full potential. We're also excited about the opportunity for new sports science research projects and student work placements," Chapman said.
"These new sponsorships also build on our existing relationship with the West Coast Eagles, which includes the coaches' sponsorship and naming rights of the ECU Media and Broadcast Centre and ECU High Performance Centre at Lathlain Park."
The Naitanui Academy works with Aboriginal and multicultural boys aged 12-20 and is designed to support those only just learning the game all the way through to those pushing for promotion to WAFL teams. Delivered in collaboration with the WA Football Commission, programs are delivered in metropolitan and regional settings. The Naitanui Academy invests significant energy in supporting participants to build both life and football skills.
The West Coast Eagles Female Academy is a vital part of the club's preparation for fielding a AFLW team in the 2020 season, working with high performance squads selected in conjunction with the WA Football Commission with a focus upon injury prevention, fitness, skills and game tactics. Complementing this component of the program there are regular sessions across the State for females who are new to football and eager to learn the game and have fun with their friends.
Both Academies boast highly experienced coaches and support staff, including former players Drew Petrie, Adam Selwood, Drew Banfield, Ryan Turnbull, Sam Butler, emerging coaches Amy Woods, Steph Walding and Nikki Hardwood, plus current players Luke Shuey, Nic Naitanui, Eric McKenzie, Mark Hutchings and Jackson Nelson.