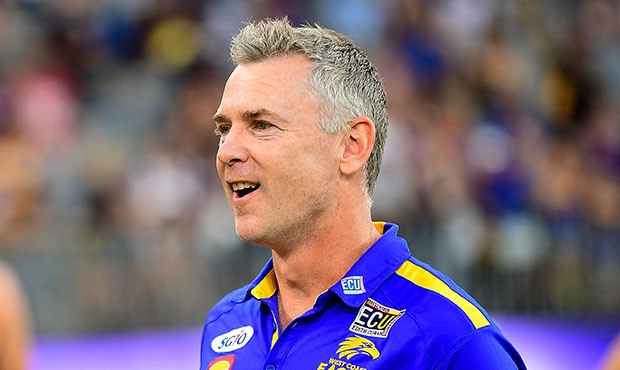 "I reckon I'll be in the top three for the most ridiculous looking coaches."
Avert your eyes Eagles fans, Adam Simpson's Fight MND Big Freeze 4 costume is going to be confronting.
Speaking to westcoasteagles.com.au an hour out from his trip down the Big Freeze slide, Simpson said he was more than happy to make a fool of himself alongside the game's other 17 senior coaches to support former colleague Neale Daniher's great cause.
"Neale was the footy manager when I got to West Coast, so I had a year working with him and that was fantastic," Simpson said.
"He got diagnosed with motor neurone disease around the time I arrived at the club. To experience him as a football person around the club was the first part of our relationship and he's really elevated his standing in the community but hasn't really changed his personality since I met him five years ago.
"To go through what he's going through and to see how he handles himself, words don't do it justice. I'm not surprised he's generated all this publicity and got every coach looking like idiots today."
Simpson said he would be far removed from his comfort zone when he graced the Fight MND Big Freeze 4 stage around midday AWST today.
And while most of the other coaches had a connection of sorts to their outfit, Simpson pleaded with the wider AFL community to not read too much into his costume.
"Every coach seems to have a meaning behind their outfit, but there's absolutely no meaning behind mine," Simpson said.
"I'm not normally an extrovert, I'm usually pretty conservative. But I reckon I'll be in the top three for the most ridiculous looking coaches on the day.
"I'm just trying to think who will look as bad as me and I can't think of anyone. We're all going to look pretty silly, but I think we'll all look silly together, which is a good thing."