High School Program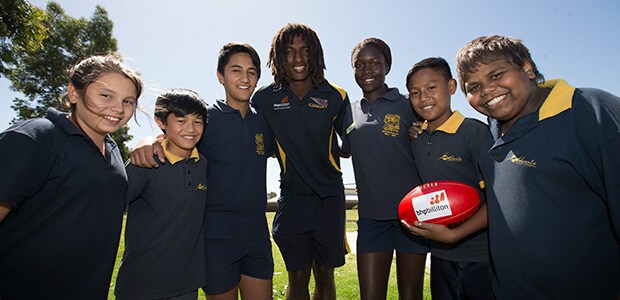 The West Coast Eagles High School Program allows schools the choice of one of four talks covering a variety of topics. Presentations from the West Coast Eagles Schools and Community team members include videos from players and interactive activities and run for about an hour.
And thanks to the club's principal community partner, BHP Billiton, this program is provided FREE to schools.
Your school has the choice of one of the following topics:
Cyber Awareness and Resilience – With the increasing use of social media, cyber bullying is becoming a concern. The aim of the topic is to increase awareness of the impact of this issue and provide strategies to overcome it. Resilience plays a big part in being able to overcome certain issues and this topic covers this is depth – Aimed at years 7/8
Goal Setting – Delivers messages on goal setting, the importance of pursuing strong relationships and how to overcome setbacks. We use the WCE goal setting processes to help students set their own goals and overcome challenges they may face. Aimed at years 10/11/12
Eagle Insight – Provides an insight into the training requirements of an AFL player, nutritional information as well as injury management and prevention. This program is specifically designed for Physical Education students.
Leadership – Provides an insight into the leadership structure at the West Coast Eagles in addition to increasing students' knowledge and understanding of the principles of mentoring. Leadership qualities are a topic of discussion which helps students realise their own leadership potential.
Employment in the Sporting Industry – Provides students with skills and knowledge about getting employed in the sporting industry. Covers the different avenues you can go through to get a career in the sports industry. Delivers techniques and advice about resume writing and interview presentation.
Click here to fill out an online booking form or contact Schools and Community Development Officer Joseph Wear on (08) 9388 4504 or josephw@westcoasteagles.com.au.