Timeline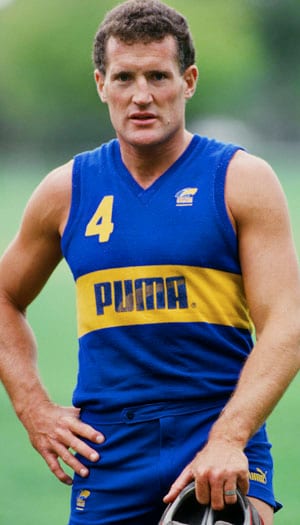 1986
August: The VFL voted in favour of the inclusion of two new clubs, one from WA and one from Queensland. The WA Football Commission would have to pay $4 million up front and had just 160 days to assemble a team and establish its infrastructure.
September 22: Ron Alexander was appointed inaugural West Coast Eagles coach.
October 30: The original 32 players were revealed to the WA football public at a glittering affair at the Merlin (now Hyatt) Hotel.
1987
March 3: The West Coast Eagles, in their first official match, overcame Footscray after trailing by 28 points at three-quarter-time to win 12.15 (87) to 8.10 (58) in a pre-season clash.
March 29: The West Coast Eagles played their first match for premiership points against Richmond and secured victory with a nine-goal last quarter, winning 20.13 (133) to the Tigers 16.23 (119).
September: The West Coast Eagles finished their first season in eighth position, just one game out of the top five, with an 11-11 win-loss ratio.
October 6: John Todd replaced Ron Alexander as coach, despite a debut season which had seen the club beat eventual premiers Carlton, runner-up Hawthorn (twice) and finish above both Collingwood and Essendon.
October: Steve Malaxos won the club's inaugural Club Champion Award.
1988
February 3: SGIO replaced Burswood Resort Casino as the club's major sponsor, assuming that mantle with a three-year deal worth $1.5 million.
May 6: After leading 8.0 (48) to 3.4 (22) against North Melbourne, West Coast folded to lose by 13 points – 17.8 (110) to 17.21 (123).
July 31-August 28: After losing seven games in succession early in the season, West Coast won the final five qualifying matches to sneak into fourth position and its inaugural finals appearance against Melbourne.
September 3: Despite a brave effort, the West Coast Eagles lost the elimination final against
Melbourne by two points – 10.11 (71) to 11.7 (73). Centreman Murray Wrensted had the chance to snatch victory with the last kick of the match, but his attempt slewed wide.
October: John Worsfold was anointed Club Champion ahead of Guy McKenna, in his first season, and Chris Mainwaring.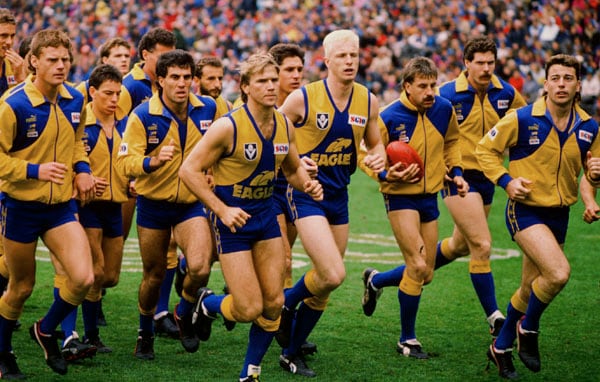 1989
March 28: Murray Rance was nominated as captain to replace inaugural skipper Ross Glendinning, who retired.
June 4: Dwayne Lamb became the first West Coast Eagles player to reach the 50-game milestone in a match against Hawthorn.
July 15: Perhaps the darkest day in club history, with the West Coast Eagles being held to just 1.12 (18) against Essendon 25.10 (160) at Windy Hill. West Coast's solitary goal came in the second quarter from Chris Lewis and meant the club had a 1-14 record after 15 rounds. Remarkably the players rebounded to beat Sydney the following week.
July 30: A 37-point victory over Footscray gave West Coast its second successive victory and lifted the side off the bottom of the premiership table.
September 1: Trevor Nisbett was appointed football manager.
September 2: The West Coast Eagles finished the season in 11th position with seven wins. Below them were St Kilda, Footscray and Richmond.
October 3: Michael Malthouse was chosen as the club's coach, replacing John Todd.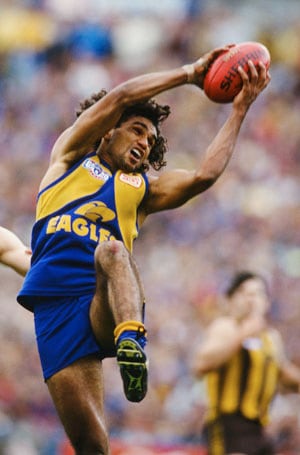 1990
January 26: Steve Malaxos was appointed captain.
September 29: The club's finals assault ended at the hands of Essendon in the preliminary final, the Bombers enduring 18.13 (121) to 8.10 (58), which was little surprise given the club had travelled for six consecutive weeks to the east coast.
October: Chris Lewis was named Club Champion.
1991
February 13: The dawning of a new era became apparent when tough defender John Worsfold was appointed captain.
March 24-June 22: The West Coast Eagles won the first 12 games of the season, before succumbing to Carlton by three points at Princes Park.
September 8: The West Coast Eagles earned the right to host the first final ever played out of Melbourne. Unfortunately, Hawthorn prevailed in front of 44,142 fans, winning by 23 points.
September 21: After beating Melbourne in the first semi-final at Waverley, the West Coast Eagles backed up with a 15-point win over Geelong to book a place in the club's first ever grand final.
September 28: After a bold start, kicking the first four goals, West Coast slipped to a 53-point loss to Hawthorn in the first grand final played at Waverley, losing 13.8 (86) to 20.19 (139). The game was played at Waverley because the Great Southern Stand was being erected at the MCG.
1992
September 6: The West Coast Eagles earned a home final for the second year running against Hawthorn, only this time, after the Hawks had kicked the first four goals, West Coast recovered to score a 13-point victory in one of the best finals matches in history, winning 14.16 (100) to 12.15 (87).
September 13: West Coast booked a place in its second successive grand final with a 13-point win over Geelong in the second semi-final at the MCG, the scoreboard reading 20.13 (133) to 14.11 (95).
September 26: Trailing by two goals at half-time, West Coast recovered to win by 28 points in the grand final against Geelong to become the first non-Victorian club to win the premiership. West Coast won 16.17 (113) to 12.13 (85) and Peter Matera was awarded the Norm Smith Medal.
October: Dean Kemp completed his rise to the top of the club's playing ranks when judged Club Champion. He polled 46 votes to win by eight from wingman Chris Mainwaring.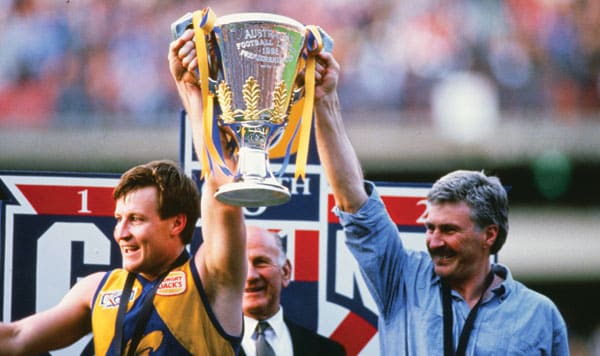 1993
September 4: After finishing the home and away season in sixth position, in a top six format, West Coast played North Melbourne in an elimination final at Waverley and led by Glen Jakovich, who was the master of his battle with Wayne Carey, the Eagles won 17.18 (120) to 11.13 (79).
September 12: West Coast was never in the hunt against Essendon in the first semi-final, losing by 32 points to the eventual premier.
October: Don Pyke and Glen Jakovich tied for the Club Champion Award.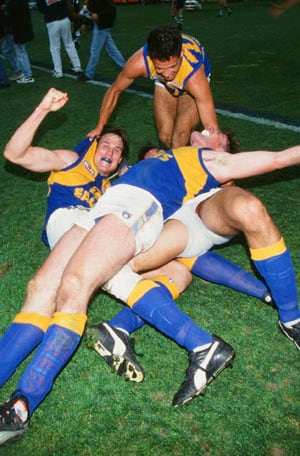 1994
March: The AFL decided to move to a top eight finals system, which was opposed by West Coast coach Michael Malthouse on the basis that more than 50 percent of teams in a 15-side competition would play finals, thus rewarding mediocrity. He was more receptive to the idea of teams being extended to 21-man sides.
May 27: Dwayne Lamb, in a game against Sydney at the WACA Ground, became the first West Coast player to achieve the 150-game milestone. A member of the club's inaugural
squad, he was also the first player to reach the 50- and 100-game marks.
September 11: The West Coast Eagles hung on for a thrilling two-point victory over Collingwood in a qualifying final at the WACA Ground, winning 11.16 (82) to 12.8 (80).
September 24: A second half blitz, when West Coast scored nine goals to two, saw the team register an emphatic 65-point victory over Melbourne at the WACA Ground – 16.21 (117) to 8.4 (52) – taking the club to its third grand final.
October 1: West Coast was rarely troubled in beating Geelong in the grand final, powering to an 80-point victory on the back of a dominant performance, which saw Dean Kemp claim the Norm Smith Medal as best afield.
October: Glen Jakovich won the Club Champion Award in his own right.
1995
May 14: With skipper John Worsfold at his imposing best, the West Coast Eagles pummelled the AFL's latest acquisition, the Fremantle Dockers, 23.13 (151) to 9.12 (66) on a day when Prime Minister Paul Keating officially opened a new-look Subiaco Oval.
September 9: West Coast lost a qualifying final to Essendon by 19 points at Waverley, scoring only 2.2 in the second half as the Bombers won 11.8 (74) to 8.7 (55).
September 17: Michael Brennan retired as the club games record holder, with 179 matches, on a day which was sad for West Coast on another front as North Melbourne eclipsed the Eagles by 58 points at the MCG.
October: For the third year in succession, Glen Jakovich was named Club Champion.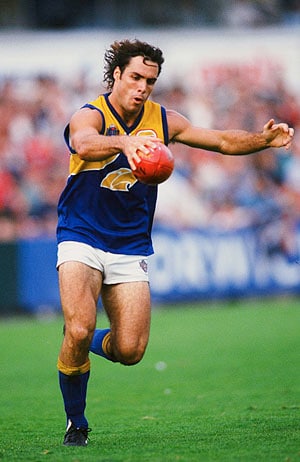 1996
September 8: West Coast, after finishing fourth, played Carlton in a qualifying final at Subiaco Oval, demolishing the Blues by 55 points after controlling almost every facet of the game.
September 14: Despite winning in the first week of the finals and Essendon losing at the same time, West Coast travelled to the MCG to tackle the Bombers and were out-gunned, losing 8.19 (67) to 22.12 (144).
October: Drew Banfield was named Club Champion ahead of long-serving wingman Chris Mainwaring.
1997
March 29: The West Coast Eagles and Sydney played the first match under lights at the redeveloped Subiaco Oval.
May 2: Three-time Club Champion Glen Jakovich made an auspicious return in the game against the Western Bulldogs at the WACA Ground after recovering from a knee reconstruction.
May 18: Guy McKenna became the first West Coast Eagles player to reach the 200-game milestone.
May 25: Peter Matera celebrated his 150th game in style, with a best on ground performance against Essendon as the West Coast Eagles scored a convincing 25-point victory.
September 7: Adelaide defeated West Coast by 33 points in a qualifying final at Football Park, on a day when Peter Sumich played his 150th game.
September 13: After kicking out to a 32-point break in the second quarter, West Coast was left to rue missed opportunities after being over-run by the Kangaroos and losing the semi-final by 13 points.
October: Peter Matera was named Club Champion while, on the same night, Mick Malthouse was awarded life membership.
1998
Round 3: Chris Lewis played his 200th game and steered West Coast to victory over Fremantle.
July 6: Pugnacious rover Tony Evans, who excelled in the cauldron of the 1992 and 1994 grand finals, succumbed to a series of injuries and announced his retirement after 108 games.
September 12: The West Coast Eagles were out-pointed by the Western Bulldogs in a qualifying final, losing 18.13 (121) to 7.9 (51).
October 25: Long-serving skipper John Worsfold announced his retirement after a 209-game career, signalling the end of an era.
October: After a stellar season at full-back, Ashley McIntosh was named Club Champion.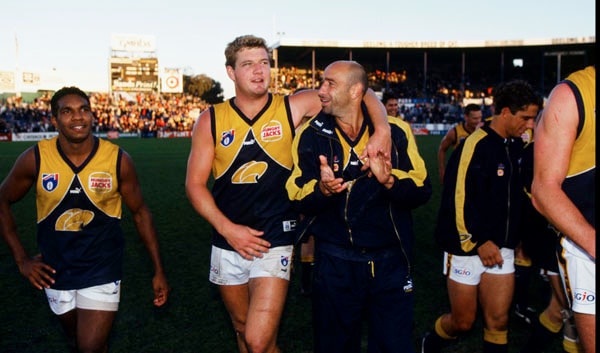 1999
July 18: Chris Mainwaring, after a two-year battle with a knee injury, worked his way back to play his 200th game.
August 31: Mick Malthouse ended speculation about his coaching future when he announced he would return to Melbourne for personal reasons.
September 3: The West Coast Eagles produced a magnificent five-point victory over the Western Bulldogs in the first qualifying final at the MCG.
September 11: The charge of the West Coast Eagles was terminated by a brilliant Carlton, the Blues winning by 54 points – 18.16 (124) to 10.10 (70). It was Malthouse's last game at the helm of a club he had steered to greatness.
September 29: Ken Judge was appointed coach of the West Coast Eagles.
October: Guy McKenna won his second Club Champion Award, a decade after his first.
2000
March 10: The reign of Ken Judge started in a flurry, West Coast blitzing the Kangaroos by 43 points in the season-opener at the MCG.
April 2: The West Coast Eagles destroyed Adelaide to win by a record 114 points, the scoreboard reading 29.13 (187) to 10.10 (70).
April 16: West Coast scored another emphatic victory, this time over Fremantle, winning 28.10
(178) to 9.7 (61).
April 27: Veteran Chris Lewis announced his retirement after 215 games.
May 28-August 6: Defeat in 10 of the last 11 matches saw the West Coast Eagles miss the finals series for the first time since 1990. The last of them, against Melbourne, signalled the end of the wonderful career of defender Guy McKenna, who could no longer compete with a back injury.
September: Glen Jakovich won his fourth Club Champion Award.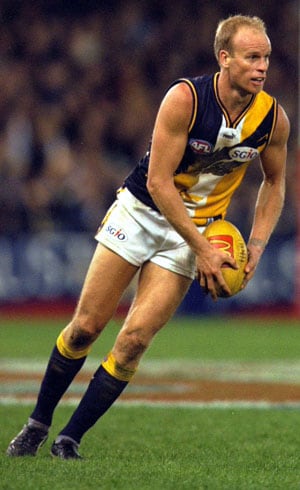 2001
February: Dean Kemp and Ben Cousins were announced as co-captains with Peter Matera, Glen Jakovich and David Wirrpanda nominated as vice-captains.
March: A pre-season game against St Kilda saw Phillip Read suffer a knee injury that ultimately ended his season before it started. He would be joined by David Sierakowski, Michael Prior and Chad Morrison before the season was out.
August 25: There was an emotional farewell for West Coast Eagles co-captain Dean Kemp as the curtain came down on a stellar 243-game career.
September 5: After winning just five of 22 matches, with an average losing margin of 63 points, the tenure of Ken Judge was terminated two years into a three-year contract.
2002
February, March: Chad Morrison and Phil Read, two important players on the West Coast Eagles list who had endured knee reconstructions in 2001, again suffered similar fates after seemingly innocuous training mishaps and neither played a game that season.
March 31: Former captain John Worsfold began his career as senior coach with a stunning victory over arch rival Fremantle. It was the first of nine successive home game victories, which was eventually ended by Melbourne in round 19.
September 1: A pulsating 17-point victory over the Kangaroos catapulted the West Coast Eagles into the finals series for the first time since 1999.
September 7: A 33-point elimination final defeat by Essendon was both disappointing and satisfying, with a dozen players tasting September action for the first time.
October 4: Captain Ben Cousins won his second successive Club Champion Award with young guns Daniel Kerr and Chris Judd filling the minor placings. Judd was also named rookie of the year.
2003
March 29: The West Coast Eagles started the new season with a flourish, defeating Port Adelaide convincingly, 17.20 (122) to 11.8 (74) on a day when Glen Jakovich became only the third player from the club to register the 250-game milestone.
May 10: Veteran midfielder Drew Banfield joined a select group of players to reach the 200-game milestone and the club celebrated with a fighting victory over Geelong.
May 17, June 15: In the space of five weeks, the West Coast Eagles defeated 2002 grand finalists Collingwood and Brisbane, at Telstra Dome and the Gabba respectively, to give the club's push for a place in the finals series real impetus.
June 8: Ashley Sampi proved cool in a crisis, steering West Coast to a remarkable draw against the Western Bulldogs at Subiaco Oval. Seemingly beaten when 13 points down with a little more than two minutes on the clock, West Coast tied the game after the siren when Sampi marked and converted from about 30 metres.
July 23: Months of speculation ended when brilliant young midfielder Chris Judd re-signed for a further two years.
August 30: A record crowd of 43,027 turned out for the round 22 Carlton Mid Derby, only to see West Coast thwarted by Fremantle. It was the largest attendance since the ground had been re-configured several years earlier.
September 6: The West Coast Eagles' finals campaign came to an abrupt end against Adelaide at AAMI Stadium, the Crows surging to a 56-point triumph, winning 16.17 (113) to 8.9 (57).
2004
March 28: After trailing by 34 points deep in the first quarter, the West Coast Eagles rallied to kick their 2004 campaign off in a high-scoring affair against the Western Bulldogs. The vital signs were good for the visitors, who won just three games on the road the season prior, triumphing by seven points in a nailbiter.
May 15: On the morning of the round eight match against Sydney, dual premiership player and four-time Club Champion Glen Jakovich shocked many by publicly announcing that the game would be his last. With that, the champion centre half-back closed the book on an enviable career that saw him retire as the club games record holder with 276 matches and AFL life membership to his credit.
June 20: Phillip Matera had reason to celebrate against the Kangaroos at Manuka Oval, despite the 33-point loss. In playing his 150th game, Matera qualified for life membership of the club, joining his brother, Peter, who played 253 games for the West Coast Eagles, in that elite group.
September 4: The West Coast Eagles could not convert the momentum of their premiership season into a finals victory, succumbing to Sydney 11.9 (75) to 4.10 (34) at a rain-soaked Telstra Stadium, the club's first match at the Olympic venue.
September 20: Star midfielder Chris Judd became the first West Coast Eagle to claim the competition's highest individual award – the Brownlow Medal. The 21-year-old, who received All-Australian honours for the first time two weeks earlier, polled 30 votes to win from 2003 medallist Mark Ricciuto, who finished with 23.
October 1: Judd capped off a stellar season, claiming his first Club Champion Award after finishing third in 2002 and runner-up in 2003. He was also named the club's player of the finals.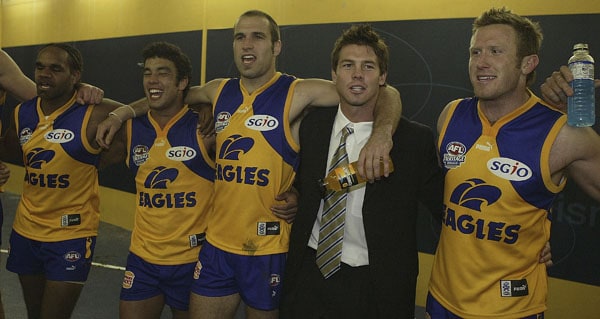 2005
March 12: Qualifying for its very first pre-season grand final, the West Coast Eagles met Carlton in an enthralling clash at Telstra Dome. West Coast hit the lead early in the fourth quarter but a late rally from the Blues saw them triumph by 27 points.
March 27: The West Coast Eagles opened its 2005 account in fine style, ending a longstanding hoodoo at AAMI Stadium. Down by 10 points at three-quarter-time and without a win against the Crows at their home ground since 1996, vice-captain Andrew Embley moved forward to kick three second-half goals and set up a thrilling 11-point win.
June 18: Hard-working midfielder Michael Braun had two reasons to celebrate the 15-point win over Melbourne at the MCG, becoming the first player from outside of WA to play 150 games for the club.
August 12: Having lost two of its three games in the lead-up, West Coast pounded an in-form Fremantle by 48 points in a Carlton Mid Derby televised to a national audience. Star midfielder Chris Judd won his second Ross Glendinning Medal for the year for best afield.
August 27: After holding top spot for 18 weeks, the West Coast Eagles conceded the minor premiership to Adelaide with a disappointing eight-point loss. The defeat also ended the Eagles' 20-match winning streak at Subiaco Oval.
September 2: Before 43,302 spectators, West Coast pulled off a remarkable four-point victory against the Sydney Swans in its first final at Subiaco Oval since 1996. Trailing by 14 points at the final change, a five-goal final term including a heroic mark and goal from Adam Hunter booked West Coast a preliminary final berth.
September 17: West Coast exacted revenge on Adelaide with a gritty 16-point win over the minor premiers at Subiaco Oval, earning a place in its first grand final since the triumph of 1994.
September 19: Captain Ben Cousins became the second West Coast Eagle to win a Brownlow Medal in as many seasons, polling 20 votes to beat teammate Daniel Kerr by a solitary vote. The quinella, with the top two players from the same club, was the first of its kind for 79 years.
September 24: After Sydney dominated the first half of the grand final, West Coast fought back bravely to take the lead early in the fourth quarter, but didn't capitalise on opportunities that followed. With just four goals kicked in the final stanza, Sydney made the most of theirs to seal an emotional four-point victory. However, the brilliant Chris Judd was presented with the Norm Smith Medal despite his team's heartache.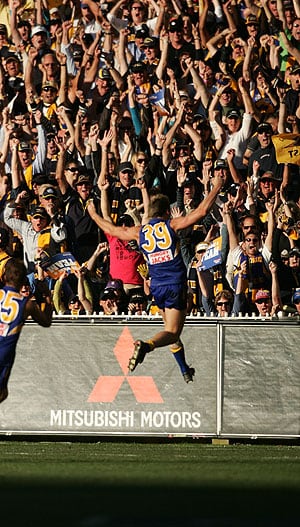 2006
March 1: Chris Judd was appointed captain of the West Coast Eagles nine days after Ben Cousins resigned his position. Judd, 22, became the eighth captain in the club's history and continued an outstanding two years that had seen him win a Brownlow Medal, All-Australian selection, a Club Champion Award and Norm Smith Medal.
March 30: After a pre-season campaign that netted one victory, West Coast met St Kilda in the club's season opener on a Thursday night at Subiaco Oval before a crowd of 40,036 and a national TV audience. Daniel Kerr and Dean Cox were on song as West Coast posted an 18-point win to start the season.
June 3, June 11: West Coast unofficially earned the title of comeback kings when, after trailing Geelong at Skilled Stadium by a massive 54 points halfway through the third quarter, a surge led by Andrew Embley, Ben Cousins, Daniel Kerr and Adam Hunter inspired a three-point win. A week later, a 44-point deficit to Carlton at a similar stage of the game at Subiaco Oval was knocked over in spectacular fashion by Hunter and company to post a 10-point win.
July 29: For the first time in five or six years, the West Coast Eagles entered a match at Subiaco Oval as clear underdogs – facing a ladder-leading Adelaide Crows outfit that had lost just two games for the season, while West Coast had dropped three of its last five. What ensued had spectators reeling as the Eagles belted the Crows to the tune of 82 points after leading by 33 points at quarter-time. Midfield trio Daniel Kerr, Ben Cousins and Michael Braun were white hot and the competition had a new premiership favourite.
August 5: Celebrating its 20th season in the competition, the West Coast Eagles unveiled Team 20 - a team of the greatest players to represent the club - at a glittering ceremony at Perth Convention Exhibition Centre.
September 2: An 88-point demolition of Richmond at the MCG to finish the qualifying
rounds saw the West Coast Eagles finish minor premiers and awarded the McClelland Trophy for the third time. West Coast led for every minute of the game and youngster Mark LeCras, who kicked 5.4 in just his fifth game of senior football, claimed the season's final National Rising Star nomination.
September 4: For the first time since West Coast's last premiership year of 1994, the club had four players named in the All-Australian team. Chris Judd (ruck-rover), Ben Cousins
(rover), Darren Glass (full-back) and Dean Cox (interchange) were awarded the honour for their efforts throughout the qualifying rounds.
September 8: West Coast entered familiar territory, hosting Sydney in a qualifying final at Subiaco Oval in front 43,116 patrons. And it was an epic battle, very much like the previous three matches against the Swans. Trailing by 15 points at half-time, West Coast – led by Chris Judd – clawed back to take the lead with minutes to play before a late goal to Michael O'Loughlin booked a one-point win for the Swans and a preliminary final berth.
September 23: After a slow start in swirly conditions, West Coast found its A-game in the second half to preserve its recent record over Adelaide at AAMI Stadium and win a place in the grand final for the second successive season. Trailing by 20 points at half-time in a match where goals proved hard to come by, Adam Hunter's move forward was crucial while Chris Judd, Daniel Kerr, Ben Cousins and Dean Cox were outstanding.
September 30: West Coast met its finals nemesis Sydney at the MCG, seeking to add a third premiership to its trophy cabinet after the disappointment of 2005. Starting very strongly and leading at every change, West Coast was threatened by a late charge from the Swans. The smallest of margins separated the two sides a number of times in the final stanza before the siren sounded, West Coast triumphing by one point. Vice-captain Andrew Embley was presented with the Norm Smith Medal as best afield while Chris Judd entered the annals as the club's second premiership captain.
October 6: Chris Judd was named Club Champion for the second time, confirming his status as a club great and icing a tremendous season. In his five years in the competition, Judd has finished no lower than third in Club Champion Award voting.
2007
March 20: The West Coast Eagles rocked the sporting nation when former captain and premiership legend Ben Cousins was suspended indefinitely. It would be almost five months before the champion would return to the game, after completing a comprehensive rehabilitation program in California.
March 31: The club's campaign to defend the 2006 premiership began with a thrilling grand final rematch against Sydney at Telstra Stadium. It was an opportunity to build on the rivalry that had developed in the previous couple of years, but no one could have anticipated yet another one-kick margin. The heart-stopping victory was achieved without seven premiership players: Cox, Fletcher,Cousins, Embley, Hansen, Butler and Banfield and the one-point margin meant that the last six matches between the two clubs had been decided by a total of 13 points.
April 7: The first home game of the season was an opportunity for West Coast fans to see the
premiership flag unfurled over Subiaco Oval. The home crowd was also introduced to the newest member of the Eagles' nest, Whiteman Park's wedge-tail eagle. Auzzie would make her debut flight at the following home game and repeat this breathtaking display at every West Coast game played at Subiaco Oval during the 2007 premiership season.
May 13: Ladder-leaders Geelong put an end to West Coast's six-game winning streak in round seven at Skilled Stadium. The success of the reigning premier up to this point had confounded critics who had predicted a lacklustre season due to off-field issues and rampant media scrutiny.
July 7: Michael Braun became the first non-Western Australian to play 200 games for the West Coast Eagles. Celebrated in the AFL's Heritage Round, West Coast went down to Brisbane in a disappointing home-ground performance.
July 21: West Coast's favourite son, Ben Cousins, made his highly anticipated return to senior football. Racking up a phenomenal 38 possessions in a stellar performance against Sydney, Cousins had the loyal Subiaco crowd on their feet, roaring their approval each time he touched the ball. In a day for the history books, West Coast defeated the Swans by 12 points, the biggest margin between the clubs in two years of razor sharp competition.
September 1: Hard-nut Daniel Chick celebrated his 250th AFL game by witnessing the end of an era as Kevin Sheedy coached his last match for Essendon and football legend James Hird bowed out of our great game. In an inspiring final quarter at Subiaco Oval, Essendon gave their coach and former captain something to remember as they made up for a 51-point deficit to come within eight points, but the strength of West Coast shone through in the end. After the final siren, the jackets and scarves broke out as our Subiaco crowd gave two AFL champions a true West Coast send-off.
September 7: West Coast commenced its sixth finals campaign under senior coach John Worsfold with a shattering qualifying final loss to Port Adelaide. The final siren sounded across AAMI Stadium signalling a three-point deficit.
September 12: Potent midfielder Daniel Kerr's efforts throughout the season were rewarded when he was named The West Australian/McInerney Ford AFL Footballer of the Year, pipping Fremantle's Matthew Pavlich by one point. Kerr was also awarded the ABC's Christian Medal, named after ABC Radio's Geoff Christian, a former No.1 ticket holder.
September 14: The must-win semi-final against Collingwood at Subiaco Oval went into extra-time when the scores were tied at 10.12 (72) at the final siren, with the Pies eventually running out 19-point winners, signalling a heart-breaking end to West Coast's tumultuous 2007 season.
September 16: Captain Chris Judd met with senior coach John Worsfold and announced his intention to return to Melbourne to pursue his football career.
October 1: The West Coast Eagles was shocked by the devastating news of the passing of one of the club's true champions, Chris Mainwaring. Having played 201 games for the blue and gold, Chris left a lasting legacy through his commitment and remarkable courage.
October 5: Darren Glass was named Club Champion, after coming runner-up to Chris Judd in 2006. His consistent performances in each of the side's 24 games in 2007 saw him recognised as one of the most powerful players in the AFL.
October 17: The West Coast Eagles board voted unanimously to dismiss former captain Ben Cousins following another off-field indiscretion.
November 7: The AFL announced it would hold an investigation into club operations, headed by the Honourable Justice William Gillard QC.
November 9: Chairman Mark Barnaba informed the public of the club's intention to hold its own independent and external review, led by Hendy Cowan and Steve Scudamore. All-Australian defender Darren Glass was named captain of the West Coast Eagles.
November 30: West Coast utility David Wirrpanda was named in the top 10 most influential Indigenous people in Australia in The Bulletin magazine.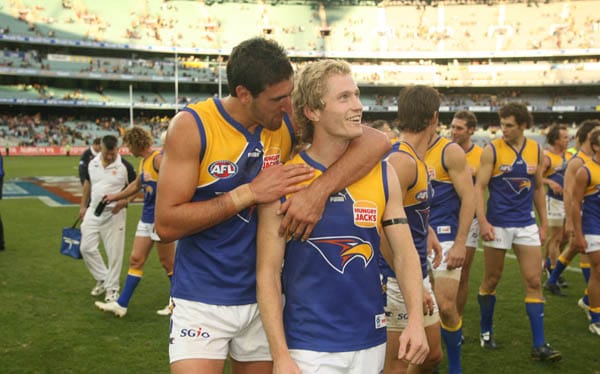 2008
February 8: The West Coast Eagles recorded a record annual profit of $6.6m before a royalty payment of $2.8m to the West Australian Football Commission.
February 14: The findings of the Cowan-Scudamore review were released, indicating that the many new initiatives implemented since November 2006 had affected real change in the club's culture. The findings stated that the club had taken the necessary steps to improve its position and was well placed to move forward.
March 22: Season 2008 was launched with a comprehensive victory over Brisbane at Subiaco Oval, West Coast winning 14.8 (92) to 11.10 (76). It was to be one of just four wins in the club's worst season in its 22-year history.
April 20, April 26: West Coast stars Darren Glass, Dean Cox, Andrew Embley and Daniel Kerr qualified for life membership when they played their 150th games in rounds five and six against Port Adelaide and the Western Bulldogs respectively. That these four senior players reached the milestone within eight days was remarkable considering that only 22 players had achieved the feat in 21 previous seasons.
May 24: The club's longest-serving player David Wirrpanda played his 200th game in a thrilling match against Adelaide at Subiaco Oval. The team reserved perhaps its best performance of the year for the occasion, steamrolling the Crows by 50 points. Loyal partners Hungry Jack's and SGIO recommitted to the club, having signed on as sponsors in 1987 and 1988 respectively.
July 7: Veteran Eagle Michael Braun announced season 2008 would be his last after struggling with serious physical complaints. He would go on to play his last game in round 21 against the Hawks at Subiaco Oval.
August 19: Former Melbourne coach Neale Daniher accepted the position of general manager of football operations with the West Coast Eagles, an appointment which came after almost 12 months of planning with current general manager of football operations Steve Woodhouse presenting a revised football structure to CEO Trevor Nisbett.
October 3: Four-time All-Australian and West Coast vice-captain Dean Cox was named Club Champion, his remarkable consistency and leadership during a difficult season recognised by the match committee.
October 4: Champion midfielder Daniel Kerr signed an extended contract with the club and recently-retired Collingwood captain Scott Burns accepted a position on the revamped Eagles' coaching staff.
October 5: Past West Coast Eagles legends lined up against former Dockers players in the inaugural Chris Mainwaring Tribute Match, with the OWLS team running out 25-point winners 16.11 (107) to 12.10 (82). More than 32,500 fans flocked to Subiaco Oval to enjoy the spectacle and over $150,000 was raised for Mainwaring's favourite charity, Telethon.
November 29: West Coast secured high-profile youngster Nic Naitanui with its first pick in the 2008 AFL National Draft. Other selections included Luke Shuey, Tom Swift, Ashley Smith and Jordan Jones with Adam Cockie and Liam Bedford completing the nest after the rookie draft on December 16.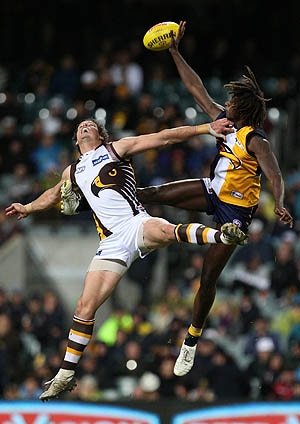 2009
March 7: West Coast arranged to play cross-town rival Fremantle in a special pre-season derby to raise funds for the Red Cross Victorian Bushfire Appeal, the tragedy affecting many of the club's players personally and drawing a strong response from the entire football fraternity. The WA football community raised in excess of $175,000 for the cause.
March 20: The club announced that defender Beau Waters' season was over before it had begun after it was determined that the elbow injury he sustained in July the previous year was not responding to treatment as required.
April 11: The occasion of Tyson Stenglein's 200th AFL match was not enough to inspire his teammates to victory over the Saints at Docklands, with the final scoreboard reading 25.11 (161) to 9.10 (64).
May 29: Adam Hunter qualified for life membership when he played his 150th match for the club against Carlton at Docklands. It was a night to forget for the ultimate swingman with his team going down to the Blues by 41 points in a lacklustre performance.
June 26: Senior coach John Worsfold signed a two-year contract extension, binding him to the club until the end of season 2011. Under his direction, the team had missed finals just twice in eight years.
June 27: In arctic conditions at Subiaco Oval, Nic Naitanui set the West Coast crowd on fire in just his second senior game, kicking three goals in the final quarter against Hawthorn to seal his team's 20-point victory over the reigning premier. This would be ball magnet Daniel Kerr's final game for the season due to a groin-related injury.
July 11: The competition's premier ruckman Dean Cox would join teammate Daniel Kerr on the sidelines and play his last game of the season, a groin complaint signalling a premature end to the All-Australian's 2009 campaign.
August 8: West Coast put an end to a horror away game record, defeating the Western Bulldogs at Docklands in a thriller after losing 19 consecutive matches on the road.
August 28: The final match of the 2009 season was earmarked as veteran Chad Fletcher's last game in the blue and gold. Premiership hero Adam Hunter also announced his retirement, losing the battle with a cruel shoulder injury. Club legend David Wirrpanda was a late withdrawal from the side, choosing instead to be present for the birth of his first child, Marley. Premiership spearhead Quinten Lynch celebrated his 150th match with an 80-point win over Richmond, the first time former West Coast captain Ben Cousins had played his old teammates on Subiaco Oval. West Coast had won four of its last five matches and would take that confidence into season 2010.
September 1: Cult hero and crowd favourite David Wirrpanda made the decision to put an end to his 14-year decorated career, stepping aside after 227 games to make way for the club's future stars.
September 11: Skipper Darren Glass secured his second Club Champion Award after a stellar season at the helm. His defensive lieutenant Shannon Hurn came in at runner-up. Premiership player Tyson Stenglein announced his retirement at the awards ceremony, drawing the curtain on a 208-game career.
December 16: West Coast registered another strong off-field performance, recording a consolidated operating profit for the year ended October 31, 2009 of $3,718,524 before royalty obligations to the West Australian Football Commission, retaining just over $2 million to potentially invest into its future infrastructure.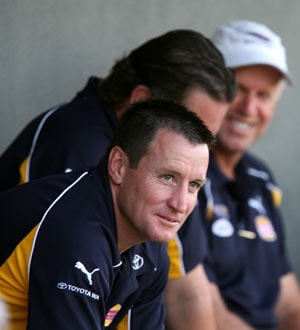 2010
June 13: Senior coach John Worsfold coached his 200th game for the West Coast Eagles, adding to the 209 games he chalked up as a player to become one of just eight individuals in VFL/AFL history to have played and coached more than 200 games at the same club. Unfortunately, his team was defeated by Richmond at the MCG, 19.12 (126) to 11.11 (77).
June 20: Skipper Darren Glass was ruled out for the season with a groin complaint, the solid defender having played his last game in round eight against Melbourne. Glass would be joined by a host of players requiring season-ending surgery including Mark Nicoski, Daniel Kerr, Bradd Dalziell, Sam Butler and Brett Jones.
July 10: Andrew Embley's 200th game was not enough to inspire West Coast to victory against Adelaide at Subiaco Oval, although the milestone man did everything possible to put his team in the winning position, kicking three goals and having strong influence in the middle.
July 17: Sharp-shooter Mark LeCras set a new record at Etihad Stadium with his 12-goal haul against Essendon, leading his team to a 32-point victory against the Bombers, 20.12 (132) to 14.16 (100).
August 14: West Coast suffered another agonising defeat at the hands of Port Adelaide, missing out on the four points by a solitary behind in Dean Cox's 200th appearance for the club. The final scoreboard read 8.12 (60) to 8.13 (61).
September 10: Leading goalkicker Mark LeCras was crowned 2010 Club Champion after an extra-ordinary season in front of goal, with midfielder Matt Priddis coming in at runner-up.
October 5: Jacob Brennan, son of dual premiership player Michael Brennan, was selected as West Coast's first father-son selection where the father has played more than 100 games for the club, with the Eagles committing their final selection at the 2010 NAB AFL Draft to secure the 20-year-old.
December 1: Long-serving administrator Steve Woodhouse was sadly forced to retire due to his battle with Parkinson's disease. As the club's general manager of football operations from 2001, the respected Woodhouse was at the helm when the club won its third premiership in 2006.
December 17: The club recorded a consolidated operating profit of $4,801,419 for the 2010 financial year. After royalties of $2,040,846 were paid to the West Australian Football Commission, the club announced a profit of $2,760,573.
2011
March 9: The club launched its 25th season with a breakfast function and the 800 guests at the Burswood Entertainment Complex set a new record for attendance at an AFL club season launch. In celebration of the silver anniversary, the club's special edition 25th year guernsey was unveiled, to be worn on-field in rounds one and 20.
March 27: Draftees Andrew Gaff and Jack Darling made their highly anticipated debuts against North Melbourne and West Coast recorded its first victory for premiership points of season 2011. It was to be one of 18 victories for the year, including a tight semi-final against Carlton, in one of the most remarkable turnarounds in AFL history.
April 16: Respected captain Darren Glass played his 200th match against Hawthorn in Launceston. The side held a narrow lead over the Hawks at three-quarter-time, but eventually slipped to a seven-point defeat.
July 30: Adam Selwood qualified for life membership when he made his 150th appearance for the club against the Western Bulldogs at Etihad Stadium. The visitors led by as much as 50 points in the first half, but this margin was quickly reduced as the Dogs ignited. The surge proved too late and West Coast ran out eight-point winners thanks to a late goal by ruckman Dean Cox.
September: West Coast made its first finals appearance since 2007 with a strong showing against premiership favourites Collingwood at the MCG. Falling to the Pies by 20 points, West Coast hosted Carlton the following week at Patersons Stadium, defeating the Blues by just three points to meet Geelong in a preliminary final. The young team struggled against the eventual 2011 premiership team, bowing out of the finals race after a 48-point loss at the MCG.
September 15: Dean Cox was named The West Australian/McInerney Ford AFL Footballer of the Year on count back after tying with teammate Matt Priddis. Andrew Embley came in at third place in a clean sweep for the Eagles.
October 7: After the tightest Club Champion Award count in the history of the West Coast Eagles, skipper Darren Glass took out top honours, with Matt Priddis being named runner-up. Although Glass and Priddis finished with equal votes, Glass was named Club Champion because he had played one fewer game than his teammate. Dean Cox trailed the pair by just one vote to be adjudged the team's third most outstanding player.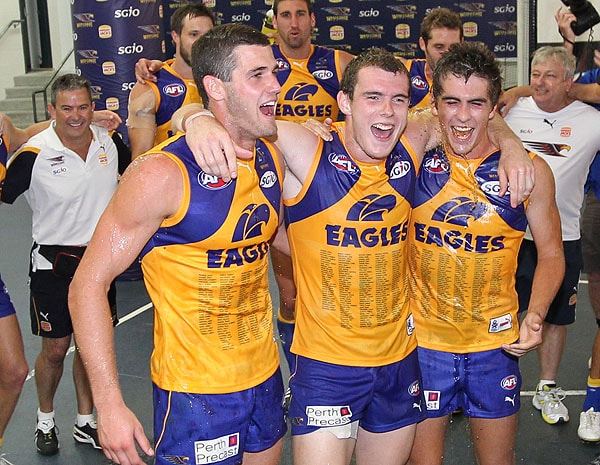 2012
February 17: Star forward Mark LeCras was ruled out for the season, requiring a knee reconstruction after tearing his anterior cruciate ligament during a training session. He would later be joined by Mark Nicoski, Andrew Embley and Josh Kennedy as players to miss the majority, if not all, of the season.
March 17: West Coast met Adelaide in the 2012 NAB Cup Grand Final, qualifying for the pre-season final for just the second time in its history. Inaccurate kicking cost the team and they suffered at 34-point defeat at AAMI Stadium.
May 27: John Worsfold became the club's longest-serving coach when his team faced Fremantle for his 244th game. The match was won in style, with West Coast dominating to win by 48 points. Midfielder Matt Rosa earned his first Ross Glendinning Medal as best afield.
June 23 & July 7: Schoolmates Quinten Lynch and Daniel Kerr played their 200th games for the Eagles in rounds 13 and 15 respectively. Although the team scraped over the line for Kerr against North Melbourne in Tasmania, winning the match by just two points, the same could not be said for Lynch's milestone, with West Coast suffering a three-point loss at the hands of Collingwood at the MCG.
September 9: West Coast steamrolled North Melbourne in a red-hot elimination final at Patersons Stadium, celebrating Dean Cox's 250th game to the tune of 96 points. The club then progressed to the second week of finals, meeting Collingwood at the MCG, only to suffer a 13-point defeat which ended the 2012 campaign.
September 17: Darren Glass became the first Eagle to captain an All-Australian side, heading a list of four teammates to be selected in the 2012 team, including Nic Naitanui, Beau Waters and Dean Cox, who was named for the sixth time.
October 2: Quinten Lynch became the first player in club history to exercise his rights as an unrestricted free agent, leaving West Coast for Collingwood.
October 5: A 20-year-old Scott Selwood earned his first Club Champion Award, with Dean Cox coming in at runner-up and Shannon Hurn rounding out the top three. Mitch Brown was honoured with the Chris Mainwaring Medal as best clubman.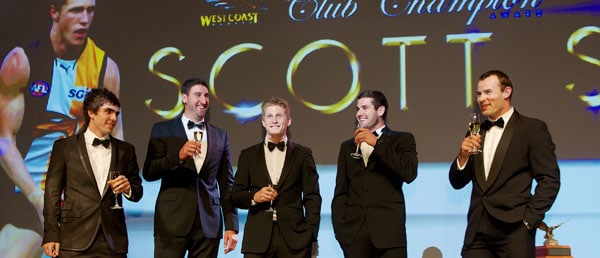 2013
January 31: Skipper Darren Glass was endorsed for a fifth season, making him the second longest-serving captain in club history, ranking behind only John Worsfold.
March 20: Respected chief executive officer Trevor Nisbett received AFL life membership for his services to Australian football.
May 17: Captain Darren Glass joined the exclusive 250-game club in the match against North Melbourne. Young midfielder Scott Selwood also played his 100th game on a night which was celebrated by a spectacular mark in the dying seconds and a goal after the siren from Nic Naitanui to beat the Kangaroos by two points.
August 15: Experienced Eagles Adam Selwood and Mark Nicoski announced their intention to retire at season's end. Selwood would continue and play in the final game of the season against Adelaide, while Nicoski retired immediately because of a severe wrist injury.
August 28: Norm Smith medallist Andrew Embley announced his intention to retire after his 250th game in the final match of the season against Adelaide. Unfortunately, on the night Embley and teammate Adam Selwood played their last games, and Mark Nicoski farewelled fans with a lap of honour, West Coast's season ended with a disappointing 86-point loss.
September 5: John Worsfold, the longest serving coach in West Coast history, announced his resignation. After 12 seasons and 281 games, Worsfold stood down in the wake of a season that saw the club finish in 13th position.
September 6: The club announced that an in-principle agreement had been reached with the Town of Victoria Park and Perth Football Club to build a new training and administration base at Lathlain Park.
September 30: Former North Melbourne premiership midfielder Adam Simpson was appointed as the sixth senior coach of the West Coast Eagles. Simpson, who played more than 300 games with the Kangaroos, had spent the last four seasons as an assistant coach at Hawthorn.
October 15: Premiership midfielder Daniel Kerr joined teammates Adam Selwood, Mark Nicoski and Andrew Embley in retirement, announcing his decision six weeks into the off-season.
November 29: Indefatigable midfielder Matt Priddis, twice the runner-up in 2010 and 2011, was crowned Club Champion. Priddis won the inaugural John Worsfold Medal from key defender Eric Mackenzie and forward Josh Kennedy.
2014
April 12: Champion ruckman Dean Cox set a new club record for games played, overtaking Glen Jakovich by playing his 277th match for West Coast, travelling to Simonds Stadium to face Geelong. It was a night to forget for the Eagles who did not score a goal after quarter-time and went down to the Cats by 75 points.
June 12: Skipper Darren Glass shocked the football world with the announcement that he had played his last game, calling time on his 270th game immediately, after battling hip and ankle injuries. Glass' final match for West Coast came against Hawthorn in Tasmania the previous weekend, a day when defender Will Schofield celebrated his 100th game.
June 28: Matt Rosa qualified for life membership when he played his 150th game for the West Coast Eagles, facing Fremantle at Patersons Stadium in what was to be his second last match for the year, with a bicep tendon prematurely injury ending his season.
July 21: Club games record holder Dean Cox announced that season 2014 would be his last, calling time on an extraordinary career, which included selection in six All-Australian teams, a best and fairest award and a premiership medal. His last game would come against Melbourne in round 22, with the Eagles running out 66-point winners to an adoring home crowd.
August 16: Shannon Hurn joined Matt Rosa in qualifying for life membership of the West Coast Eagles when he played his 150th match for the club against Essendon at Etihad Stadium. After leading by 34 points midway through the third quarter, the team eventually fell to the Bombers by a heartbreaking three points.
September 2: West Coast's 10-year relationship with the Cancer Council WA climaxed with the club's contribution to the charity topping $1 million, thanks to the generous donations of Eagles fans through the annual Dig Deep campaign.
September 3: The Town of Victoria Park and West Coast reached an agreement over the lease of Lathlain Park, which is set to become the club's new home in 2017.
September 22: Midfielder Matt Priddis became the club's third Brownlow medallist, being crowned the league's fairest and best player at a glittering ceremony in Melbourne. Beau Waters was also honoured for his charity work, winning the Jim Stynes Community Leadership Award.
October 3: After coming in as runner-up last year, defender Eric Mackenzie was awarded the 2014 John Worsfold Medal, with Matt Priddis following closely behind in the vote count.
December 8: Shannon Hurn became West Coast's 10th captain after the player vote was ratified by the board.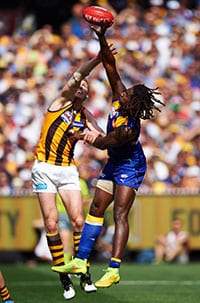 2015
February 28: During the first NAB Challenge match against Carlton in Mandurah, the new season started disastrously when reigning club champion Eric Mackenzie went down in the second term with a knee injury. It was later confirmed he would require a knee reconstruction.
April 4: The club's 2015 campaign started with a loss to the Western Bulldogs, but worse than that, another key defender, Micth Brown, went down with a serious knee injury in the first 15 minutes. He, too, would require a knee reconstruction.
April 10: The Eagles won their first match of the season against Carlton, with key forward Josh Kennedy kicking 10 goals. It was the third double-figure tally of his career.
April 26-July 26: The club won 13 of 14 matches to lock down a position in the finals series and push towards securing a top-four finish.
August-September: With three wins from the last four games, including an outstanding derby triumph in round 20, the Eagles away a top-two finish and then won the two home finals to book a place in its sixth grand final.
October 3: The Eagles could not match the intensity of Hawthorn and a dream season ended with a 46-point Grand Final loss.
October 9: Midfielder Andrew Gaff won the John Worsfold Medal from Brownlow Medal runner-up Matt Priddis and Coleman medallist Josh Kennedy. They had each earned All Australian selection earlier at the completion of the qualifying rounds.
2016
April 9: Matt Priddis became just the 18th Eagle to register 200 games with the club against Fremantle. He marked the occasion in style by claiming his second Ross Glendinning medal on the back of a brilliant 31-disposal, eight-tackle effort which helped West Coast down the Dockers by 33 points.
April 15: The West Coast Eagles celebrated its 30th anniversary with a resounding 68-point win over Richmond. More than 38,000 fans crammed into Domain Stadium to witness the heritage jersey-clad Eagles run rings around the Tigers in a memorable day for players, staff, members and supporters.
June 30: The Eagles dominated a stubborn Essendon outfit by 78 points on a night when the club celebrated the 10-year anniversary of its 2006 premiership triumph. Members of the 2006 side soaked up the admiration of the Eagles faithful during a lap of honour at Domain Stadium before forming a guard of honour to welcome the current squad on to the field ahead of the first bounce.
August 19: West Coast's 2016 premiership tilt suffered a significant blow when Nic Naitanui went down with what appeared to be a serious left knee injury in the third quarter of the Eagles' clash with Hawthorn. Subsequent scans confirmed the star ruckman had ruptured his anterior cruciate ligament and would require a knee reconstruction.
September 8: Shannon Hurn's 200th game in the blue and gold was among the most disappointing of his career – a 47-point elimination final loss to eventual premiers the Western Bulldogs.
September 20: Federal and State Government dignitaries convened with West Coast officials to turn the first sod at the Lathlain Park Precinct development. The ceremony marked the official start to construction of the Eagles' new administration and training facility.
October 6: Midfield star Luke Shuey edged two-time Coleman medallist and All Australian Josh Kennedy to claim his first John Worsfold Medal. The 26-year-old also won the highly coveted Chris Mainwaring Medal, which is bestowed on best clubman.
2017
February 25: West Coast's big three off-season recruits – Sam Mitchell, Drew Petrie and Nathan Vardy – take the field together for the first time during the club's second JLT Community Series pre-season fixture against Fremantle in Geraldton. The exciting trio look more than comfortable in blue and gold and help the Eagles to a 55-point win over the Dockers.
March 26: West Coast opens its season 2017 account with a dominant 43-point win against North Melbourne at Etihad Stadium, thanks in large part to a seven-goal haul by Josh Kennedy. However, the result is somewhat soured by an injury to Drew Petrie that casts him to the sidelines for the next eight weeks.
July 27: Matt Priddis shocks the footballing world upon announcing his retirement from the AFL. The champion midfielder, who plays out the rest of the year and ultimately wins the club's Player of the Finals award, finishes his illustrious career with 240 games to his name in addition to the 2013 John Worsfold Medal, 2014 Brownlow Medal and 2015 all-Australian honours.
August 6: Josh Kennedy becomes just the second West Coast Eagle to kick 500 goals. He reaches the mark with an imperious set shot from 35 metres midway through the second quarter of the club's round 20 clash with St Kilda at Etihad Stadium.
August 27: West Coast bids farewell to Subiaco Oval in style with one of the most remarkable victories in the club's 31-year history. Needing to beat minor premiers Adelaide by a hefty margin to advance to the finals, the Eagles rally late in the fourth quarter to notch a 29-point win and edge Melbourne by just 0.5 percentage points to claim eighth spot on the ladder In the final home-and-away fixture of the season.
September 9: Luke Shuey kicks a goal after the final siren of extra time to get West Coast over the line against Port Adelaide in one of the most remarkable finals games in AFL history.
October 6: Elliot Yeo wins the 2017 John Worsfold Medal following a sterling year in which he also earned maiden all-Australian honours. The Eagles also celebrate new life members Jack Darling, Andrew Gaff and Luke Shuey and honour retirees Matt Priddis, Sam Butler, Drew Petrie, Sam Mitchell and Jonathan Giles during its Club Champion Awards.
October 22: After almost three years of exhaustive negotiations, the West Coast Eagles and Fremantle Dockers signed off on a user agreement for the new Perth Stadium, ensuring the clubs would ply their trade at the world-class sporting cauldron from 2018 and beyond.
November 1: The West Coast Eagles unveiled a new logo during a public function at Crown Perth. Chief executive Trevor Nisbett also confirmed the return of Hungry Jack's as a co-major sponsor, introduced ISC as the club's new on-field apparel partner and confirmed the club would reinstate royal blue and gold as its primary playing colours in 2018.