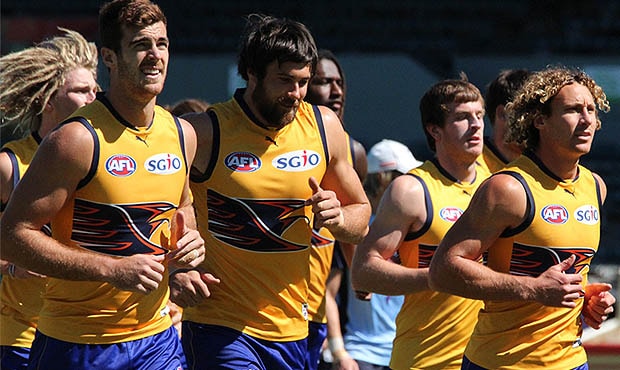 The enthusiasm on the track was palpable. The players know the preliminaries are over and they're starting to get excited. Round one is only a week away.
Aside from those players who will use this weekend as an opportunity to shine in the WAFL and push claims for a spot in the AFL season opener, the rest of the West Coast players will have a weekend off to recharge and reinvigorate.
And they attacked their final training session ahead of the weekly routine, which will dominate their lives for the next six months, with undeniable relish.
They were sharp, vibrant and generally upbeat in a solid hit out at Domain Stadium late in the morning.
GALLERY: Catch all the action from today's training session

The ball whizzed around the ground like a pinball, bouncing from target to target with great energy and purpose. After the necessary evil of playing matches that do nothing other than prepare their bodies for the physical demands of elite football, they are ready for the real deal.
They want to play for premiership points and it has been a long wait. Now that wait is almost over.
A game against the Western Bulldogs in the evening of Easter Saturday awaits and while that is still nine days away, the players know that when they clock on for business on Monday morning it's 'game on.'
No more of this dancing with your sister nonsense, it's time to play for keeps. That's what motivates these athletes through the arduous summer preparation and they can now put into practice the things they have been focussing on so meticulously.
This time next week, the 22 players who have earned the right to carry the blue and yellow flag into battle will board a Virgin Australia flight to the first of 22 assignments aimed at creating another chapter in the respected history of this club.