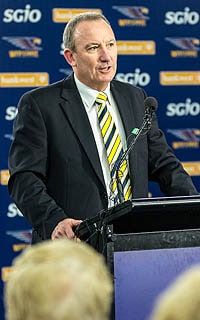 One of the most significant steps in the history of the West Coast Eagles was taken this morning when Prime Minister Tony Abbott announced a $10 million funding commitment to the Lathlain Park Precinct Development.
The Prime Minister made the announcement at a special stakeholders' breakfast held at the Perth Football Club in Lathlain Park this morning.
The Lathlain Park Precinct Development falls under the auspices of the Town of Victoria Park and a major element of the project is the proposed new training and administrative facility for the West Coast Eagles.
In effect, the Eagles are likely to relocate to the precinct within the next three years and it will be the club's headquarters for the next 50 to 100 years.
West Coast Eagles chairman Alan Cransberg and CEO Trevor Nisbett were in attendance, together with the Federal Member for Swan Steve Irons MP, Town of Victoria Park Mayor Trevor Vaughan and CEO Anthony Vuletta, and Perth Football Club president Vince Pendal.
Nisbett said that the Federal Government's funding support was of critical importance to the progression of the project.
"We thank the Federal Government for their recognition of the enormous ongoing social and economic benefits that the LPRP will deliver for the whole community," Nisbett said.
"Together with the Town of Victoria Park, we are now looking forward to rapidly advancing our plans for the precinct. We have been completely committed to the project from day one and this brings it a big step closer to reality.
"We would also like to thank the Prime Minister for taking the time to join us at Lathlain today. The support of Steve Irons has also been instrumental to bringing this major community project to reality."
Aside from the club's training and administration facility, Lathlain will also house the Wirrpanda Foundation and provide opportunities to assist with some of the initiatives of the SAS Resources Trust, along with many other community developments.