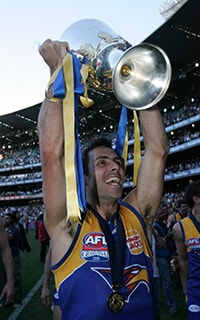 It's the quest of every AFL footballer to win a premiership. Some get there, others get painfully close, while the majority – including many of the game's greatest names – are never in contention.
Then there is a blessed legion who taste premiership ecstasy more than once, who are viewed with a blend of envy and respect. For those fortunate to achieve multiple glory, they generally do so in succession or within a handful of years of their previous triumph. Their club builds a dynasty around a core group of players, similar to Hawthorn of the 1980s and Brisbane's assault in the early part of this decade.
Then there's Drew Banfield whose 12-year wait matched an AFL record held by champion Geelong and North Melbourne goal-kicker Doug Wade.
Banfield enjoyed West Coast's 1994 triumph as a 20 year-old, preceding his 1996 club champion award and a proud career which, for the last two-and-half years, carried the title of the club's lone surviving premiership player.
It had become a stereotype, a topic he would so often be drawn into discussion about. Perhaps there was an underlying fear that West Coast would soon enter a season without a player who had claimed the game's ultimate.
It will be a long time before that happens. The current crop now has 21 of them, including young guns Beau Waters and Sam Butler who, like a fledgling Banfield, have experienced their joy as 20 year-olds.
"This premiership was a lot of hard work and dedication put in by a lot of people and that's what grand finals are all about," Banfield assessed. "The same amount of hard work went into the '94 one as well and probably the difference is it's at the two spectrums of my career… a long time apart.
"Being a 20 year-old, there weren't so many responsibilities and I've been fortunate enough to be surrounded by such a great club and good people. It's certainly been a significant part of my life and I guess this has really just added to my time at the club.
"To share a premiership with the bunch of guys we've got here is just one of the best things that could happen."
Off-field, the flags have also come at two very different times of Banfield's life. His wife Amber was around for the 1994 flag; however, baby Bailey has also enjoyed Dad's celebrations this time.
But to share the achievement with the man they call 'Trojan', earned through an admirable work ethic, would have meant the world to Banfield's younger teammates as well.
After a certain age, the twilight years become gold. Not that Banfield ever looked to be slowing down.
There were whispers that Banfield's swan song, for want of better words, may have come last year with the right result. A win could encourage the veteran defender to hang up his boots. It wasn't to be and, eight weeks after West Coast fell four points short, Banfield threw himself into his 14th pre-season.
As the squad's elder, many leant on his experiences and cool head; however, there were lessons to learn on the road to a second premiership, even at 32.
"Our understanding of the week leading up as well as game day was a lot better and I think the only reason we prepared better was because of the knowledge that we gained the year before," he revealed.
This grand final week differed in that it also bred speculation as to whether Banfield would retain his spot in the side for the game.
After a handy contribution against the Swans in the qualifying final, he was omitted for the semi-final against the Western Bulldogs only to be recalled for the preliminary final against Adelaide.
But a fighting fit David Wirrpanda was knocking on the selection door, desperate for a berth after missing the Crows clash and with a terrific personal record in encounters with the Swans. His case couldn't be ignored.
Trojan and Wirra were similar players. Long- time teammates. Club favourites. They would be assigned similar opponents. Was coach Worsfold facing a tough decision?
"Having played the preliminary final over in Adelaide, I just hoped that the match committee found that I was a required player and that there might have been a role for me to play in the team the next game," he said. "Fortunately for me that's the way it went."
Starting on the interchange bench, Banfield was used on Sydney's range of small forwards and proved to be the remedy for Nick Davis, a catalyst in the Swans' third-quarter revival.
He was deep in defence in the game's dying moments and, when the final siren sounded, the emotion of the occasion understandably blurred some recollections.
"I think I was right in the goal-square and alongside me were Andrew Embley and David Wirrpanda," he recalled. "It's hard to remember how it happened but somehow we all ended up rolling on the ground in the goal-square and it was just one of the best feelings ever."
The feeling was so good that it prompted Banfield to consult Worsfold, along with defensive coach Tony Micale, once the formalities of the celebrations had died down. As Banfield's teammate and captain for six years, coach and mentor for five and friend for the length, Worsfold was the perfect sounding board.
"We've caught up a couple of times and had a good chat about it and reflected on the influence he's had on my career having been involved with the footy club for 14 years," Banfield said in the days after the grand final. "For John to be part of 11 years, it's pretty amazing."
For Banfield, it was an amazing ride from joining the club as the country's brightest talent of the 1992 ballot to become the most successful number one selection in the history of the draft system.
To borrow from the announcement of his retirement at the West Coast Eagles Club Champion Awards less than a week after the triumph, what a way to go out.
The views in this article are those of the author and not necessarily those of the AFL or its clubs