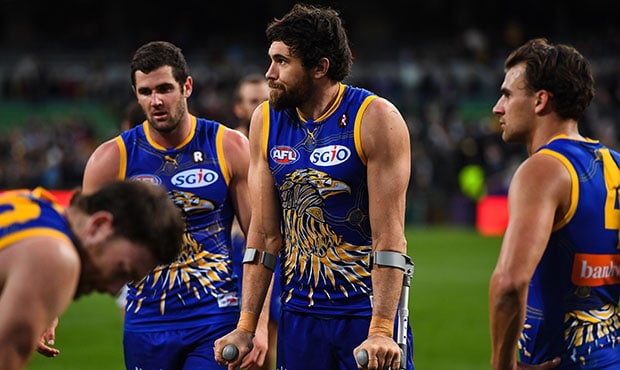 West Coast senior coach Adam Simpson isn't expecting to have superstar forward Josh Kennedy at his disposal until after the mid-year bye.
The two-time Coleman Medallist suffered a calf injury in the sixth minute of the fourth quarter and did not return to the field.
Medical staff iced the injury immediately, but the club is unlikely to know the extent of injury until Kennedy undergoes scans.
"I'm not quite sure, he's hurt his calf so I'm assuming he won't be back before the bye (after next weekend's clash with Gold Coast)," Simpson said during his post-match press conference.
"The feedback we're getting is it's a calf. I think he was a little bit worried there early on (that he hurt his Achilles), but I think it's probably calf.
"Sometimes they hurt. He heard a pop. The diagnosis at the moment is it's a calf, but it's early on so we'll see how he pulls up.
"Of course I am hopeful that's the case (that it's not too serious)."