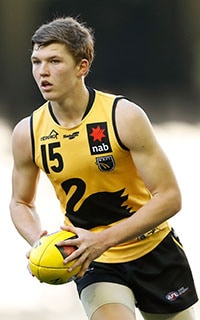 Height: 183cm
Weight: 75kg
Position: Midfield
From: Subiaco FC
The 19-year-old is an in-and-under midfielder who works hard to find the ball. He thrives on winning contested possessions and has plenty of poise with the footy in hand.
What separated Ainsworth from other onballers is his clean hands, clearance work and strong overhead marking prowess.
Had a superb season as an over-ager playing for Subiaco's reserves side in the WAFL. Has clean hands at stoppages, has no trouble finding the ball and is quick at disposing of it.
Capable of playing senior football straight away.