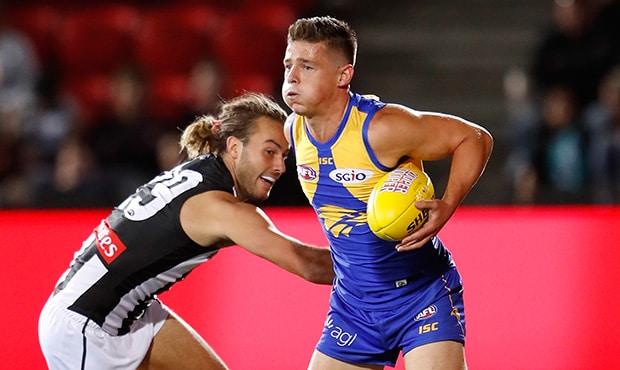 In many ways Hamish Brayshaw could be considered the forgotten man of West Coast's 2017 draft cohort, but the ambitious midfielder is on the comeback trail following a tough initiation into the AFL system.
While fellow draftees Liam Ryan, Jack Petruccelle, Brayden Ainsworth and Jarrod Brander were making their debut for the Eagles – and Oscar Allen travelled as an emergency for the club's round eight cash with Greater Western Sydney – Brayshaw looked on from afar, or more specifically the confines of West Coast's rehabilitation group.
Brayshaw sustained what he thought was a minor bout of tendonitis in his knee while representing East Perth during a WAFL practice match against Peel in March.
Little did he know the discomfort he experienced midway through the pre-season contest would sideline him for more than two months.
"I played through the game, it felt alright afterwards but it was pretty sore the next day. I spoke to the coaches and physio and they wanted to see how it progressed ahead of round one of the WAFL," Brayshaw said.
"Unfortunately I didn't get up for the fitness test, so I had a scan on it and the fat pad under my kneecap, which protects your kneecap from the patella tendon, mine was torn, so I had to go and get that shaved off.
"They repaired that and then cleaned up a bit of cartilage under my kneecap and that was meant to take four to six weeks to heal. The pad itself took a little time to settle down and the inflammation made it difficult to get back into running. That pushed me back another couple of weeks but when I started to get back into running it was sort of four- to five-weeks of building up fitness wise and getting strength back into it in the gym."
Life can be lonely in rehab; almost every player describes it as "not a fun place to be".
Fortunately for Brayshaw, some of the club's most experienced campaigners – plus a few driven youngsters – were also battling injuries during his long stint in the group.
"Eric Mackenzie was there throughout, Nathan Vardy was coming back from his adductor injury and Liam Ryan and Dan Venables were in there too," Brayshaw said.
"But it was good to watch a guy like Ezy and the way he went about it. Speaking to him, he's had more than 13 surgeries over his career, so he's had a lot of time spent in rehab.
"Speaking to a lot of physio staff, they said he's the sort of guy that would go just as hard in rehab as he does out on the park to give himself the best chance to get back out there and play footy. Watching the way he went about it helped me as a first-year player to see what you need to do when you're not training.
When Brayshaw finally exited the rehabilitation group in May he was desperate to make up for lost time and quickly began pouring over vision with midfield coach Sam Mitchell and shadowing the likes of Jack Redden, Luke Shuey, Elliot Yeo and Dom Sheed at training.
And finally, after 12 weeks of so desperately wanting to the play the game he loves, the 20-year-old got to lace up his boots and represent East Perth's reserves team – albeit on limited minutes.
He gathered 21 disposals in his return match against Subiaco's second side and backed that up with a 22-disposal, four-tackle and three-mark showing against Claremont's reserves at the weekend.
"I started on 60 minute game time and last week I played 70. Hopefully I will progress to 80 minutes this weekend and once I'm back to 90-plus that's probably close to my ideal game time anyway. I'll probably have one or two more weeks on limited minutes and then I'll be back into it," Brayshaw said.
"I've been playing a midfield-forward role. The coaches have been giving me free reign to go out and just try and play the style of game that got me drafted last year.
"It helps that the boys in the twos have been so good. I haven't played for East Perth before but they welcomed me into the club and have helped me find my feet a little bit. They have got me involved in the games early and they're a great bunch of blokes.
"I think I've been going okay to start with, I'm happy to progress minutes' wise and then hopefully I'll get into the league team and make my debut there."