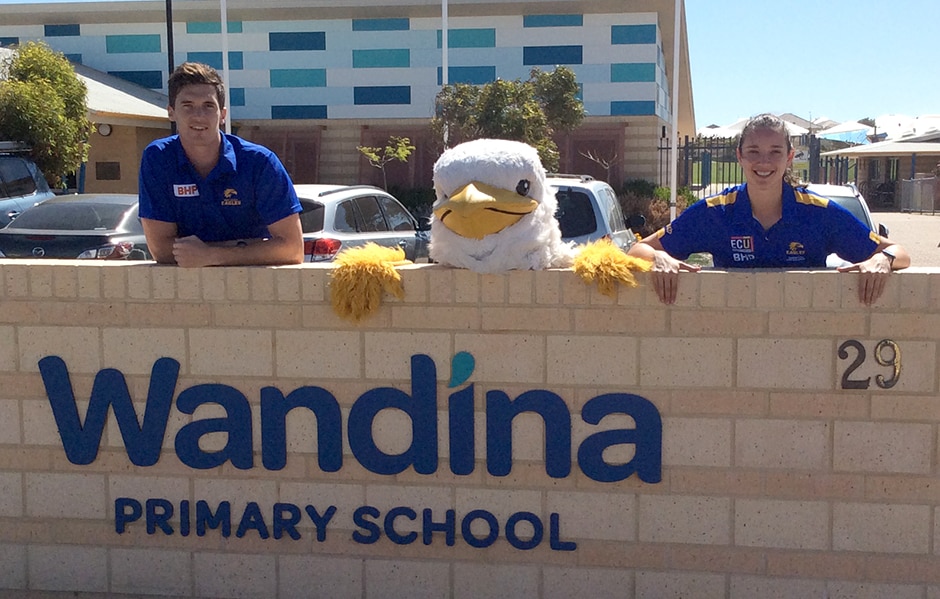 The West Coast Eagles' Community and Game Development team recently hit the road to conduct a four-day blitz through the Geraldton region.
Schools and community development officer Bradd Dalziel, schools and community officer Zac Fitzgerald, schools and community support officer Amy Woods and the always popular Rick the Rock visited 13 primary schools and six high schools during the expedition, which focused on delivering a variety of the club's award-winning schooling programs, including the Eagles Rock My School and High School Program.
Primary school students learned about the value of leading a healthy lifestyle and the importance of building resilience.
With the help of Rick, the students developed a namesake 'ROCK' acronym to identify the building blocks for developing resilience: Relationships, Optimism, Calmness and Kindness
Senior students participating in the High School Program attended seminars promoting the importance of leadership, goal setting and cyber awareness in addition to providing some insight about the West Coast Eagles' elite training practices.
The schools and community team took particular joy in addressing children from John Willcock College, where premiership forward Liam Ryan went to school.
The West Coast Eagles were also lucky enough to fit in a visit to Northampton, 51km north of Geraldton, where they were able to visit the former primary and secondary schools of star players Josh Kennedy and Jamie Cripps.
In total, the team made contact with approximately 3,300 students across the four-day trip.
Since 2004, the West Coast Eagles' Eagles Rock My School program has delivered messages of respect, health and education to more than 300,000 Western Australian students.
The West Coast Eagles High School Program allows schools the choice of one of four talks covering a variety of topics.
Presentations from the West Coast Eagles Schools and Community team members include videos from players and interactive activities.
And thanks to the club's principal community partner, BHP Billiton, this program is provided free to schools across WA.