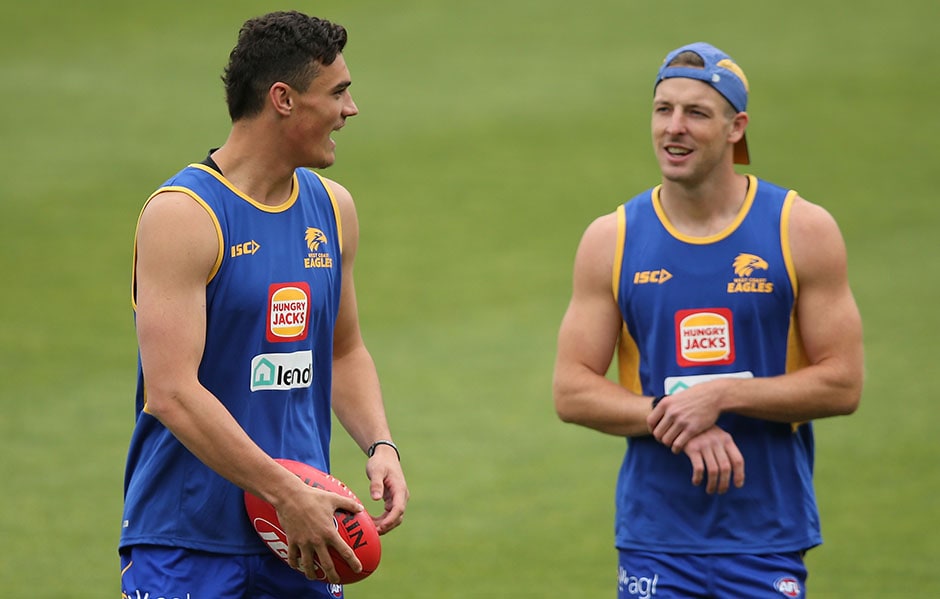 Patrick Bines looked at ease during West Coast's training session at Bendat Basketball Centre this morning, but the ambitious 19-year-old is hoping to feel more at home on the footy field than the free throw line this year.
Bines and teammate Brodie Riach turned their backs on basketball to join the Eagles as Category B rookies last year.
The decision was particularly tough for Bines, who represented Australia at the 2016 under 17 Basketball World Cup in Spain and harboured ambitions to play in the NBA.
But upon his return from the tournament, Bines had a change of heart and decided to channel his energy into football.
He caught the eye of several talent scouts and trained with Hawthorn periodically while completing his high school studies in Victoria, but it was West Coast who ultimately tabled him an offer to give his AFL dream a red hot crack.
"It's been great, finally getting to Perth and settling into everything," Bines said.
"I'm loving my time here. I'm still adjusting from basketball to footy, but I'm really enjoying it."
Bines is under no illusion that his transition from basketballer to footballer is going to take some time.
Although some of his skills with the Spalding transfer to Australia's favourite game, he knows there are some gaps in his skillset as a result of not kicking a Sherrin for almost six years.
Nevertheless, he is attacking each training session with vigour and has his mind set on developing into a key forward.
"I would like to become a tall forward who can interchange and give the ruckmen a spell when needs be," he said.
"I've been shadowing Josh Kennedy and just asking as many questions as I can to learn off him. He's obviously a superstar of the competition, so I'm just doing whatever I can to learn off him really."
"I've also been working with Jack Darling. They sort of play that interchangeable role up the forward line and work together.
"At the moment I'm working on my body work in contests.
"Body work is a big one. In basketball, you generally know where the contact is coming from every time, but moving into a 360 degree contact sport with players moving either side of you, that's a whole new ball game.
"I'm also trying to get my basic leading patterns down pat. I'm trying to adapt to everything really, but JK and JD are the best in the business and the best people to learn off."
While his ultimate goal is to pull on the blue and gold and represent the Eagles on the big stage, Bines said he could not wait to make his debut with the club's inaugural WAFL team.
He said knowing West Coast was going to have it's own team in the state league competition influenced his decision to join the club.
"When (list manger) Brady Rawlings was speaking to me last year that was something that convinced me to join the club, the fact that they were going to have a standalone WAFL side and that I'd get an opportunity to play plenty of senior footy," Bines said.
"I just can't wait to run out with the boys and do what I can to help the team.
"But before all of that I'm taking a one step at a time approach.
"I don't really know what it's like in season yet.
"Every training session, I'm just aiming to get better and better. I'm going to continue watching lots of film and doing extras. That's all I can do to get better. Hopefully it pays off."