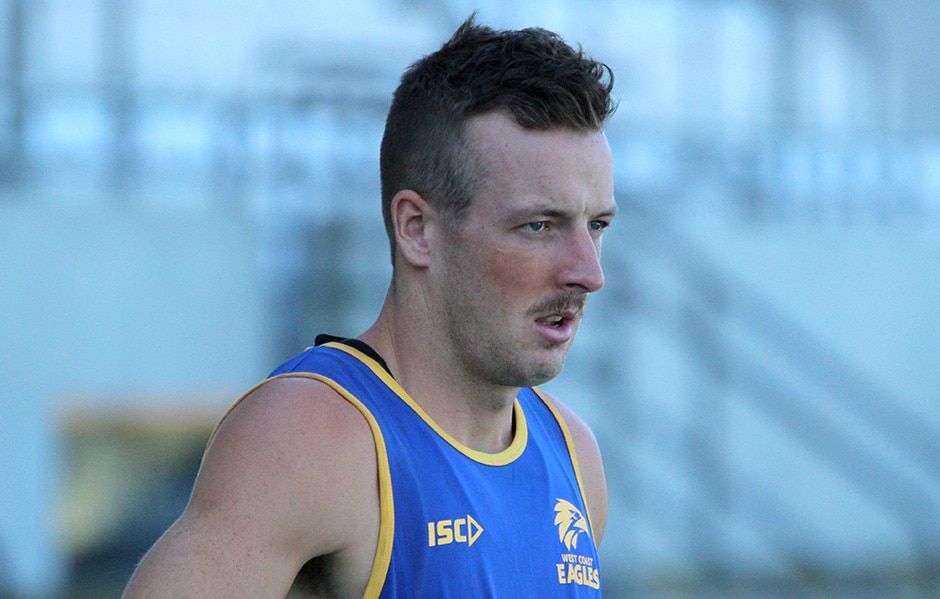 Season 2018 was a trying campaign for young Eagle Kurt Mutimer.
After registering four AFL games in 2017, the Dandenong Stingrays product had high hopes for the upcoming home and away season.
Unfortunately, things didn't go according to plan.
Despite piecing together a string of serviceable performances for East Perth in the WAFL, Mutimer just couldn't force his way into an Eagles midfield that was firing on all cylinders.
The senior team was flying after a first-up loss to Sydney at Optus Stadium, winning 10-straight games leading into the club's mid-season bye.
It was good news all round for the blue and gold – except for those looking in from the outside.
In an effort to breathe some life into his year, Mutimer and the club's coaching panel decided to pull the trigger on a move they had been contemplating for some time: a shift to the back line.
Understandably, the 21-year-old took some time to adapt to his positional switch, but he embraced the challenge and produced some of his best football towards the back end of the year, including a 22-possession, six-mark showing against Peel in round 18 and an 18-disposal, eight-mark game against East Fremantle the following week.
With that valuable experience under his belt and more clarity about his role, Mutimer is ready to attack the upcoming season and prove that he has what it takes to play at the highest level again.
"I'm pretty confident coming into this year after the pre-season that I've had," Mutimer said.
"I think having my new role down back is motivating.
"I feel like I've got a handle on it now, so hopefully I start putting some decent games together and putting my hand up again to get a crack in the senior team."
A lot of Mutimer's confidence stems from knowing that he is leaner and fitter than ever before.
After getting confirmation that he'd be stationed in defence this year, the fourth-year Eagle worked with the club's nutritionist and strength and conditioning staff to design an off-season training program to help him shed some weight and increase his aerobic capacity.
"I was a bit too heavy most of last year and I knew the only way for me to get quicker and run a 2km PB was to slim down and lose a bit of weight," Mutimer revealed.
"I focused a lot on my diet. I tried to cut down on my portion sizes and cut out a lot of the sugars and stuff that I didn't really need to be eating. I also focused a lot on the running that I was doing, the energy I was getting pre- and post-training.
"It was a lot of training-to-food consumption ratio. It's a bit scientific, but I really tried to focus on that coming into the pre-season.
"I managed to lose four or five kilos and tone down a little.
"You look at the likes of Brad Sheppard, he's pretty light on but he's a very good runner. It seems to come hand-in-hand with the position.
"It's something I felt I had to get right if I wanted to play AFL footy again."
Despite making significant gains in the off-season, Mutimer knows there is still plenty of hard work ahead of him if he wants to break back into the top team this year.
He will start his push this Sunday at David Grays Arena for West Coast's WAFL team, who are playing their first pre-season practice match against Peel Thunder ahead of the club's JLT Community Series stoush with Fremantle.
"I'll definitely be having a run this weekend, probably with the WAFL team," Mutimer said.
"I can see where I'm going and I know what position I'm playing. That gives me more confidence going into this season.
"I just can't wait for this weekend to roll around so I can get a kick and have some fun with the boys."