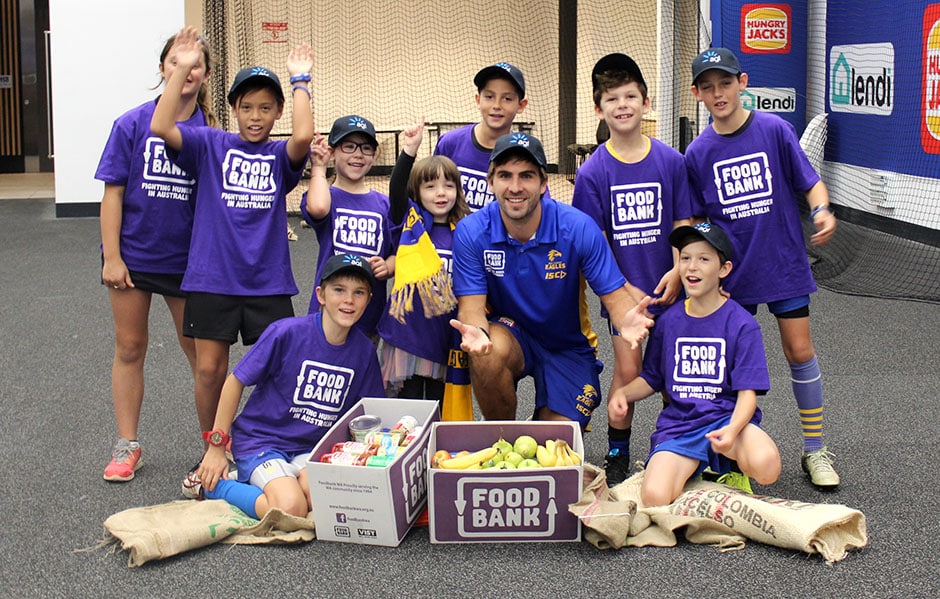 The West Coast Eagles will partner Foodbank WA and AGL for the second instalment of the AGL Metres for Meals campaign in season 2019.
Dual all-Australian Andrew Gaff will again be the driving force behind the campaign after helping net Foodbank WA more than 57,000 meals last year with his tireless running.
This year AGL will donate 300 meals to Foodbank WA for every kilometre Gaff runs during home games.
Gaff kick-started this year's campaign on Saturday by clocking 14km against Fremantle, which equates to 4200 meals.
West Coast Eagles General Manager of Community and Game Development Richard O'Connell said the club was thrilled to continue the Metres for Meals campaign in 2019.
"The long standing partnership between West Coast Eagles, our members and Foodbank WA has supported hundreds of WA families," O'Connell said.
"We are extremely excited to continue to support Foodbank WA and the wider Western Australian community thanks to the generosity of our premier partner in AGL."
AGL WA State Manager Jackie Shervington said AGL could not wait to see how the 2019 edition of Metres for Meals campaign transpired.
"The first year of the campaign was such a success that we are delighted to join forces with the reigning Australian Football League premiers and Western Australia's leading hunger relief charity for a second successive season," Ms Shervington said.
"Last year we donated more than 57,000 meals to Foodbank WA as a result of the AGL Metres for Meals campaign and funds raised in an AGL staff raffle.
"This year AGL will donate 300 meals for every kilometre run at each home game by Gaff, who covers an average of 15 kilometres each game."
Foodbank WA CEO Greg Hebble said his organisation was excited to have the continued support of AGL and the West Coast Eagles, especially in Foodbank WA's 25th anniversary year.
"We rely on donations all year around to meet the growing need for hunger relief in the community, and this fantastic initiative will help us provide everyday food essentials to families that rely on us to put a meal on the table in times of crisis," Hebble said.