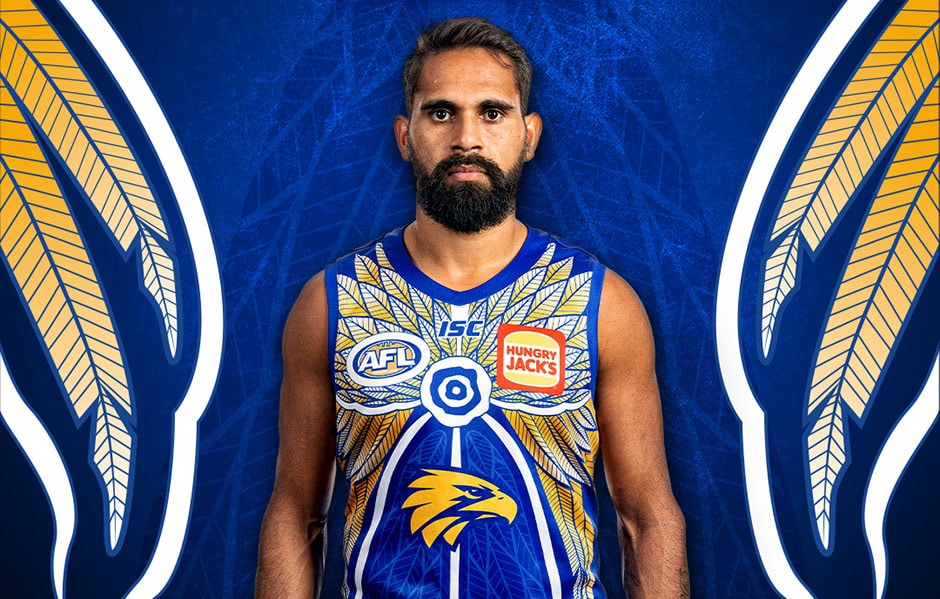 The story behind West Coast's 2019 Indigenous guernsey is as compelling as the garment itself.
Designed by prominent Western Australian Aboriginal artist Darryl Bellotti, the 'Wings of an Eagle' artwork draws inspiration from traditional Aboriginal ceremonial practice.
The eye-catching feathers wrap around the player like a 'Booka', a traditional kangaroo skin cloak, while the white lines represent song lines to sacred ceremonial areas.
There are three circles located in the 'heart' of the guernsey, which depict the playing and coaching group in the centre, support staff surrounding them, and the fans around the outside.
Such patterns were often drawn in the sand during traditional ceremonies, similar to the white lines of a football field.
"The story is more in line with older traditions, especially around culture and ceremonial practice," Belotti explained.
"It's in line with traditional 'Booka', which is a traditional kangaroo skin cloak that the old people would wear. At times during ceremony, the old people would not just paint themselves, but add feathers to their ceremonial garment.
"Right in the heart are the three circles and those three circles represent the supporters, the club and staff and the players in the middle.
"They're concentric circles of support for the players to go off and achieve that level of success and then carry all that support in the centre of their heart.
"They're wearing their hearts not so much on their sleeves, but on their guernsey."
Pre-order your 2019 West Coast Eagles Indigenous guernsey here
Star defender Lewis Jetta revealed the design process started with a conversation about helping supporters understand the significance of Aboriginal culture.
He said once the once the Reconciliation Action Plan Committee settled on a story, Belotti worked up designs to reflect these.
From there the RAP Committee narrowed the designs down to a combination of two artworks.
"We had about a 50-50 vote and most of the votes were for both of them, so Belotti just chucked them in together, which came out pretty good," he said.
"When we had the RAP meetings, it was very good how we had non-indigenous (players, coaches and staff) putting their input into the guernsey because, as you know, we are all the same. It was very good having all those guys vote.
"There were seven designs, so I just went around to some of the senior players and got their thoughts and most of the guys like the two designs that are on the jumper now."
The process was also supported by Noongar elder and West Coast Eagles Aboriginal Liaison Officer Phil Narkle.
The West Coast Eagles will wear its new Indigenous guernsey for the first time in round nine when it takes on Melbourne at Optus Stadium.