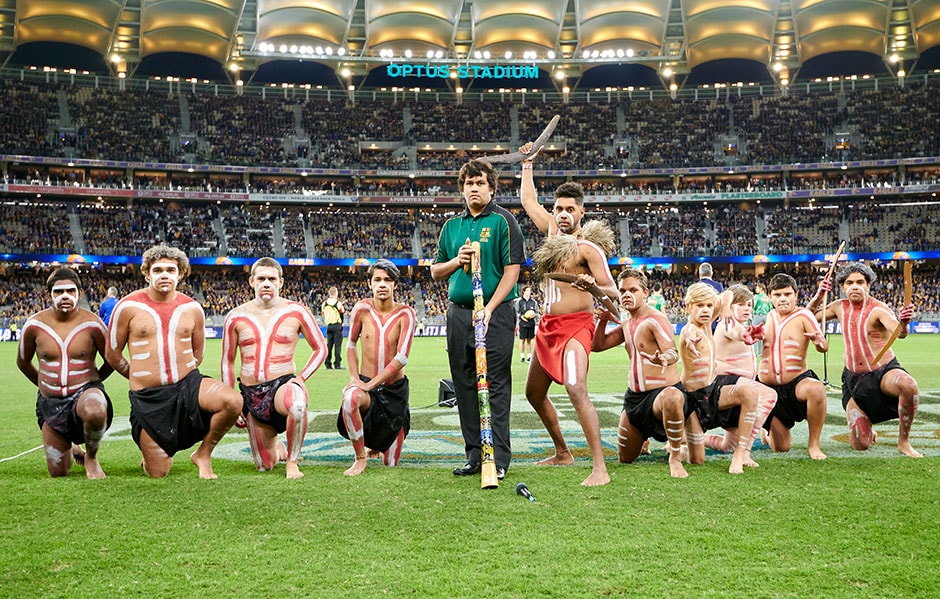 Indigenous music, dance, art and ceremony will be at the heart of West Coast's inaugural Waalitj Dreaming Game at Optus Stadium on Friday night.
The Wirrpanda Foundation's Deadly Sista Girlz will kick off the club's celebration of Aboriginal and Torres Strait Islander culture by contesting a curtain raiser game ahead of the Eagles' clash with the Demons.
Gates will open at 3.55pm so fans can watch the all the action.
The club will pay tribute to this year's National Reconciliation Week theme – Grounded in Truth: Walk Together with Courage – when it invites members and supporters to participate in a march to Optus Stadium from 4.45pm.
Following a brief address from West Coast Eagles Aboriginal Liaison Officer Phil Narkle, the fan march will depart from outside the Gloucester Park's Bridge Bar and make its way across the Matagarup Bridge to the Optus Stadium precinct.
The march will be led by a group of Indigenous students with a banner expressing the club's Waalitj Dreaming Game message: "Together we are committed to reconciliation" and culminate in a cultural dance performance at the BHP Amphitheatre.
Aboriginal musicians Gina Williams and Guy Ghouse will bring Optus Stadium to life with a performance at 5.39pm while students from Guildford Grammar School parade some striking artworks across the playing surface.
Noongar Whadjuk elder Simon Forrest will conduct the official Welcome to Country and a traditional smoking ceremony at 6.05pm before Indigenous players from West Coast and Melbourne exchange gifts before the first bounce.
The artist who designed our 2019 Wings of an Eagle Indigenous guernsey, Darryl Bellotti, will participate in a Q&A ahead of another performance from Williams and Ghouse during the half-time break.
A live didgeridoo performance will inspire the team and crowd during the three quarter time intermission.
Don't miss out on attending what promises to be one of the most memorable fixtures of the year!
Click here to purchase your tickets for the inaugural Waalitj Dreaming game!