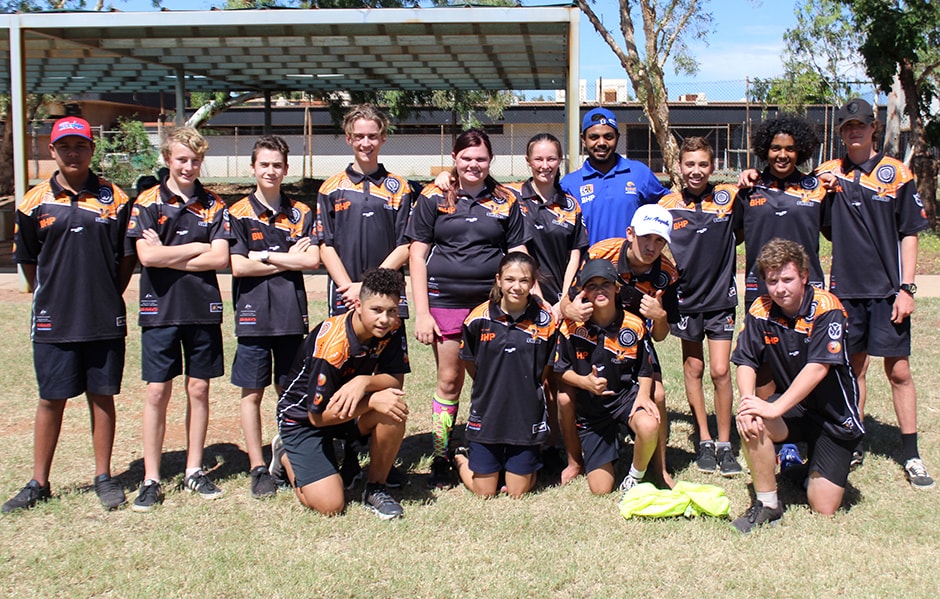 Hedland Senior High School students got more than they bargained for when Willie Rioli rolled into town for a Kicking Goals visit earlier this month.
When the various Kicking Goals classes convened at the school's oval, they were probably readying themselves to learn how to execute the perfect drop punt or fire off a bullet-like handball.
What they did not see coming was an insightful and inspiring tale of perseverance.
As Rioli introduced himself to each eager cohort, he shared his life story, honing in specifically on his journey from disillusioned teenager to 2018 AFL premiership player.
The forthcoming 23-year-old did not skip any details.
He spoke openly about leaving boarding school in Melbourne, quitting football and finding solace in alcohol following the unexpected death of two close friends.
Rioli later shared intimate details of the lightbulb moment that sparked him back into action: a deathbed plea from his grandmother, who implored him to leave Darwin to make something of himself.
The Tiwi Islands product also talked about what it took to realise his dream of being drafted to an AFL club: Moving away from his tightknit family, gruelling cardio sessions that helped him drop more than 16kg of excess weight and countless trying SANFL contests that, at times, made him question his ability to compete at the highest level.
As we well know now, all that hard work paid off when the West Coast Eagles called out Rioli's name in the 2016 NAB AFL Draft, using pick No.52 to bring him to the club.
And less than 24 months later, at the conclusion of his first full AFL campaign, Rioli stood atop the dais at the MCG on the final day of September with a 2018 premiership medallion resting around his neck.
Rioli felt it was important to share his warts and all story with the Kicking Goals students.
"I know what it's like being a kid from the regions; sometimes you feel like you don't have the same opportunities as people from the city," Rioli said.
"I guess my story proves that if you apply yourself, you can achieve anything.
"There is so much talent in regional towns, so I hope by sharing my journey I'll be able to inspire at least one kid to work through the tough times and chase their dream."
To learn more about Willie Rioli's journey, watch his Eagle Story, brought to you by BHP.
The Kicking Goals program, proudly supported by BHP and collaboratively delivered by V Swans and the West Coast Eagles, provides active education for students from Years 7-12 at Hedland and Newman Senior High Schools.
The program is designed to encourage school attendance and engagement, develop individual self-esteem, demonstrate the importance of goals and aspiration, explore the notions of teamwork and leadership, emphasise the importance of health and wellbeing and enable students to contribute back to their local community.
The program not only achieves these outcomes, it also places a strong focus on a comprehensive four-hour-per-week AFL curriculum linked to the Department of Education WA's health and physical education learning outcomes.
Participants in the Kicking Goals program are encouraged to apply their acquired skills within the community by becoming qualified coaches, umpires, trainers and administrators for local sporting organisations.