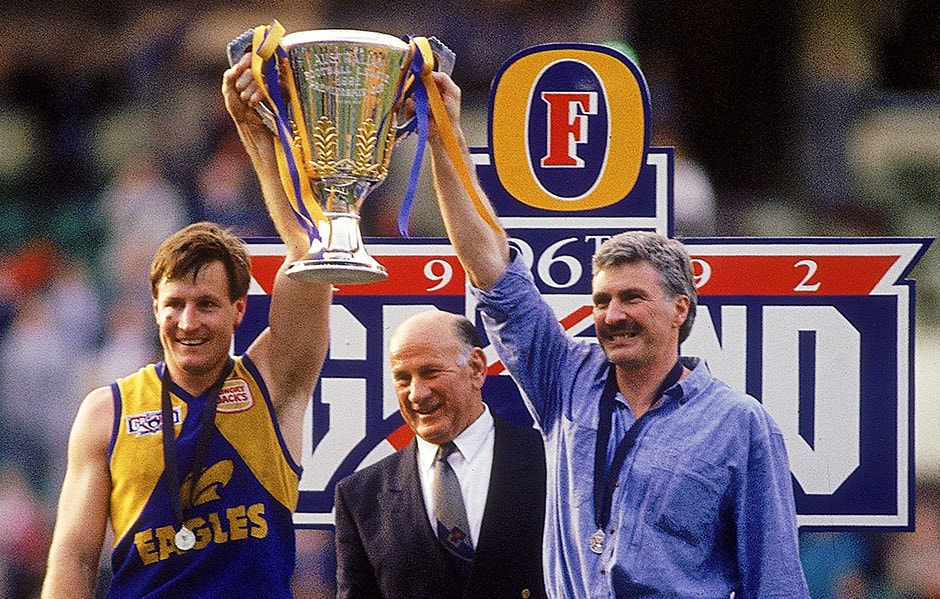 The ox is slow but the earth is patient.
One of the memorable quotes trotted out by West Coast Eagles coach Michael Malthouse in the 1990s has been personally applicable as the AFL has taken its time in acknowledging one of the great servants of the game
Malthouse has made an extraordinary contribution to the game and was finally recognised for his efforts as a coach and player when he was inducted into the Australian Football Hall of Fame tonight in Melbourne.
He was engaged at senior level for a remarkable 899 games – 174 as a player with St Kilda and Richmond and 725 as a coach with Footscray, West Coast, Collingwood, Carlton, Western Australia and Australia.
Arguably his most pronounced impact was with the Eagles between 1990 and 1999. In his 243 games he transformed the club and through the decade of his coaching tenure he took the club to finals in every season.
In just his second year, 1991, he guided the club to its first grand final. A year later the Eagles became the first non-Victorian club to win the premiership. Two years later, in 1994, they had their second.
But more than that, Malthouse transformed the club and helped to lay the foundations of the organisation we know today.
He arrived at the Eagles after five years as senior coach at Footscray and after 10 years in Perth, the pull of family in Victoria proved irresistible and he coached Collingwood from 2000-2011. He steered the Pies to their first flag in 20 years in 2010 (winning a replay against St Kilda after the two teams could not be separated in the first game.)
Including those two grand final appearances in that historic season he coached Collingwood to four grand finals, also taking them to the AFL's ultimate game in 2002 and 2003 when they seriously challenged one of the great teams of all time, the Brisbane Lions.
When he parted ways with Collingwood he was that club's second longest serving coach in history – behind the legendary Jock McHale.
He then coached Carlton from 2013-15 and with 718 games (another seven, including WA State of Origin and International Rules games) he has coached the most games at AFL/VFL level and has the third highest success rate in the history of the game.
With a distinguished playing record of 174 games, including a premiership with Richmond in 1980, few people have had a greater impact in the history of the game.