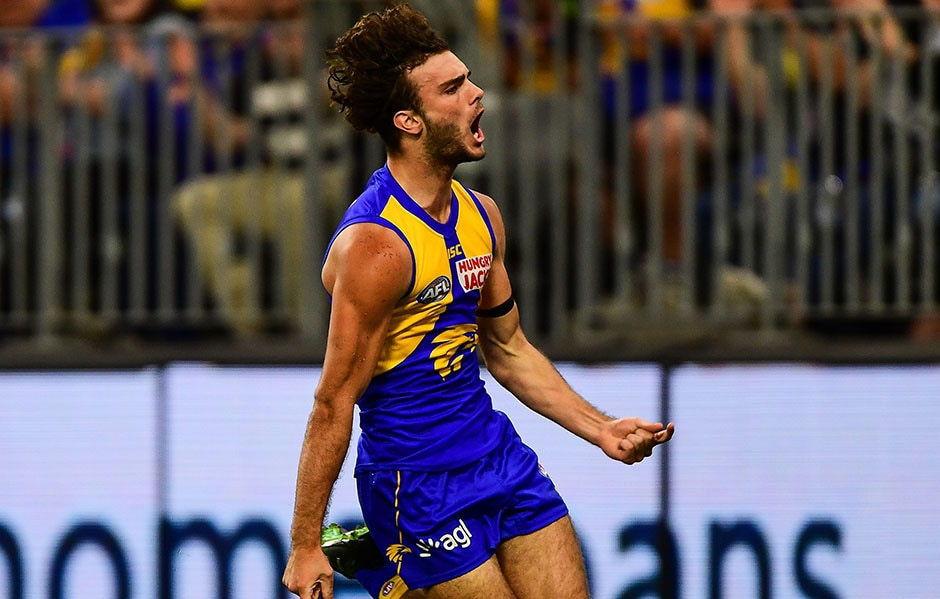 Josh Kennedy
The dual Coleman medallist has continued his excellent form in 2019 and currently ranks fourth in the league for total goals and total marks inside 50. According to the AFL's Stats Pro website, Kennedy is regarded as elite for goals (2.5) per game and marks inside 50 (2.8) per outing. He had his best game of the year in round nine, when he bagged a season-high four goals from 16 disposals against Melbourne at Optus Stadium.
Mid-season averages:
Disposals: 9.18
Score involvements: 5.7
Marks: 4.5
Marks inside 50: 2.8
Goals: 2.5
Marks on lead: 1.5
Goal accuracy: 58.7%
2019 AFL statistical rankings:
4th: Total goals
5th: Goals per game
4th: Total marks inside 50
4th: Marks inside 50 per game
Jack Darling
West Coast's leading goal kicker for season 2018 has continued to hit the scoreboard this year. Darling is averaging more than two goals a game in season 2019 and currently ranks fifth in the league for total goals through the first 12 rounds of the season. He has been the club's most accurate player in front of the big sticks this year, converting 63.4 per cent of his shots into goals. He was at his damaging best against the Western Bulldogs in round 11, when he booted six goals, amassed nine contested possessions and reeled in six clunks at Optus Stadium.
Mid-season averages:
Disposals: 11.25
Score involvements: 5.3
Tackles inside 50: 5.3
Marks: 3.92
Goals: 2.17
Contested marks: 1.3
Contested possession rate: 61.8%
Goal accuracy: 63.4%
2019 AFL statistical rankings:
5th: Total goals
6th: Total time on ground %
7th: Goals per game
19th: Total contested marks
Liam Ryan
Liam Ryan has taken his game to another level in his second year at the club. At the halfway point of season 2019, the 22-year-old high flier has bettered his 2018 averages for contested possessions (6.2), marks (3.2), tackles (2.7) and inside 50s (2.6). Most notably, Ryan has increased his work rate off the ball, applying a boatload of pressure to rivals. He has already amassed 184 pressure acts for the season, which places him in the top 20 for AFL forwards. Ryan's most productive game of the season came against St Kilda in round 11, where he gathered 17 disposals, 10 contested possessions, six marks and a goal at Marvel Stadium.
Mid-season averages:
Disposals: 11.5
Marks: 3.2
Tackles: 2.7
Inside 50s: 2.6
Goals: 1.0
Contested possession rate: 52.8%
2019 AFL statistical rankings:
18th: Total goal assists
Jamie Cripps
After producing a career best season last year, Cripps has been a picture of consistency through the first half of the 2019 season. The renowned pressure forward has been bringing the heat again this year, averaging 20.4 pressure acts per game, which ranks him among the top 10 forwards in the league. He has also been deadly accurate by foot, registering an elite kicking efficiency of 75.3 per cent. Cripps was instrumental to West Coast's win over St Kilda in round eight. He racked up an equal season high 21 disposals, won 13 contested possessions, registered seven score involvements, stuck five tackles and booted two goals in a magnificent display at Marvel Stadium.
Mid-season averages:
Disposals: 14.9
Contested possessions: 6.9
Score involvements: 5.5
Tackles inside 50: 5.5
Marks: 3.6
Inside 50s: 3.3
Goals: 1.40
Kick efficiency: 75.3
Jack Petruccelle
Excitement machine Jack Petruccelle has taken his game to new heights in season 2019. He is currently achieving personal best averages for disposals (10.3), score involvements (3.9), tackles inside 50 (3.9), marks (3.6), contested possessions (3.4), inside 50s (2.6) tackles (2.2) and goals (1.1). The 20-year-old got West Coast fans' tongues wagging with a defiant display against Port Adelaide in round five. His five-goal haul was a silver lining in an otherwise dark day for the Eagles, who went down to the Power by 42 points. Petruccelle won a NAB Rising Star nomination for his performance, which means he's in the running to claim the prestigious honour at season's end.
Mid-season averages:
Disposals: 10.3
Score involvements: 3.9
Marks: 3.6
Contested possessions: 3.4
Inside 50s: 2.6
Tackles: 2.2
Goals: 1.08

2019 AFL statistical rankings:
18th: Total goal assists
3rd: Among rising stars in total goals, time on ground %
4th: Among rising starts in total marks, total bounces
6th: Among rising stars in goal assists per game, total marks