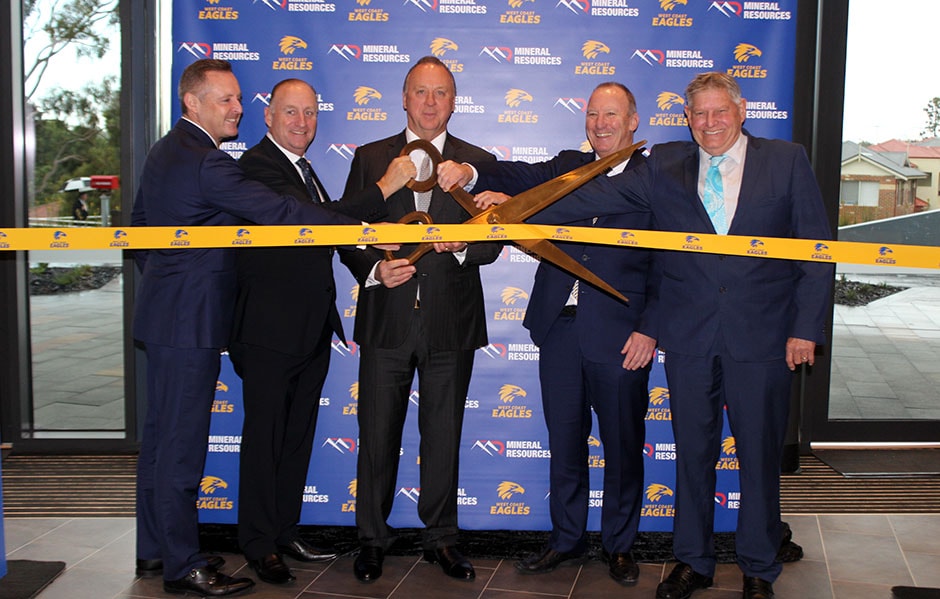 The West Coast Eagles' new training, administration and community headquarters was today officially opened at Mineral Resources Park.
The club's glittering new home was formally launched with West Coast chairman Russell Gibbs, long-serving Chief Executive Officer Trevor Nisbett, Mineral Resources Managing Director Chris Ellison, member for Swan Hon Stephen Irons and Town of Victoria Park Mayor Trevor Vaughan cutting the ribbon in the club's foyer.
It is a landmark moment in the history of the club, relocating from Subiaco Oval after 29 years at the former traditional home of football in this State.
While the facility was declared open, there are still a number of finishing touches to be applied, but it is perhaps the best sporting club headquarters in the southern hemisphere.
"This is a wonderfully exciting day for our football club," Mr Nisbett said.
"It has been 20 years in the making and will be our home for the next 99 years.
"While there are a number of areas to be completed, it was important to perform today's ceremony after aligning the calendars of a number of people who were critical to bringing this facility to life.
"We will invite the local community, our members and fans to Mineral Resources Park in the near future."
Some of the key figures in establishing the base at Mineral Resources Park in Lathlain were on hand for today's formalitiies.
Aside from Mayor Vaughan and Mr Irons, former Deputy Leader of the Liberal party and long-serving foreign minister Hon Julie Bishop attended, with the State Government represented by Mr Michael Watts representing the minister for sport, the Hon Mick Murray and Mrs Robyn Clarke MLA, representing the Treasurer, Hon Ben Wyatt.
WA Liberal Party leader Liza Harvey was on hand and so, too, was West Australian Football Commission chairman Murray McHenry and the club's patron, Malcolm McCusker.