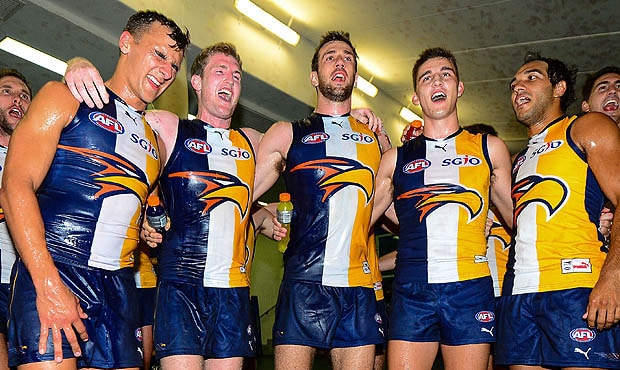 When four new Eagles took to the field for the first time on Sunday afternoon, only one was playing his first AFL game.
Xavier Ellis, Elliot Yeo and Jamie Bennell had all at least 20 matches at AFL level before making their debuts for the blue and gold, but draftee Dom Sheed had no idea what to expect.
Speaking to Radiowest after his debut, the Goldfields product revealed that he had been fighting butterflies in his stomach all week.
"I was kind of a 50/50 chance of playing and I didn't really know," Sheed said.
"I got a call Friday afternoon to say that I was going to play. Once I got that call, I didn't really know what to think. Then we had a captain's run on the Saturday and, before I knew it, I was out there running through the banner.
"It was a pretty unreal experience and something I'll remember for a long time."
(function() { var po = document.createElement("script"); po.type = "text/javascript"; po.async = true; po.src = "https://d15mj6e6qmt1na.cloudfront.net/cdn/embed.js"; var s = document.getElementsByTagName("script")[0]; s.parentNode.insertBefore(po, s); })();
Sheed explained that the lead-up to the game was exhausting, with friends and family coming out of the woodwork to wish him well.
As the team's substitute, he also had to sit through three gruelling quarters before Luke Shuey was called off and he could finally start his AFL career.
"Being the sub is pretty hard obviously," Sheed said.
"You're sitting on the bench and you're trying not to get into the game too much because you'll get worn out, but when it's your debut and you're watching the game, it's a bit hard not to.
"I played a pretty tough role, but I'd rather get the vest than not play at all."
The first seconds of the fourth quarter were intense for Sheed, with Nic Naitanui tapping the ball straight to him after the centre bounce, resulting in an immediate Bulldog tackle.
Sheed agreed with a grin that it was a tough welcome to footy, but it was more than worth it for the end result, despite being showered with Gatorade during the team song.
"I got a lot of salt in my eyes and it doesn't tickle, but standing in the middle of the circle with the three other boys who debuted for the Eagles, it was unreal and it was something I won't ever forget."