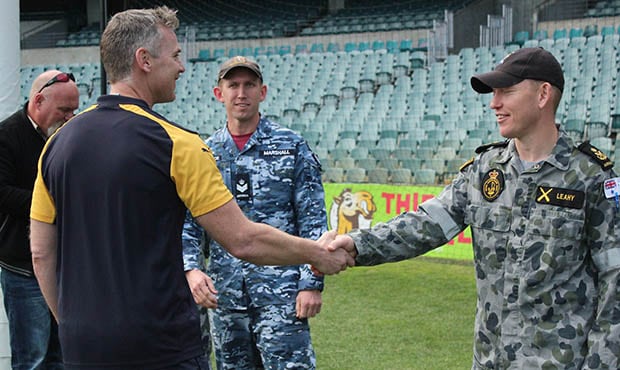 Sunday's game at Domain Stadium against Sydney is more than just a clash between two leading contenders jockeying for positions in the AFL final eight in 2015.
It's also a chance for both clubs to reflect and recognise a generation of people who sacrificed their lives in the name of the country and freedom we now enjoy.
Outside the stadium on match day, services personnel will raise funds for the Legacy Foundation, which provides support to Australian families suffering financially and socially after the incapacitation or death of a loved one, during or after their defence force service.
Legacy currently cares for around 100,000 widows and 1,900 children and disabled dependants throughout Australia
And the game itself will be played in honour of 645 brave navy personnel who perished on board HMAS Sydney II in November 1941, when it was sunk off the WA coast by German invader HSK Kormoran.
This annual fixture is played between West Coast and Sydney to represent the ship's home port of Sydney, and the state of her final resting place, WA.
Since 2010 the two clubs have played for the HMAS Sydney II Trophy and as yet the West Coast Eagles have not been able to prise it from the Swans' grasp.
Celebrated for her successful battles in the Mediterranean, where she famously sank the Italian cruiser Bartolomeo Colleoni, HMAS Sydney (II) and her crew of predominantly young men received a hero's welcome on her return to Australia in February 1941. She was then tasked with escorting troopships to South East Asia, following an Indian Ocean route along the west coast of Western Australia.
It was on the return of one of these voyages that she encountered the Kormoran, on November 19, 1941. The Kormoran was disguised as a Dutch merchant vessel that was seemingly incompetent at returning the Sydney's signals, unaware, the Sydney approached the unknown vessel. Once within range where her superior armament could not advantageously defend her, the Komoranused the advantage of surprise and brought all its armament to bear on the Sydney.
While neither ship survived, the Sydney was lost with all hands, while 318 of the Kormoran's complement of 390 survived.
The Sydney sank without trace and was not found until March 2008, about 100 nautical miles off the WA coast, north of Geraldton. For so many of the families of those who perished in battle, the discovery offered some closure on the devastating loss.
One such man, 79-year-old Barry Schoch, who lost his older brother Fred on HMAS Sydney II, it was a day of great significance.
Mr Schoch, a keen West Coast Eagles fan, this week came into the club to meet senior coach Adam Simpson.
Simpson is keen to ensure the significance of this contest – and most importantly what it commemorates – becomes an integral fixture on the West Coast Eagles and Sydney calendar.
"We will give it the appropriate level of respect," Simpson said.