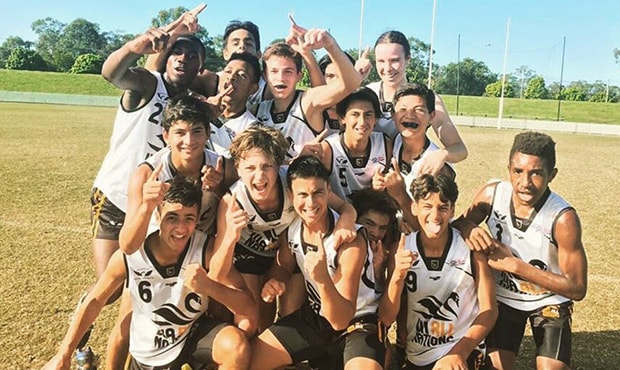 Western Australia's All Nations team reigned supreme at the recent AFL National Diversity Championships.
Seven of West Coast's Naitanui Academy participants helped WA's All Nations team take out the title.
The team, mentored by Eagles Next Generation Academy head coach Adam Selwood, lost its first match of the carnival against South Australia by just two points, but it rebounded with a big 10.6 (66) to 1.2 (8) victory over Victoria.
On day two WA edged out Tasmania by just seven points but put in a more convincing against a combined New South Wales and Australian Capital Territory side with a 6.8 (44) to 1.0 (6) win.
In the final round of the round robin fixtures WA defeated the Northern Territory 5.9 (39) to 1.0 (6) in the morning and blew Queensland out of the water in the afternoon by the way of a 54-point triumph to sit atop the standings with 24 points.
WA won its way into the preliminary final with a convincing 9.7 (61) to 0.1 (1) victory over Queensland and earned its place in the grand final following a hard-fought 6.5 (41) to 5.3 (33) victory of Tasmania in the preliminary final.
The battle-hardened West Australian showed their class in the final by edging out South Australia 3.6 (24) to 2.4 (16) in a slog at Blacktown International Sportspark.
West Coast's Next Generation Academy had one final win during at the carnival's conclusion when Manase Makane was announced as an emergency for the AFL World 18 team.
The annual Diversity Championships provides participants of the AFL's Flying Boomerangs and World Team squads, umpiring academy officials and coaching academy mentors a unique opportunity to test their skills against Australia's best indigenous and multicultural talents.