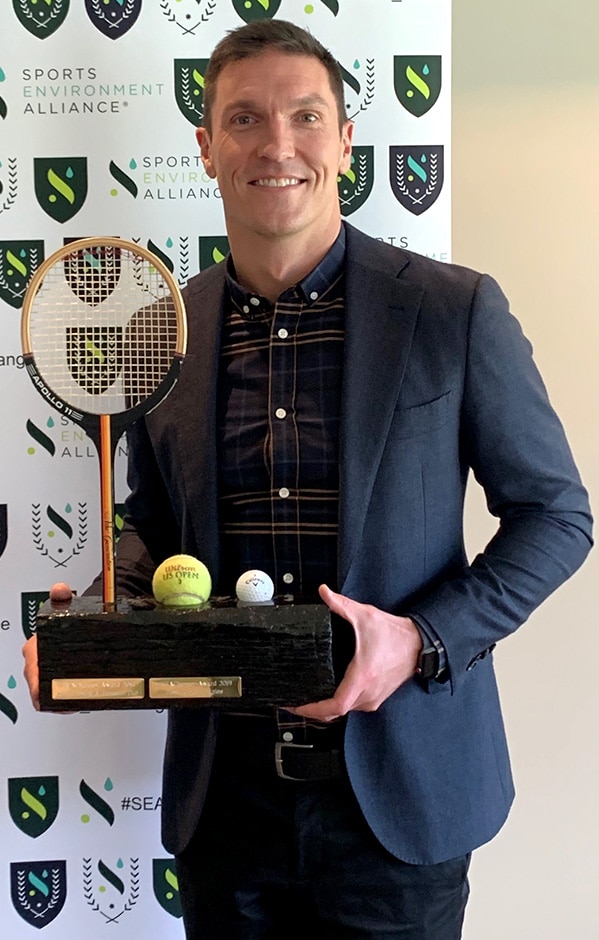 The West Coast Eagles always wears its traditional colours of royal blue and gold with pride, but it was extremely delighted to don a green badge of honour yesterday.
The club beat out some stern competition to claim the prestigious #SEAChangeSolutions Award, which was presented at yesterday's 2019 Sports Environment Alliance Summit in Melbourne.
The #SEAChangeSolutions Awards recognise sports clubs, venues, facilities and organising bodies that make remarkable efforts to minimise their environmental impact, make their sports more sustainable and act as environmental stewards to ensure that we continue to have spaces and places to play.
West Coast claimed the summit's top prize for its 'Rethink Your Waste' campaign, which was launched at the club's final home game in season 2018.
The purpose of the campaign was to shine a spotlight on Western Australia's waste crisis and motivate the club's members and fans to rethink their approach to sustainable living.
The campaign achieved an unprecedented response, with more than 300,000 video views and an impressive 68 per cent member recall.
And our loyal blue and gold army responded outstandingly to our call to action, which asked them to recycle their waste and leave Optus Stadium as they found it following the club's round 22 clash with Melbourne.
We achieved our goal of a higher diversion of material waste from landfill compared to games earlier in the season, thus improving our overall climate footprint.
Our member survey following the fixture reported that fans were inspired to change their ongoing recycling and waste habits at home (64 per cent) and on game day (72 per cent).
SEA executive director Sheila Nguyen said the panel was impressed by West Coast's "go hard or go home" approach to tackling environmental issues.
"Our industry relies on clean air, blue water and green grass, so that we can watch and play sport," Nguyen said.
"As a sport loving nation, it is in our best interest to protect the places where we play sport and that is why our sport industry leaders have stepped up to take on the challenge of protecting our clean future.
"The West Coast Eagles is the first WA representative to join the SEA in this growing global movement and in its inaugural year of membership has already made a mark for our planet.
"Their highly engaged and strong out-of-the-gates eco commitment in reducing its material footprint, as well as rally their 600,000-strong fan base were reasons why they have been recognised with our third #SEAChangeSolutions Award.
"We are impressed by their 'go hard or go home' approach to tackling our humanity's greatest challenge in the 21st century.
"We extend our greatest congratulations to the West Coast Eagles' family for their courage in taking action, which will contribute to the domino effect change we want for our clean future."
West Coast Eagles 2006 premiership player turned Melbourne-based premium sales account manager Sam Butler was on hand to accept the #SEAChangeSolutions Award.