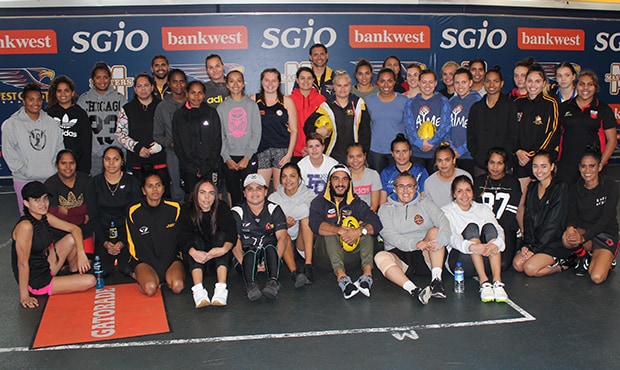 The West Coast Eagles will kick start this weekend's Sir Doug Nicholls Indigenous Round celebrations by hosting a West Australian-first all-indigenous women's curtain raiser at Domain Stadium on Sunday.
The 12.10pm fixture will pit two representative sides – Yirra Beeliar and Kardup Beeliar – comprising indigenous players from the WA Women's Football League against each other in a north versus south of the river clash.
The combatants put their rivalry aside last night to take part in a training session and exclusive tour of the West Coast Eagles' training facilities hosted by the club's indigenous liaison officer Phil Narkle, community engagement coordinator James Grabski and senior players Lewis Jetta, Josh Hill and Jamie Bennell.
The group was also treated to a special address by former West Coast star Ashley Sampi.
The 2004 Mark of the Year winner spoke openly about the importance of his heritage and culture, how he handled the pressure of playing in the AFL and what the group should expect when they run on to Domain Stadium in front of a big West Coast crowd on Sunday.
Similarly, Jetta, Hill and Bennell shared stories about their upbringing, respective mobs and professional lives as top tier footballers.
Kardup Beeliar ruckman Sonia Dorrizi was thrilled to meet the four players, but she was more excited about getting the call up to represent the south of the river side in the unique fixture.
The 17-year-old South Fremantle player is not foreign to the big stage; Dorizzi represented WA at the recent 2016 AFL Youth Girls National Championships in Melbourne.
"It's history making," Dorizzi said about Sunday's game.
"It's something on the bucket list. Everyone who plays AFL or women's football, especially, wants to play on this ground. To have an opportunity to be one of the first indigenous girls to play on Domain Stadium is great."
A confident Dorizzi didn't expect to be fazed by the occasion and said she would take on the advice of Jetta, Hill and Bennell and simply attack the ball on Sunday.
"To be honest, once you step on the football field it just goes out of your mind," she said about the crowd.
"You're chasing the ball and it's just a game."