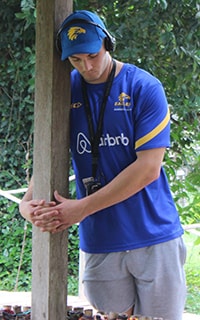 As most of the West Coast Eagles squad is on holidays, a group of Eagles, including defender Tom Barrass, are in Cambodia on a house-building mission to help some of the poorest families in the country.
The Eagles are on their fourth tour of the country, thanks to official partner of Cambodia 2017 Airbnb, and are there to change the lives of villagers from the Kampong Speu province, one of the poorest regions in Cambodia.
"We're aiming to build our 80th house in the region, which would put 650 people out of flood waters that they would have originally been subjected to," Barrass told 6PR.
"We're learning a lot about the culture of Cambodia, the Killing Fields and the past, the people of Cambodia are really friendly people.
"We're really grateful to be able to collaborate with Airbnb as our sponsor to be able to help the community over here.
"It's a really important thing given the privilege we have firstly being privileged Australian's living in Perth and secondly as footballers."
The Eagles will spend five days in Cambodia before returning to Perth to commence pre-season training.