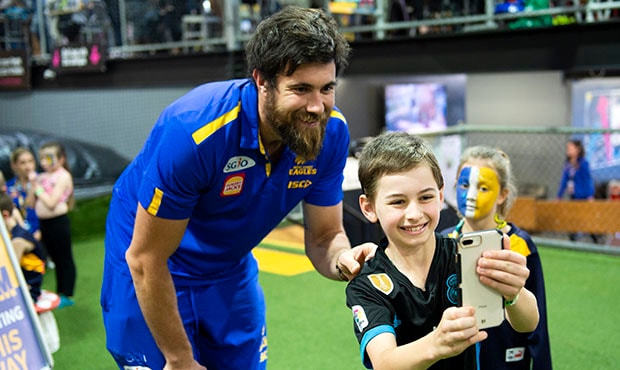 Rick's Rookies members ran riot at this year's Mid-Year Mayhem event, held at Bounce Inc Cannington on Tuesday, July 10.
Almost 300 energetic 5-12 year olds attended the exclusive Rookie member-only event and had a ball at the indoor trampoline park.
After a welcome from MC Michael Barr and a safety briefing from venue staff, the children started bouncing on the more than 50 trampolines throughout the venue. There were plenty of other activities on offer as well, including giant airbags, slam dunk, the X-Park and dodgeball.
The West Coast Eagles fairies were in attendance, offering free face painting to members who wanted to show their team colours. Rick the Rock also made a special appearance and joined the children on the trampolines, much to the delight of the Rookie members.
The undeniable highlight, however, came halfway through the event when the West Coast Eagles playing group arrived for a signing session.
Rookie members were ecstatic to have the opportunity to meet and get autographs from their football heroes.
Following the signing session, the players roamed around the venue, posing for selfies and chatting with the Rookie members. Before we knew it, it was time for both the players and members to depart after a fun-filled afternoon.
The club has one more Rick's Rookies event scheduled for 2018 and more information will be sent to Rookie members later in the year.
For more information regarding Rick's Rookies membership, please visit https://membership.westcoasteagles.com.au/ricks-rookies or contact the Membership Services Centre on (08) 9388 4566 or membership@westcoasteagles.com.au.