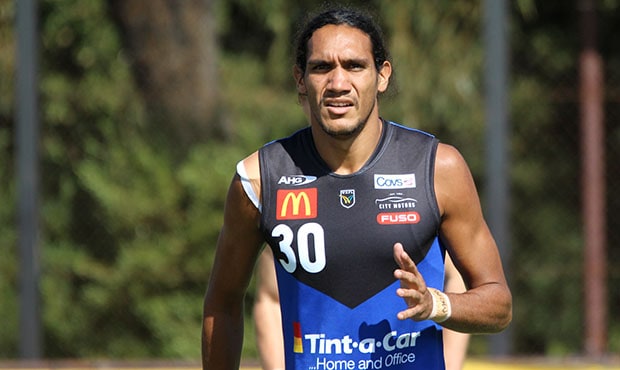 East Perth is ready to bounce back in a big way following a tough loss to Claremont at the weekend, according to Francis Watson.
The Royals were outhunted by a tenacious Tigers outfit in grubby conditions that put a premium on contested possessions and tackling pressure.
Some players sunk rather than swam on the waterlogged Claremont Oval playing surface – Watson was not among them.
The second-year Eagle was a cool head in the back line en route to amassing 17 disposals, seven contested possessions and three spoils to go with 16 pressure acts.
"I actually love playing in those types of conditions," Watson revealed.
"I think with those conditions my game plan was to be predictable and fight to the death. We had to do everything we could to stop any goals as a defender and if you had the ball you just wanted to put it on the boot, because you weren't going to be able to hit anyone lace out."
While he enjoyed playing in the wet and going to war with his old Claremont teammates, the 22-year-old said he was gutted with the 24-point defeat.
But he was adamant East Perth could hit back against Perth on Saturday.
"Perth are in really good form at the moment," he said.
"Webby's (Royals senior coach Luke Webster) message was to prepare as normal and stick to our process. I think that's how we're going to attack the game with the Demons this weekend."
Like East Perth, Watson is going to stick fat with the style of play that earned him a one-year contract extension with West Coast earlier this year.
"The coaches want us to play with instinct and use our one-wood by playing the way we did to get drafted," Watson said.
"In my case, that's run and carry while being predictable in terms of what's right for the team. It's a balancing act. You want to play to your strengths but do what's right for the team.
"Obviously I've still got to do as much as I can to try and break into the top side and make my debut, but until then I'm going to keep working on just all the small things on- and off-field.
"I just want to better myself as a player."