When West Coast Eagles senior coach Adam Simpson speaks of resilience, for those who have trouble understanding its definition, he could, for illustration purposes, hold up a photo of Luke Shuey.
In tomorrow's elimination final against Essendon, Shuey will become the 22nd player to register 200 games for the club.
Shuey's name proliferates the club's honour roll.
He's a John Worsfold medallist as Club Champion (2016), Chris Mainwaring medallist (best clubman 2016), emerging talent (2011), premiership player and Norm Smith medallist (2018).
He's in his third season as vice-captain, an honour he shares with close mate Josh Kennedy.
He has twice been short-listed for all-Australian selection, although inexplicably he has missed the cut when the candidates have been culled from 40 to 22.
For all those achievements, his career graph reads as erratically as Donald Trump's twitter account. Especially early in his career.
There was the tragedy of losing his sister Melanie in a freak traffic accident in 2009, a succession of injuries, including osteitis pubis, a fractured leg, double hernia and glandular fever that restricted him to just six games in his first two seasons.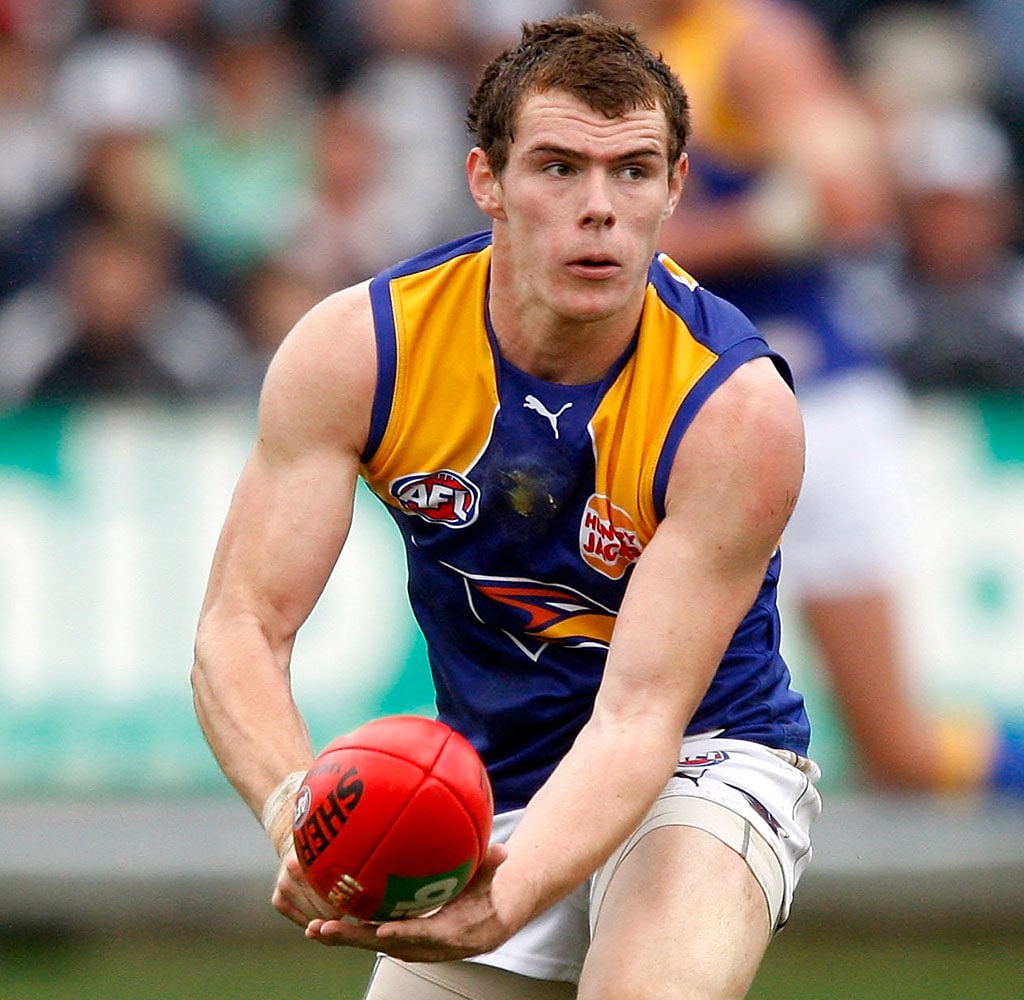 Luke Shuey in action against Geelong in 2010
There was never any doubt about his ability, but his time at the Eagles was off to a rocky start.
From a club perspective it wasn't that flash either, falling to the wooden spoon position in 2010, an ignominious label that had not been "achieved" in 24 seasons.
Fortunately, the individual and collective fortunes of both Shuey and the club elevated from that point. He has blossomed into one of the game's elite midfielders, one of the most adept players in the competition off either side of his body.
It is no coincidence that strong bonds with a couple of teammates, in particular, have produced some of the most majestic football that Eagles fans have relished in the last five or six years.
Shuey arrived at the club courtesy of selection 20 in the 2008 draft, the club's second selection in that ballot behind Nic Naitanui.
The chemistry between that pair is mesmerising as they have an innate, apparently unspoken understanding, of what the other is doing. From stoppages Shuey so often receives the footy on the fly from the deft hand of his 200cm mate.
It hasn't happened as often of late given Naitanui's injuries of the past three seasons, but it is one of the reasons Eagles fans are so looking forward to a reunion at Optus Stadium tomorrow night.
The third member of the triumvirate is Kennedy, the most prolific goal-scorer in West Coast Eagles history. He arrived at club 12 months earlier than his cohorts as part of the Chris Judd trade and has kicked 595 goals.
As polished as the service that Naitanui provides Shuey in the middle, the silky-skilled midfielder replicates it through his delivery inside the 50 metre arc where his target is so frequently the leading colossus that is Kennedy.
'Boots' by nickname, golden boot by nature.
The affable Shuey, flattened by the disappointment of a sub-standard team performance against Hawthorn in the 2015 grand final, certainly atoned last year when he produced one of the great displays in finals history.
Not surprisingly his near flawless performance was rewarded with the Norm Smith Medal as best afield.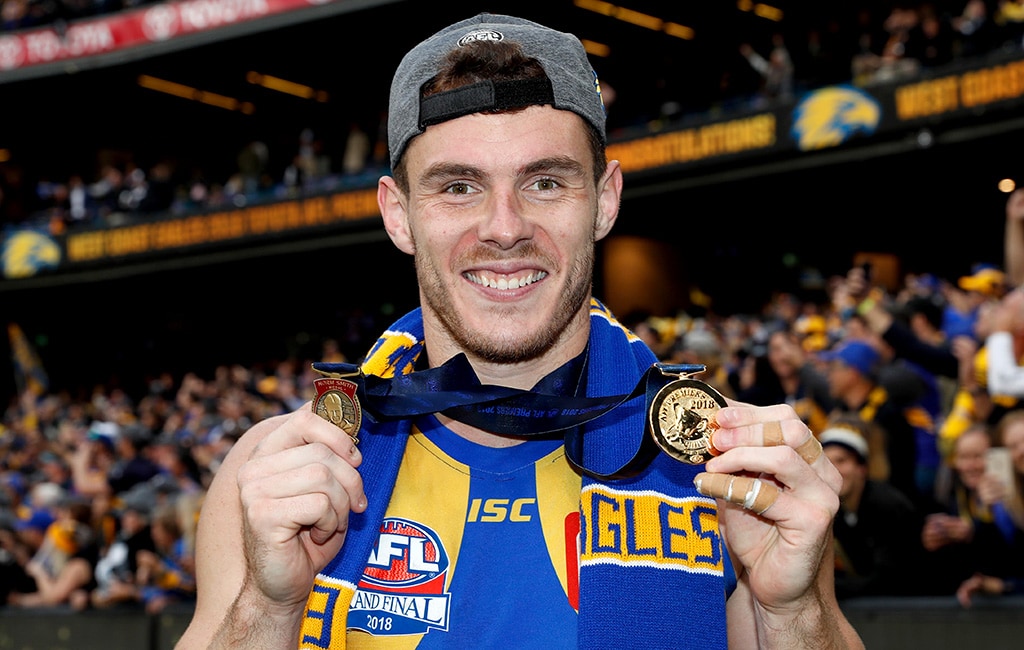 Luke Shuey shows off his 2018 Norm Smith Medal and premiership medallion
That capped the biggest fortnight of his life, only a couple of weeks earlier he and partner Dani had welcomed their first-born, Oliver, into the world.
Shuey will add another significant milestone to his galaxy of achievements by notching up his double ton. And he is justifiably proud of it.
"It's a huge honour to not only play 200 AFL games, but to play them at this footy club, a place I have absolutely fallen in love with and the people who have been involved," Shuey enthused this week.
"I consider myself to be very lucky to have come this far.
"I have loved being here since the moment I arrived in WA and I'm fortunate enough to have an amazing partner and a healthy little kid, so I won't be going anywhere in a hurry.
"We have had some good times and obviously some success last year, so hopefully there is a bit more to come.
"It would wouldn't matter where I was to play my 200th, to be able to get there for the footy club is a huge honour. Never-the-less, it's exciting that it's in a final and to get to do it in front of our amazing fans, who I have played so much footy in front of.
"But if I was to play in front of 10,000 people in Canberra it would mean just as much to me."
In the last couple of years in particular, Shuey has demonstrated a capacity to absorb pressure and to elevate his game at crucial times.
The most palpable manifestation of that attribute came with his kick after the siren, in the second period of extra time, in the 2017 elimination final against Port Adelaide at Adelaide Oval.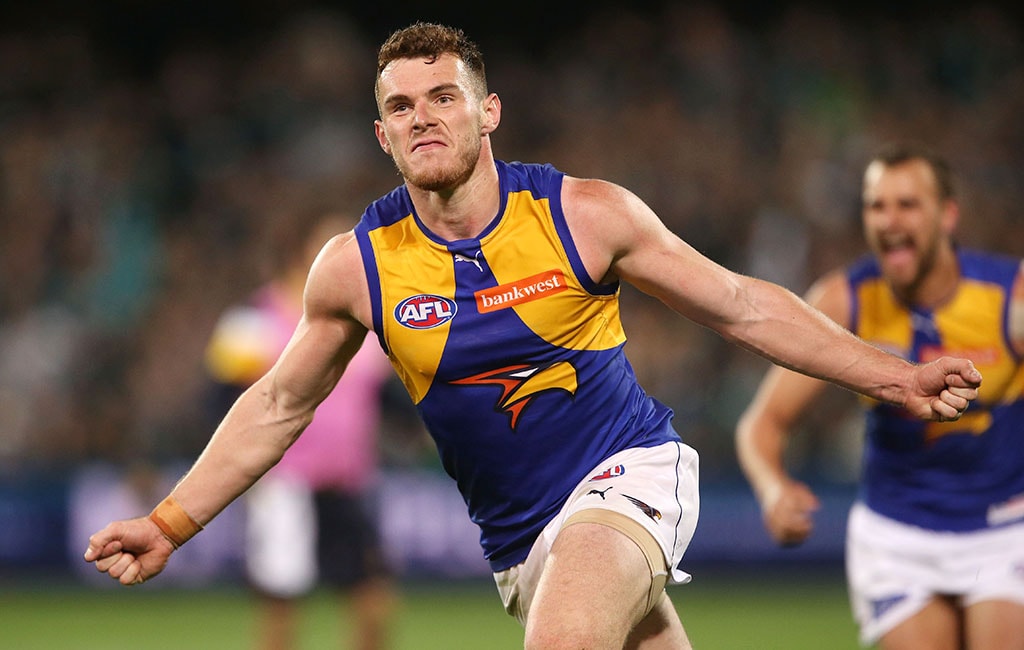 Luke Shuey celebrates his match-winning goal against Port Adelaide in 2017

Then there was his 2018 grand final performance against Collingwood and several times in clutch moments of big games, he has found a capacity to take his game to extraordinary levels to propel his team to victory.
Simpson often calls on the team leaders to guide others in this moments. Shuey did against Collingwood in round three; he did it again in round 15 against Hawthorn – both games at the MCG.
He is the archetypal leader by his own actions and clearly is one of the key players go into the elimination final.
"Anyone who gets to 10-11 years in their career, has at some stage seen some sort of development in the leadership side of things," he espoused.
"I want to be the best leader I can be, just so I can help the footy club succeed. But I have had some great support around me and have been able to learn off a lot of role models as well, so that's been great.
"For me, it's about being able to perform well each week. The best thing about our leadership group, our group as a whole, is that we bring different elements of leadership to the table.
"I learnt a lesson pretty early in my career that the best leaders just play well; or the first thing you need to do if you want to be a good leader is to play well. That's the No.1 thing you've got to worry about."