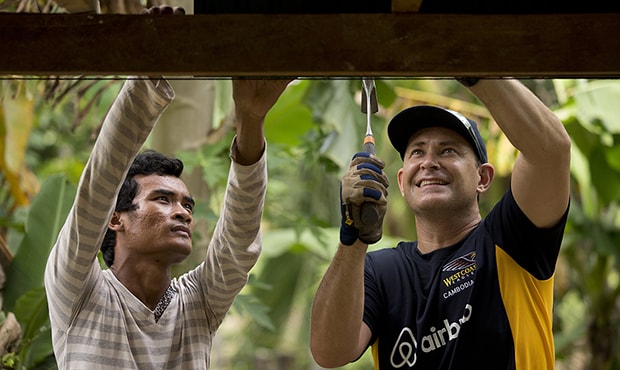 West Coast Eagles club champion Elliot Yeo says he cannot wait to join teammates and staff on this morning's flight to Cambodia to participate in the club's biennial community service tour of the Asian nation.
Yeo was booked to go on the club's last tour of Cambodia in 2015 but post-season surgery robbed him of the chance to attend. His mum, Wendy, took his place in the expedition two years ago.
"My mum went up two years ago. I was supposed to go up as well last time, but I came out of surgery and wasn't 100 per cent, so I missed out," Yeo told ABC Perth Breakfast.
"Mum came back and it was a pretty big experience for her."
The West Coast Eagles, partnered by Airbnb and the Tabitha Foundation, are en route to Cambodia for a fourth time to build 20 houses for a remote village situated an hour outside the country's capital of Phnom Penh.
Yeo, West Coast chairman Russell Gibbs and fellow-players Tom Barrass, Liam Duggan, Dom Sheed, Kurt Mutimer, Matthew Allen, Tom Cole, Luke Partington and Jackson Nelson, will spend five days in the country learning about its tragic history and making a huge difference to some of the poorest people in the region.
West Coast Eagles head of development Gavin Bell said the trip was a great opportunity to improve the lives of hundreds of people, but also to enrich their players' lives.
"We will build 20 houses over two days. We will be working alongside the families who have saved for five years to raise the $25 to build their dream home and keep their families safe," Bell said.
"The club and Airbnb have contributed the balance for the house build, which is over $1500 per house."
"Kampong Speu is one of the poorest regions of Cambodia and it's very susceptible to flooding. By building houses that are up on stilts, we increase the families' odds of having their children complete primary school by 60-70%."
Yeo believed the trip would be an eye opening experience for the attending players.
"The club do it (so the players) get a bit of perspective on life, show the players what real resilience is and develop a sense of empathy by taking players out of their complete comfort zone and see something different," Yeo said.
"A lot of players talk about it, they say it's a pretty full-on experience.
"To hear about what's happened in past decades is pretty full-on, they say the killing fields is one of the most emotional times you'll go through.
"I'm looking forward to the experience and looking forward to getting some knowledge about what happened.
"The players that have been previously say it's a pretty good bonding experience, you go through a fair few emotions throughout the five days we're there."