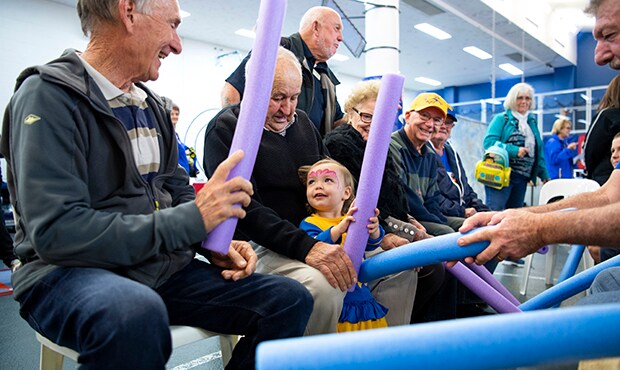 On Wednesday, July 4, the West Coast Eagles, in partnership with the Seniors Recreation Council of WA (SRCWA), welcomed members aged 65 years and over into the club's inner sanctum for the annual Eagles in their Prime Grandparents' Day.
SRCWA aims to foster the participation of seniors in sport, recreation and associated physical and mental activity, and the club's partnership with the council enables us to provide some of our more senior members with the opportunity to try new activities in a supportive and social environment.
Grandparents' Day was a sold-out event again in 2018, with West Coast Eagles members bringing their grandchildren to the club to enjoy an activities bonanza.
The day began in the club's warm up room where, after a welcome from MC Ross Glendinning, guests tried their hand at pursuits led by SRCWA, including seated hockey, sticky darts, exergaming and more. Grandparents enjoyed perusing the display of West Coast Eagles memorabilia, while the colouring table and free face painting were popular with their grandchildren.
The photo booth, provided by SRCWA, was a big hit with guests young and old, and the children were thrilled when Rick the Rock joined the festivities.
Following a busy morning of activities, the group was split in two, with one group moving to the Players' Lounge for a delicious morning tea and the other group taking part in a tour of the club's facilities, before the two groups swapped. The highlight for many guests was stepping foot onto the hallowed turf of Domain Stadium, the setting for many memorable football clashes over the years.
The event concluded back in the Warm Up Room, with one lucky guest taking home the fabulous door prize, a West Coast Eagles guernsey signed by the 2018 team and coach.
The West Coast Eagles would like to thank the Seniors Recreation Council of WA for their ongoing support and assistance in embracing our more senior members through the Eagles in their Prime calendar of events.
The next Eagles in their Prime event, the Tech Savvy Seniors course, will commence on Tuesday, July 31 and run for five weeks. For more information, please contact the Membership Services Centre on (08) 9388 4566.