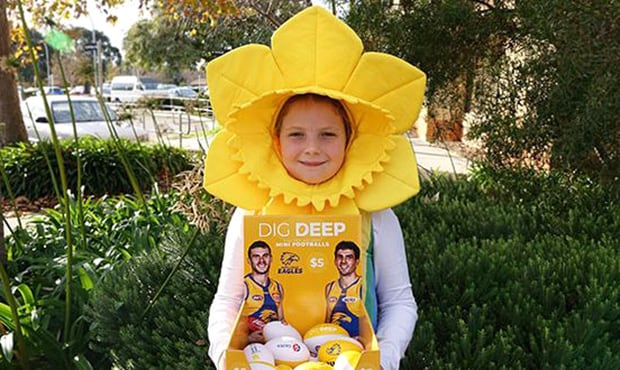 Seven-year-old Josey Bell from Waggrakine has been named the 2018 Dig Deep Game mascot for Cancer Council WA and will run onto Optus Stadium alongside the Eagles when they take on the Dockers this Sunday.
The Eagles' annual Dig Deep Game has raised more than $1.29 million for Cancer Council WA's research programs since 2005.
Josey has been selected as the 2018 Dig Deep mascot in recognition of her incredible bravery throughout her father Vince's cancer battle.
As Josey's mum Margot Bell explains, it's been a tough road for the family since doctors discovered a 1.5 kilogram tumour of Vince's left kidney two years ago.
"Shortly after it was discovered, doctors removed Vince's tumour and kidney which they believed to be a successful operation," Margot explained.
"We followed up with scans, x-rays, ultrasounds and blood tests and he was given the all clear to be seen again in a year.
"Months later he was back in the hospital as the cancer had spread to his other kidney and lungs.
"A few operations later, it was determined the cancer was spreading and had changed from slow growing and passive, to aggressive and fast moving.
"Fortunately now, Vince is receiving treatment and is being monitored by a great team at St John of God in Murdoch."
Throughout the emotional rollercoaster, the family has relied on practical and emotional support from Cancer Council WA.
Not long after his diagnosis, Vince was referred to Cancer Council WA's support coordinator for the Midwest region Elizabeth Jenkinson, who connected the family with a range of services to help with the strains they were facing with Vince needing to take time off work to undergo treatment.
"Cancer Council has been a guiding light. It's very personal and scary when something like this happens to your family and finding an organisation that is there to support and help answer our questions has been a lifesaver," Margot said.
"Without Cancer Council WA's help to seek financial advice we would have struggled to keep our house.
"We know where we have to go if we need any questions answered and we appreciate everything they have done to help us through the process," Margot said.
ABOUT THE DIG DEEP CAMPAIGN
The West Coast Eagles have been supporting Cancer Council WA through their Dig Deep campaign since 2005.
Fans can purchase limited edition mini footballs for $5 from participating Caltex outlets, the West Coast Eagles Team Store, or at the ground before the match.
Money raised will go towards Cancer Council WA's research funding program which this year, committed $3.7 million to support WA's top cancer researchers.
Cancer Council WA's Dig Deep ambassador Luke Shuey said he was honoured to be involved with the campaign again this year.
"I'm very proud to support Cancer Council WA through Dig Deep as we know the money goes towards a very important cause," Shuey said.
"What Josey and her family are going through highlights just how important this community fundraiser is.
"As a club we want to do all we can to help raise awareness about cancer and support the work of Cancer Council WA.
"We know our fans will join us in our efforts."
On Sunday, Josey will enter Optus Stadium alongside the Eagles, a role she is eagerly anticipating.
"Josey is very excited to be this year's mascot for Dig Deep. It's a fantastic experience for Josey and Vince to share together and a wonderful opportunity to get the word out to help others," Margot said.