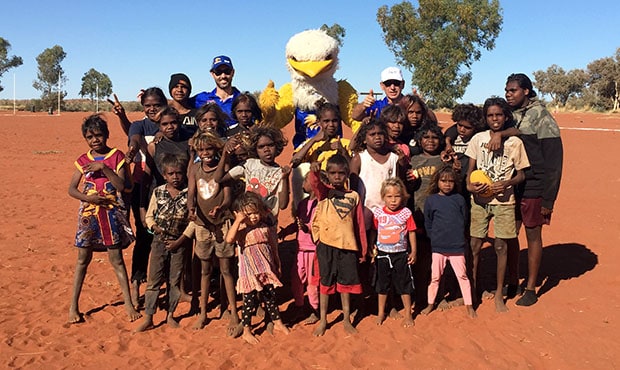 The Western Desert Carnival is an institution that promotes grass roots football at its very best – except there is no grass!
As the name suggests, it is played in the desert region of Western Australia's Pilbara region and is the spectacle of 'red dirt' football, so iconic when thinking of Australia's indigenous game.
This year's carnival was hosted at Punmu (1,800km north-west of Perth). The West Coast Eagles were privileged to be represented at the event by community and game development team members James Grabski, Zac Fitzgerald, Kim Hannah and, of course, Rick the Rock. Rick loves nothing better than getting back to the land and this is the sort of rare opportunity that helps him relax and recharge for the remainder of the AFL season.
The Western Desert Carnival is one of the sporting and cultural projects run by Ngurra Kujungka, a community-driven regional sport and recreation program, which has recently expanded its charter to include art, music and cultural events to its arsenal of offerings.
Softball and basketball were also on the sporting agenda at this year's carnival, with Desert Feet providing the music during evening concerts.
And for the first time in the festival's history, a Women's AFL competition was contested, with great interest generated throughout these games.
Ngurra Kujungka incorporates seven of WA's most remote communities – Warralong, Nullagine, Jigalong, Parngurr, Punmu, Kunawarritji and Kiwirrkurra.
The most distant community, Kiwirrkurra, had to travel nearly seven hours by bus on unsealed desert roads to attend. However, this isn't viewed as an impediment to participating!
For us, the trek was significantly easier. After a flight to the mining site of Telfer, we were met and driven the two hours to Punmu by Mike McMonigal of Ngurra Kujungka.
Once at Punmu, we were accommodated in the Community House with other visitors from Swan Districts FC, the WA Football Commission, Softball WA and Basketball WA. We were grateful for the hospitality we were all afforded.

West Coast game development coordinator Kim Hannah poses with two potential future Western Desert Carnival players
The sporting spectacle was fantastic, with every grand final a real cliff-hanger!
In the AFL games, the host team, Punmu, prevailed by a couple of points over Kiwirrkurra in the final seconds of the men's game.
Punmu doubled down and also won the inaugural women's trophy!
As a follow up for some of the younger men involved, they will be afforded the opportunity to travel to Perth to train with the Naitanui Academy and, possibly, Swan Districts' Colts programs. Some will also be included in the North West Academy that could lead to selection in WA State programs.
Senior Eagles staff member, Kim Hannah, said: "Football in the Western Desert is an amazing experience. Games are played for the love of the sport and with a great sense of joy. There are some very talented players, both male and female, but it's as much about fun and engagement as outcomes. The Western Desert Curtain Raiser has been a staple on the West Coast calendar and we are happy to continue to support this game."
The Ngurra Kujungka Western Desert Carnival was an amazing experience and one that each of us from West Coast was grateful to attend.
The support we received from Ngurra Kujungka, Newcrest Mining and the communities involved was fantastic.
Special thanks to Ngurra Kujungka chair Bruce, our Punmu host Milton and Lloyd (Kiwirrkurra) and Mike McMonigal and his team for making us all so welcome.