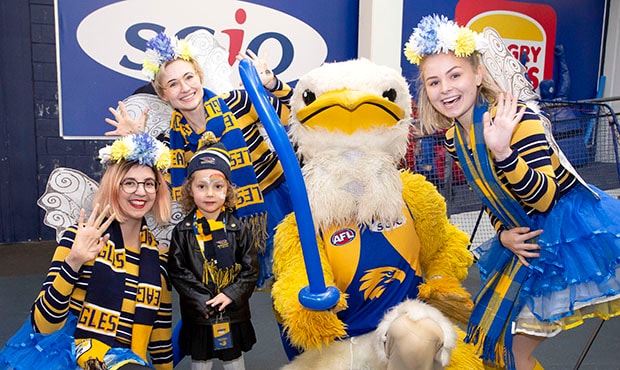 On Wednesday, August 8 the West Coast Eagles welcomed some of its youngest members to the club's inner sanctum for the 2018 Rick's Rascals Playdate.
The club's warm up room was filled with fun games and activities for the 35 excited two-to-four year olds to enjoy along with their parents and guardians.
Footballs were flying as the Rick's Rascals members practiced their skills at the target practice and tunnel crawl stations.
The children who were feeling creative had a ball making blue and gold pasta necklaces or designing their own football guernseys at the colouring in table, while those keen to show their colours applied an Eagles temporary tattoo.
The Rascals members enjoyed reading books and getting crafty with the friendly staff from Paint The Town READ and their mascot Joey the Roo, and the West Coast Eagles fairies were also in attendance, offering face painting and balloon twisting for the young guests.
The members were treated to a visit from Rick the Rock, who delighted the children as he joined in the festivities, posing for photos and giving out high fives.
Before long, it was time to say goodbye after a morning filled with fun and laughter.
The West Coast Eagles would like to thank the Rick's Rascals members who joined us at the playdate.
For more information about Rick's Rascals membership, please click here or contact the Membership Services Centre on (08) 9388 4566.