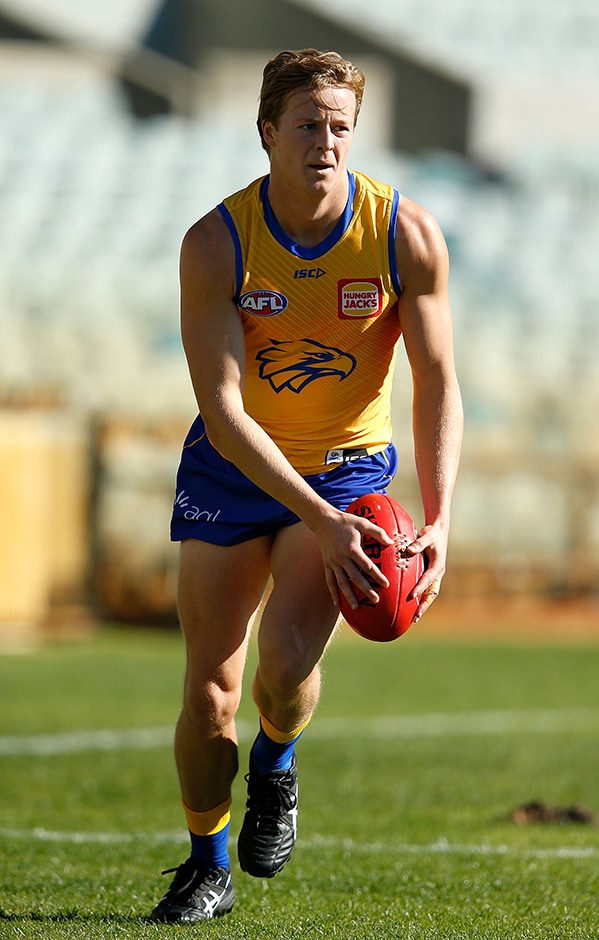 History will be made in Mandurah on Sunday when the West Coast Eagles' WAFL team takes the field for the first time ahead of its inaugural season in the state league competition.
West Coast's WAFL team will take on Peel Thunder at David Grays Arena ahead of the AFL side's JLT Community Series clash with Fremantle.
Sunday's practice match will give members and fans their first glimpse of the club's WAFL side.
West Coast Eagles head of development Gavin Bell said he was excited to see how the team would perform against the 2016 and 2017 WAFL premiers.
"It just gives us a chance to test the waters," Bell said.
"We'll have about 8-10 WAFL Eagles playing alongside our AFL-listed players on Sunday. It's another opportunity to connect and build those relationships and get a better understanding of how everyone plays and performs together.
"We are just hoping that the team can bring good energy and effort, play with good spirit and build from there."
Bell said the players who had joined the club from the amateur ranks had put in a mountain of preparation ahead of Sunday's clash with the Thunder.
"Our WAFL Eagles have shown a lot of energy, effort and endeavour when they have been training with us. We think that will filter through to the rest of the group," Bell commented.
"Our AFL-listed players have a lot of respect for what these guys are doing. They are giving up personal time and working hours to come and be part of an exciting chapter for the footy club.
"There is mutual respect there and I think that will continue to grow as we get to know each other and get to play more games together.
"These guys have been able to come in and blend into a professional environment and they are making some good progress."
Bell also sung the praises of his development coaching group, who he said had gone above and beyond to prepare the team for its first pre-season hit-out.
"Luke Webster, Mark Nicoski, Chance Bateman and Adrian Hickmott have done a great job with the education of our game plan and skill development work," he said.
"It's the same with our strength and conditioning staff, who have been working hard behind the scenes to get everyone game ready."
West Coast's WAFL team will go to war with Peel from 12.30pm on Sunday.
The team will don the club's predominantly yellow clash guernsey, which it will also wear for the entire WAFL campaign.
WAFL Eagles Player Profiles
| | | | | |
| --- | --- | --- | --- | --- |
| Number | First Name | Height | Weight | Local Club |
| 11 | Brady Grey | 183cm | 90kg | Kingsley |
| 50 | Zac Fitzgerald | 192.5cm | 89kg | Wesley Curtin |
| 51 | Andrew Fisher | 185cm | 82kg | Kingsley |
| 52 | Daniel Acres | 186.5cm | 81.5kg | North Beach |
| 53 | Joel Kalajzic | 183.5cm | 79kg | Federals |
| 54 | Alex Coe | 185cm | 92kg | Bencubbin |
| 56 | Kieran Hug | 175cm | 72kg | Federals |
| 58 | Matthew Ah Siu | 196.5cm | 93kg | Bullcreek Leeming |
| 59 | Joel Ashman | 170.5cm | 74kg | Scarborough |
| 60 | Luke Salomone | 182kg | 85kg | Trinity Aquinas |
| 61 | Liam Robilliard | 181cm | 79kg | Scarborough |
| 62 | Jak Cary | 191cm | 82kg | Scarborough |
| 63 | Sam Lamont | 175cm | 67kg | North Beach |
| 64 | Mitchel Curnow | 182cm | 83kg | Rockingham |
| 65 | Sam Hobbs | 180cm | 72kg | Jurien Bay |
| 66 | Nicolas Reid | 186cm | 86kg | North Beach |