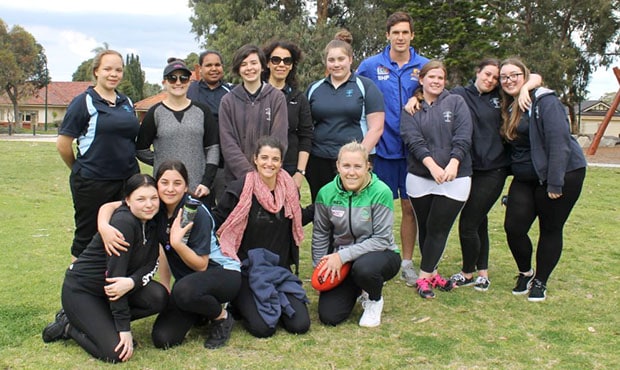 The West Coast Eagles and West Coast Fever recently joined forces to offer students from four metropolitan schools an insight into the training requirements of AFL and Suncorp Super Netball players.
Eagles schools and community officer Zac Fitzgerald teamed up with Fever captain and goal keeper Courtney Bruce, wing defence Jess Anstiss, wing attack Ingrid Colyer and goal attack Kaylia Stanton to visit students from Penrhos College, Perth College, Presbyterian Ladies' College and St Clare's School in Lathlain.
The talented quintet took the physical education students within the four walls of their respective sporting clubs and explained what it took to be an elite athlete, touching on the importance of performance nutrition as well as injury management and prevention.
The presentations also outlined the athletes' daily training requirements and highlighted the psychological challenges they faced while competing in an elite environment.

Zac Fitzgerald and Courtney Bruce shared some valuable insights with students at Perth College
Perth College health and physical education teach Courtney Stubbs said her students took a lot away from their presentation.
"Zac Fitzgerald, the West Coast Eagles Schools Community Officer, and Courtney Bruce, captain of the West Coast Fever, spoke about the training requirements, nutritional considerations and injury management and prevention for their respective sports," Stubbs said.
"This content aligned seamlessly to the Year 11 and 12 Physical Education Studies curriculum and allowed the students to understand how the physiological and psychological principles they are learning in class apply to elite level sport.
"This was an extremely valuable opportunity for the students to be part of, not only for educational purposes, but also to help strengthen the relationship between the local community and these elite clubs."
Colyer said the Fever contingent was thrilled to deliver the education sessions.
"We had an absolute blast visiting the four schools over two days," Colyer said.
"It's always interesting to see the students' reactions to our training regimen and nutritional requirements. I think they're blown away by how strict and professional we have to be on a day-to-day basis.
"We particularly enjoyed providing some insight on the psychological toll playing elite sport has on individuals. I think it's important that aspirational athletes know how challenging working in an elite sporting environment can be."